The lookalike
Sony Xperia M4 Aqua review: The lookalike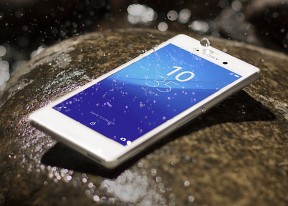 Great phonebook
The contacts app uses a tabbed interface, consisting of Contacts, Favorites and Groups. It is no longer bundled with the phone app, but you can still quickly jump to it from the dialer. The contact list has a dedicated search filed plus it offers a very nicely animated alphabetical scroll bar.
If you are using two SIM cards, every time you want to make a call you'll be asked to choose which SIM card to use.
Linking contacts is available, the quick contact feature is here too.
Telephony
The Sony Xperia M4 Aqua was able to hold onto signal very well. Calls remained uninterrupted and the sound quality was okay. Voices came out loud enough. Clarity wasn't the best but it was okay nonetheless.
The dialer support smart dialing.
The noise cancelation system is also pulling its own weight ensuring pretty good background noise suppression, as reported by the other side.
The loudspeaker on the Sony Xperia M4 Aqua however is not as good as we hoped. We ran it through our tests numerous times and it still scored Below Average. Perhaps it's best for us to retest a retail unit once we have access to one.
Messaging and text input
Not a lot has changed here either. Functionality is basically the same, but now with a prettier Material design interface. Text messages and MMS use standard thread layout. Adding multimedia (photos, videos, sounds, etc.) will convert the message automatically into an MMS.
Naturally, the Gmail client and the default Email apps are onboard. Gmail can sync only with (multiple) Google accounts, while the generic Email app can handle POP and IMAP and offers a Combined inbox.
Text input
As for text input, the Xperia M4 Aqua offers a customizable on-screen full QWERTY keyboard. You can choose a different layout (keypad, QWERTY, QWERTY with extra symbols), add/remove the coma and period button, the smiley and voice input buttons and also enable things like bilingual word suggestions if you have more than one language enabled. Different keyboard skins are available too.
You can also try the so-called Gesture input if hitting those keys individually doesn't give you the desired typing speed. It's similar to what Swype offers, and even if you've never used a Swype-like input before, you'll quickly get used to it.
Single-hand size keyboard is available too. If enabled, it squeezes the onscreen keyboard to the left or right side of the screen so it gets more comfortable for single handed text input.