Changing swim lanes
Sony Xperia M5 review: Changing swim lanes
Introduction
Sony's tight flagship release schedule went in overdrive this season with the Z3+, Z4v and the Z5 all right on each other's heels. Making no attempt to slow down, the Japanese are taking that spirit to the midrange as well. What are you waiting for? Upgrade.
Now, assuming that you did what any sane person would do and skipped the so-called flagship Z3+, what about people who got an M4 Aqua and were preparing to enjoy a pretty solid package for at least a year? Shall we all sympathize or is the Sony Xperia M5 a whole different kind of phone?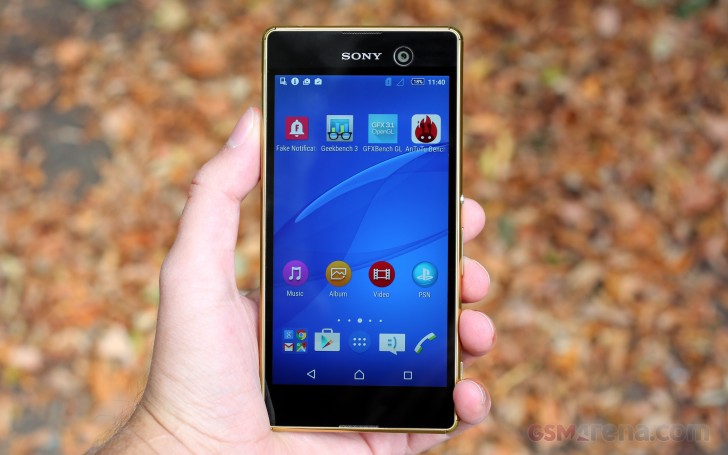 Sony would at least like you to believe so by getting rid of the Aqua moniker. Understanding how it can cause plenty of confusion, let's get it straight. The Xperia M5 has the very same IP68 certification for dust resistance and water proofing, letting it withstand submersion in up to 1.5 meters of water for up to half an hour.
Another thing the M4 and M5 have in common is the wide range of modifications: each has a Dual SIM variant, the one we're actually reviewing, as well as plenty of regional editions that mostly differ in terms of LTE band compatibility. And as long as we're on the subject, it is quite important to note that the M5 will have limited availability as it gets released, meaning that at least initially, it won't get in the way of the M4 Aqua in any way.
The overall shape, size and look are virtually the same, both built around a 5.0-inch screen. Yet, despite the visual similarities, the M5 is an all-round upgrade: screen resolution is bumped up to FullHD, RAM is 3GB and both cameras have about doubled the resolution: 21.5MP on the back and an impressive 13MP unit up front. But perhaps the biggest change of all is the chipset, which no longer comes from Qualcomm's factories.
Key features
Optional Dual SIM support (Xperia M5 Dual)
5.0" 16M-color 1080 x 1920 IPS LCD capacitive touchscreen with Mobile BRAVIA Engine 2
Android OS v5.0 Lollipop
Octa-core 2.0GHz Cortex-A53; Mediatek MT6795 Helio X10, PowerVR G6200, 3GB RAM
21.5MP camera with 2160p@30fps video and Hybrid Phase Detection auto focus; 13MP front-facing camera with 1080p@30fps video
16GB of built-in storage and a microSD card slot
LTE Cat.4 (150Mbps); Dual-band Wi-Fi a/b/g/n; A-GPS/GLONASS receiver, Bluetooth v4.1, FM radio with RDS, USB host
Active noise cancellation with a dedicated mic
2,600mAh non-removable battery
IP68 certified - dust and water proof up to 1.5 meter and 30 minutes
Main disadvantages
Non-removable battery
Wi-Fi lacks a/c support
It's not the first time that Sony is partnering with MediaTek, Taiwanese silicon powering quite a few Xperias in the C series and the entry-level E-series. This time around though, it's the top-of-the-line Helio X10 - a step up from the Snapdragon 615 inside the Xperia M4 Aqua.
The powerful eight cores, each running at 2.0GHz and the PowerVR G6200 GPU, put the M5 in a different league. The spec sheet is taking a stab at flagship performance, all while trying to stay within a midrange budget. Well, upper-midrange at most.
The M5 currently costs a good $100 more than the M4 Aqua, at a little over $400, but it looks like the upgrades it offers are worth the extra cash. The Xperia M5 has a potent CPU / GPU combo, an impressive camera setup, plenty of RAM for multitasking and a crisp 5.0 inch FullHD display.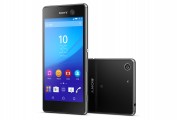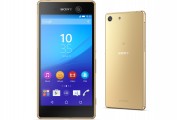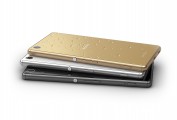 Sony Xperia M5 in official photos
Design-wise, the phone is almost identical to the M4 Aqua with only a few details giving it away. The M5 is actually executed following Sony's old "Omni-Balance" design, cautiously revised by the Z5 line but by no means completely redone. Anyway, if you are still into the classic Xperia look, the M5 will not disappoint.
Follow us to the next page for some close-ups. Then we'll see the Sony Xperia M5 in real action.
D
My sony xperia m5 has not updated. Because ican try somany time.but could not insalled. 639 MB is penting.now a dayes another message is coming,that is unfurtunatly system UI has stopped then phone is shutdown.what can I do.pls give me saggetion.
D
I have sony f***** m5 and I have power bank 15000mah.any time conect with power bank.when im ful charge my power bank m5 battery life exellent.If anybody like to buy this sony m5 first read how to live in a hell with smart phone.after that you confid...
A
Well, I had the #autoshutdown and #overheat problem with some SIM carriers. All I had to do was downgrade to lollipop 5.0 and everything works fine. It's a great phone