Changing swim lanes
Sony Xperia M5 review: Changing swim lanes
Benchmarks
Sony's "M" series has traditionally been the definitive mid-range tier in the company's lineup. As such, the endeavor has always been to deliver premium design and style, coupled with slightly toned-down hardware and materials to keep costs low. With the M5, however, things look slightly different. The intention is practically the same, but with the introduction of more and more powerful silicon at affordable prices, Sony has managed to really pack some serious computing power inside the M5 without seriously affecting its price. The chip in question is the Mediatek MT6795 Helio X10, which packs a total of eight Cortex-A53 cores, all clocked at 2.0 GHz and is definitely unfamiliar ground for Sony, which has generally stuck with Qualcomm hardware.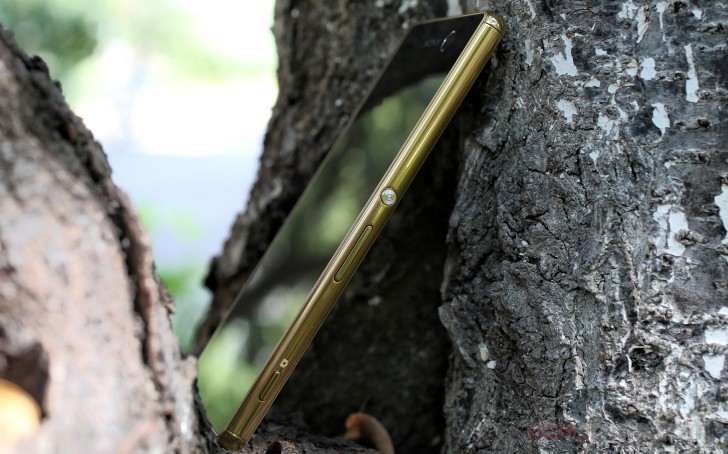 This is exactly what we mean when describing the M5 as a toned-down flagship, as the Helio X10 does offer roughly about 30% more CPU speed than the Snapdragon 615 inside the M4 Aqua, as well as twice the number of CPU threads (eight instead of four) and faster RAM and eMMC speeds. Even Qualcomm's legendary big.LITTLE load balancing technology doesn't outshine the MediaTek's chip, which has an arguably more-advanced, albeit definitely less known version of the technology - called HMP.
This difference is less clear-cut when looking at the respective GPU's inside the Snapdragon 615 and the MediaTek Helio X10. The PowerVR G6200 inside the M5, arguably has more row horsepower, but the Adreno 405 inside the M4 Aqua is newer and supports more recent technologies. Neither is really a powerhouse for graphics performance, but then again, you rarely need anything more for casual gaming on Android. Still, the M5 should shine above its predecessor in this department as well, at least as far as benchmarks are concerned.
Overall, with a better chipset and 3GB of RAM the Xperia M5 offers a substantial hardware upgrade over the M4 Aqua, the real question is whether it can put the extra number-crunching power to good use. Let's dive into the benchmarks, but first a few words about the competition.
Finding suitable devices to test how well the Helio X10 was implemented wasn't exactly an easy task. The SoC is still not particularly wide-spread. However, the Meizu MX5 appears to be a prime candidate with the exact same silico, 3GB of RAM and pretty much the same display. Interestingly enough, it also costs around what the M5 goes for, so they are textbook rivals.
The Xiaomi Redmi Note 2 offers another implementation of the same chip with the same display resolution and slightly less RAM at 2GB, so, naturally, we threw it into the mix as well. As a major side note, the Redmi Note 2 Is currently shattering sales records in China and rightfully so, as I does cost about $160 there, which is a ridiculously good deal, but more on that in the conclusion.
First up, we have the raw CPU performance test with GeekBench 3 and this is where the eight 2.0 GHz Cortex-A53 cores really get to shine. If it is raw performance you are after then the Helio X10 definitely doesn't disappoint and the M5 gets a good 1000 points on top of the M4 Aqua.
Still, there is an interesting observation to be made and it sets the tone for a trend that persists throughout the benchmarks - we can clearly see that the Helio X10 inside the Xperia is definitely powerful, but also capable of quite more. This is evident by both the Meizu MX5 and the Xiaomi Redmi Note 2, both of which have managed to squeeze a lot more power out of the chip.
Sony's implementation of the MediaTek hardware doesn't really seem that optimal and this is understandable to some extent, considering this is unfamiliar ground. It could also be a software optimization issues that will be cleared up, at least to some extent, with future software releases. However, currently these are the numbers we have and we'll just leave the issue at that.
GeekBench 3
Higher is better
Meizu MX5
5110
Xiaomi Redmi Note 2
4589
Sony Xperia M5 Dual
3554
Xiaomi Mi 4
3175
Huawei Ascend Mate7
3165
Samsung Galaxy S5
3120
HTC One (M8)
2923
Asus ZenFone 2 ZE551ML (Z3580)
2922
Samsung Galaxy A7 (S615)
2880
Sony Xperia Z3 Compact
2856
Nexus 5
2743
Sony Xperia M4 Aqua
2375
LG G3
2370
AnTuTu is a compound benchmark, which also takes into account RAM and GPU performance. The Xperia M5 has definitely managed to outshine its sibling and the Galaxy A7, both powered by the Snapdragon 615, but as far as the rest of the competition goes, we are looking at some less than stellar results again. Hopefully, this will change with future OS updates, as the potential is clearly there, judging by how the MX5 and Redmi Note 2 are scoring.
AnTuTu 5
Higher is better
Meizu MX5
48915
Asus ZenFone 2 ZE551ML (Z3580)
48361
Sony Xperia Z3 Compact
46566
Xiaomi Redmi Note 2
46307
HTC One (M8)
45530
Samsung Galaxy S5
45348
LG G3
42038
Huawei Ascend Mate7
41510
Sony Xperia M5 Dual
38786
Nexus 5
37774
Sony Xperia M4 Aqua
32217
Samsung Galaxy A7 (S615)
31436
Basemark OS II is another all-round benchmark. It gives an overall score along with single, multi-core performance, math performance and more. Our M5 unit had quite a hard time running the app properly. It kept crashing and restarting and the end result, once we finally managed to get one, was unreasonably low. Naturally, we won't be taking it into account in any way, but we will point out that stability seems to be an issues with the current build we are running and some apps did experience "hiccups".
Moving on to pure graphics tests, which, as previously mentioned, offer quite an interesting race between the older, but more-powerful PowerVR G6200 inside the M5 and the technologically fresher Adreno 405 of the M4 Aqua. Bear in mind that since the M4 Aqua has a 720p, unlike the FullHD screen of the M5, only the offscreen tests could be a basis for judging how much Sony has improved graphic performance in one generation time.
The result is pretty conclusive - the M5 outshines its predecessor in power, but on the other hand, thanks to its lower resolution, the M4 Aqua does, in fact, offer better frame rates, which is arguably a lot more-important in a real-life scenario of playing an actual game.
Otherwise, as far as graphics are concerned, the M5 is pretty up to par with Meizu and Xiaomi, sharing the same chipset, so not much more can be squeezed out of the chip in this respect.
GFX 2.7 T-Rex (1080p offscreen)
Higher is better
Asus ZenFone 2 ZE551ML (Z3580)
30
HTC One (M8)
28
Xiaomi Mi 4
27.6
Sony Xperia Z3 Compact
27.4
Meizu MX5
27
Samsung Galaxy S5
27
LG G3
26
Xiaomi Redmi Note 2
23
Sony Xperia M5 Dual
23
Nexus 5
22
Huawei Ascend Mate7
16.4
Samsung Galaxy A7 (S615)
15
Sony Xperia M4 Aqua
14.9
GFX 2.7 T-Rex (onscreen)
Higher is better
Sony Xperia Z3 Compact
41.3
Asus ZenFone 2 ZE551ML (Z3580)
30
HTC One (M8)
30
Xiaomi Mi 4
28.2
Samsung Galaxy S5
28
Meizu MX5
27
Sony Xperia M4 Aqua
25.8
Sony Xperia M5 Dual
24
Nexus 5
24
Xiaomi Redmi Note 2
23
LG G3
20
Huawei Ascend Mate7
17.4
Samsung Galaxy A7 (S615)
15
GFX 3.0 Manhattan (1080p offscreen)
Higher is better
Asus ZenFone 2 ZE551ML (Z3580)
13
HTC One (M8)
12
Samsung Galaxy S5
12
Sony Xperia Z3 Compact
11.8
Xiaomi Mi 4
11.6
LG G3
11
Meizu MX5
10
Nexus 5
9.1
Xiaomi Redmi Note 2
8.5
Sony Xperia M5 Dual
8.4
Huawei Ascend Mate7
8
Sony Xperia M4 Aqua
5.84
Samsung Galaxy A7 (S615)
5.8
GFX 3.0 Manhattan (onscreen)
Higher is better
Sony Xperia Z3 Compact
25.4
HTC One (M8)
13
Sony Xperia M4 Aqua
12.2
Samsung Galaxy S5
12
Asus ZenFone 2 ZE551ML (Z3580)
12
Xiaomi Mi 4
11.3
Nexus 5
10
Meizu MX5
9.5
Sony Xperia M5 Dual
8.7
Huawei Ascend Mate7
8.5
Xiaomi Redmi Note 2
7.9
LG G3
7.7
Samsung Galaxy A7 (S615)
5.8
On a positive note, the M5 does support OpenGL ES 3.1, but the low frame rates render it all but unusable.
GFX 3.1 Manhattan (1080p offscreen)
Higher is better
Meizu MX5
4.8
Sony Xperia M5 Dual
4.5
Xiaomi Redmi Note 2
4
GFX 3.1 Manhattan (onscreen)
Higher is better
Sony Xperia M5 Dual
4.9
Meizu MX5
4.7
Xiaomi Redmi Note 2
3.9
The Xperia M5 really failed to impress in terms of browser performance. Chrome is bundled as a default browser, so one would expect at least a decent level of performance and yet, the app didn't seem to run smoothly at all. Perhaps it's more of the same software issues.
The M5 did manage to best its predecessor in BrowserMark, although barely, but on the other hand showed ridiculously low JavaScript performance. We are reluctant to point a finger at Chrome, which has proven itself time and time again, which only means that Sony really has some more work to do.
Kraken 1.1
Lower is better
Asus ZenFone 2 ZE551ML (Z3580)
5057
Huawei Ascend Mate7
5567
Samsung Galaxy S5
5968
Xiaomi Mi 4
6137
Sony Xperia Z3 Compact
6480
HTC One (M8)
7023
LG G3
7632
Xiaomi Redmi Note 2
9504
Nexus 5
9524
Meizu MX5
11414
Samsung Galaxy A7 (S615)
12266
Sony Xperia M4 Aqua
13609
Sony Xperia M5 Dual
25088
BrowserMark 2.1
Higher is better
Samsung Galaxy S5
2066
Asus ZenFone 2 ZE551ML (Z3580)
1853
Samsung Galaxy A7 (S615)
1655
Xiaomi Redmi Note 2
1505
Sony Xperia Z3 Compact
1500
Meizu MX5
1471
HTC One (M8)
1460
LG G3
1453
Nexus 5
1440
Sony Xperia M5 Dual
1203
Sony Xperia M4 Aqua
1171
Huawei Ascend Mate7
795
Xiaomi Mi 4
744
Overall, at this stage of development, the Xperia M5 is quite an "underachiever". The specs sheet definitely shows a great amount of effort from Sony to really boost the "M" series in terms of performance, but the software fails to deliver on that big promise.
In all fairness, such problems are to be expected with our pre-production review unit, but we still feel sad for all the unutilized potential of the M5 when looking at what Xiaomi and Meizu have managed to do with the same hardware platform. Hopefully Sony will mend the situation as soon as possible and unleash the M5's true potential.