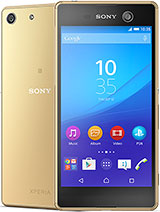 4
Wi-Fi 802.11 a/b/g/n lower speed of internet ,16 GB ROM not enough for internal storage,lower battery and no faster charging function
A
Nice phone better than sony xperia z3+
Expected rete is 24000-25000
But ican belive this rate
Bcoz this phone better than z3+
?
so lucky its not a Z edition with mix up specs. and call it a new phone, but no big change. So, still having hope for z5. I just want all the latest specs and goods to be in it(like wireless charging, isnt tat high end meant to have), i dont care about anything new tat dont exist yet for us, Can z5 even do tat
?
This phone is a better buy than Z3+. The M5 will result to the death of Z3+
D
Only downside of this phone is (~66.0% screen-to-body ratio) 145mm.
It Should be 71% 140mm
Total of 1988 user reviews and opinions for Sony Xperia M5.