Blast from the past
Sony Xperia neo L review: Blast from the past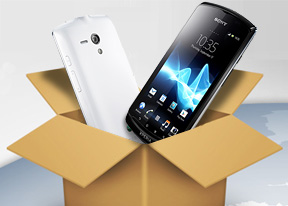 Organizer
OfficeSuite is a pretty capable file browser too, but Astro comes preinstalled and has even more functions. Its welcome screen gives you easy access to your photos, music, documents, it lets you back up apps, kill running apps and check which folders are eating up precious storage space on your memory card.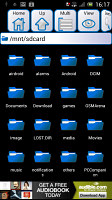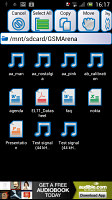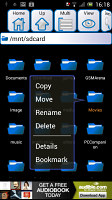 Astro file browser comes preinstalled
Tap on the Manage my files button and you get into the full-blown file browser. It can do all the basic stuff (new folder, copy, delete, etc.), plus batch operations, search for files and ZIP multiple files and folders.
The calendar has three different types of view - daily, weekly and monthly. The lower section of the screen is reserved for a list of upcoming events. Adding a new event is quick and easy, and you can also set an alarm to act as a reminder.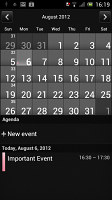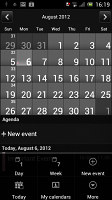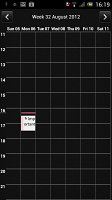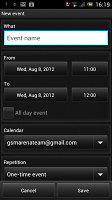 The organizer centerpiece - the calendar
The Calendar also pulls info on upcoming events from your Facebook account. Facebook events appear just like regular calendar entries but you can't edit them on the phone, they are read-only.
There is also a calculator aboard. It is nicely touch optimized - the buttons are really big and easy to hit. You can expand advanced functions (trigonometry, logarithms).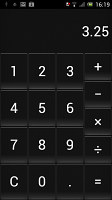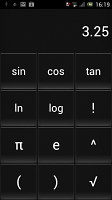 Regular Calculator • Scientific Calculator
The alarm clock app supports multiple alarms, each with its own start and repeat time. The Alarms app can also work as a desk clock - you have a big toggle for the brightness, as well as weather info and shortcuts to gallery slideshow and the music player. There's no world clock, stopwatch or timer though.
Play Books came preinstalled. The eBook reading app features several preloaded books (Frankenstein, children's stories by Hans Christian Andersen and Pride and Prejudice). The app has an attractive page turn effect and, of course, lets you add new books to your collection from Google's store.
You can also make books available offline (by default they're pulled from the web on demand), change various text display options to make reading more comfortable and enable the Read out loud option, if you feel like a bedtime story.
Offline Google Maps and Wisepilot navigation
The Sony Ericsson Xperia neo L comes with a GPS receiver, which took about a minute to get satellite lock upon a cold start. You can use the A-GPS functionality to get near instantaneous locks. Alternatively, network positioning will do if you only need a rough idea of your location.
Google Maps is a standard part of the Android package and we've covered it many times before. It offers voice-guided navigation in certain countries and falls back to a list of instructions elsewhere.
3D buildings are shown for some of the bigger cities and you can use two-finger camera tilt and rotate to get a better view of the area.
Google Maps uses vector maps, which are very data efficient. The latest version has an easy to use interface for caching maps - you just choose "Make available offline from the menu" and pan/zoom around until the desired area is in view (there's an indicator showing how much storage caching that area will take). You can later view cached areas and delete ones you no longer need.
Note that there's a limit to the size of the area you can cache - you can't just make all of Europe available offline, not even a whole country. We managed to fit New York and some surrounding area before Maps told us the area is too big. Also, there's no address search in the cached maps and you can only cache map data in supported regions of the world.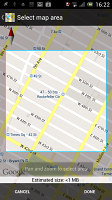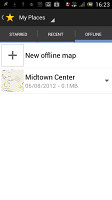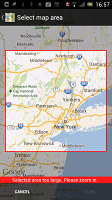 Making an area of the map available for offline usage is very easy
You can plan routes, search for nearby POI and go into the always cool Street View. The app will reroute you if you get off course, even without a data connection.
Our Xperia neo L came with a Wisepilot trial with 30 days' worth of a full navigation license. The app offers info on weather, traffic, speed cameras and alerts.
Wisepilot uses online maps by default, so you'll need a data connection - but it works even in countries where Google Maps Drive doesn't. You can purchase offline maps if you like - a 2-year license for the whole of Europe is 5 Euro and North America is 5 Dollars.
If you decide to go with the online-only version, the Abroad mode makes sense. It will reduce roaming data usage and maps are cached (so, you if you start off at home or your hotel with the phone hooked up to a Wi-Fi network, you'll save even more).
We just can't promise you that your Xperia neo L will also come with the same Wisepilot license, it may be a region-specific feature.
The Play Store is all good, but the neo L has limited system storage
The Sony Xperia neo L is running ICS, so it has access to the latest apps (like Chrome), but the limited amount of app storage means you'll need to be careful with large apps (again, like Chrome) or move a lot of the apps to the microSD card.
The Store is organized in a few scrollable tabs - categories, featured, top paid, top free, top grossing, top new paid, top new free and trending. The in-app section is untouched though and it's very informative - a description, latest changes, number of downloads and comments with rating. There is usually a demo video and several screenshots for most apps too.
There are all kinds of apps in the Google Play Store and the most important ones are covered (file managers, navigation apps, document readers etc.).