This article is outdated. We have already published a full review.
Impressive connectivity
The Sony Xperia S is well versed in modern connectivity. It doesn't have LTE like the Xperia ion, but it does offer quad-band 2G and quad-band 3G. Mobile data speeds are boosted by 14.4Mbps HSDPA and 5.76Mbps HSUPA.
Local connectivity is covered by Wi-Fi b/g/n with Wi-Fi Direct support, that enables file transfer between devices with an easy setup.
The Xperia S also supports DLNA, so you can easily play media (photos, videos, music) from DLNA-enabled storage devices or push content from your phone to a DLNA TV or music player.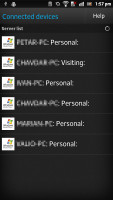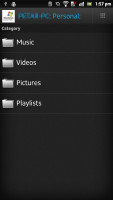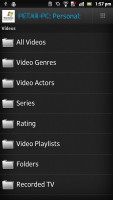 The Connected Devices app handles the DLNA functionality
Bluetooth is also onboard, but the boring 2.1 version (although Wi-Fi Direct makes up for the lack of BT v3.0).
Then there's NFC support - you can use it to read NFC tags but also make the phone act as a tag itself. You can create multiple tags and choose which one you want to share. A tag can be anything from contact info (usually yours so you can send it as a sort of wireless business card), a URL or just plain text.
The Xperia S saves NFC tags you've scanned with it and you can even star some of them for easier access later.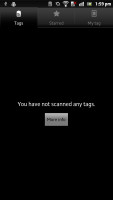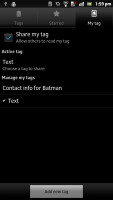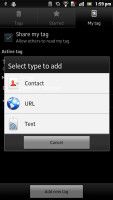 The Tags app lets you scan and create your own NFC tags
You can also use the Sony Smart Tags accessories, which can be set to trigger different actions (there's a long list of options available). To streamline the process, you can use the Smart Tags widget.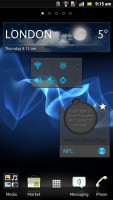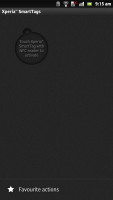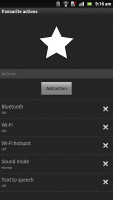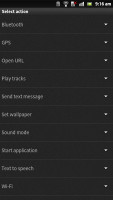 Smart Tags widget helps you set actions for NFC tags
And we're not done yet - the Sony droid has a microHDMI port so you can easily play those FullHD videos and show off the 12MP photos on an HDTV. There's a twist too - there's a dedicated TV launcher that is easy to use on a big screen.
We say on the big screen because you don't have to use the phone's touchscreen to control the launcher (you can if you want to). Compatible TVs (we're not sure which TVs are) can talk back to the Sony Xperia S, so you can use the TV's remote to operate the launcher.
There's plenty of functionality available here - you can browse the photos and videos in the Gallery, use Sony's Video Unlimited and Music Unlimited, browse the web or launch Facebook, check Gmail or use any installed app really (you can just add its shortcut to the list).
And since typing with the remote isn't very handy, you can use voice search.
The Sony Xperia S has a microUSB port with USB On-The-Go support. We tried hooking up various accessories - flash storage worked, but hooking up other phones in Mass Storage mode was problematic (especially if the second phone supports USB OTG too), we even tried a USB keyboard and it worked (but a USB mouse didn't).
One more connectivity feature before we're done - the Xperia S has a built-in A-GPS receiver, which also works with GLONASS. This can give you faster locks and better positional accuracy, especially in dense urban areas.
First impressions
The Sony Xperia S is worlds ahead of the previous Xperia generation and we're genuinely impressed. It's a proper premium droid and would have been absolutely spectacular mere months ago.
The Xperia S hasn't got a quad-core processor (not even a next-gen dual-core) and it only comes with Android 2.3 Gingerbread out of the box for now.
But here's what the Xperia S has going for it: the screen is nothing short of amazing, the camera is one of very few to offer 12MP resolution and the connectivity has plenty of useful features. And Sony really managed to squeeze every ounce of performance out of the Snapdragon chipset inside. Last but not least, we do like the new design line too.
The phone looks great and the build quality is worthy of a flagship. If you can get over the lack of two extra cores and ICS at launch (the update is coming), there's plenty to like about the Sony Xperia S.