Google Maps and Wisepilot navigation
The Sony Xperia S comes with a GPS receiver, which took less than a minute to get satellite lock from a cold start. You can use the A-GPS functionality to get near instantaneous locks. Alternatively, network positioning will do if you only need a rough idea of your location.
Google Maps is a standard part of the Android package and we've covered it many times before. It offers voice-guided navigation in certain countries and falls back to a list of instructions elsewhere. You can plan routes, search for nearby POI and go into the always cool Street View.
The latest version uses vector maps, which are very data efficient and easy to cache. The app will reroute you if you get off course, even without a data connection.
3D buildings are shown for some of the bigger cities and you can use two-finger camera tilt and rotate to get a better view of the area.
Our Xperia S came with Wisepilot pre-installed with full navigation license (a worldwide license valid for 30 days), including voice prompts. The app offers info on weather, traffic, speed cameras and speed alerts.
Wisepilot uses online maps by default, so you'll need a data connection - but it works even in countries where Google Maps Drive doesn't. You can purchase offline maps if you like - a 2-year license for the whole of Europe is €5 and North America is $5.
If you decide to go with the online-only version, the Abroad mode makes sense. It will reduce roaming data usage and maps are cached (so, you if you start off at home or your hotel with the phone hooked up to a Wi-Fi network, you'll save even more).
We just can't promise you that your Xperia S will also come with the same Wisepilot license, it may be a market-dependent.
Don't confuse the Play Store and PS Store
The Android Market is now called the Play Store, but other than the name, it's the same old app store.
It's organized in a few scrollable tabs - categories, featured, top paid, top free, top grossing, top new paid, top new free and trending. The in-app section is untouched though and it's very informative - a description, latest changes, number of downloads and comments with rating. There is usually a demo video and several screenshots for most apps too.
There are all kinds of apps in the Android market and the most important ones are covered (file managers, navigation apps, document readers etc.).
But the Sony Xperia S is a fully PlayStation Certified device and you can access the PS Store for quality PSX games.
It wasn't preinstalled on our unit, we had to use the "Let's start the PS Store" app to get it - it just opens the browser and points it to the appropriate download page. Just remember to turn on the option to install from unknown sources (a.k.a. not the Play Store).
Anyway, the PS Store offers a list of paid PSX games (17 at the time of writing) and they are all priced £3.99 (€4.76, $6.34). Once you install a game, you can access it from the PS Pocket app - the same app we had on the Xperia PLAY.
It's organized into three tabs - All, Recently played and Recently added. By default, it uses a pink color theme, but that can thankfully be changed quite easily.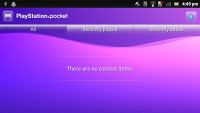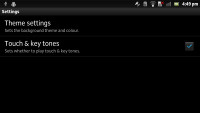 PS Pocket is the dedicated launcher for games bought from the PS Store