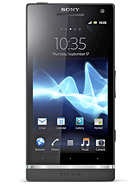 3838
237
Cool phone! It's probably the last SE device, so it must be fantastic! :) By the way they should announce it earlier I think. They are left behind. I really hope that this will have a big success.
s271
dual core 1.5 and adreno 205 dont get digested easily .
M511
Adreno 205 GPU? It's not possible... Its a dual-core S3 (if not S4) Snapdragon, it should have Adreno 220 GPU!
l
fiery entrance for sony (ericsson) on their dual-core droid,and with heavy firepower. The first to put a 12mp cam,and enter the race with an hd scree! Wew,it's scorching out here! Go sony!
F
Before converting to SONY only, the world will see a few beautiful beasts from SONY Ericsson.
S
wow!!!

finally the SE "wake up" for the HIGH ENDS phones !!

i want it!
Total of 9734 user reviews and opinions for Sony Xperia S.