Synthetic benchmarks
The Samsung Galaxy S II was one of the most powerful phones of its time, but in tech things move quickly. Quad-core phones are already on their way to a store near you, so these two phones will have to be at the top of their game if they want to stay relevant.
Samsung's Galaxy S II and the ICS-running Galaxy Nexus are the only ones to finish the CPU-intensive test BenchmarkPi in under 500ms. The Xperia S on the other hand matches the HTC Sensation XE and the Motorola RAZR XT910.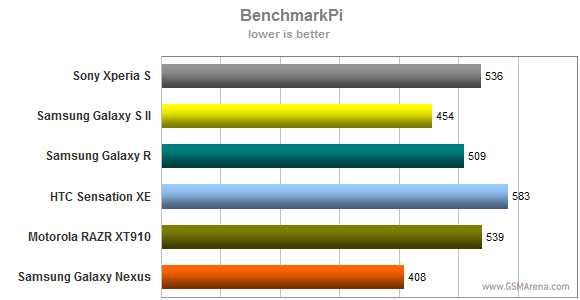 Linpack tells a different story though - here the Galaxy S II and the Xperia S are equally matched and well ahead of the competition (even the Galaxy Nexus).
The Xperia S and Sensation XE both have two Scorpion cores running at 1.5GHz, but their results are very different. The rest of the CPUs here have two Cortex-A9 cores (1GHz for Galaxy R, 1.2GHz for the rest) and they get quite different results too.
For graphics performance, the Sony Xperia S and the Samsung Galaxy Nexus are at a disadvantage performance-wise with their 720p screens, but the image quality is better. Still, the Xperia S and its Adreno 220 manage the very playable 37.5fps, second only to the Galaxy S II, which has only about 40% of the total pixels as the Xperia and manages 46.2fps.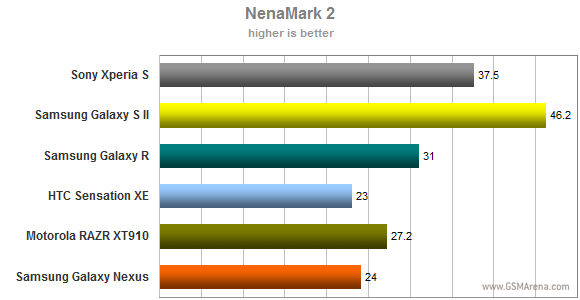 SunSpider is a popular JavaScript benchmark and very dependant on software (the JS engine). Here the Galaxy Nexus with Ice Cream Sandwich is the undisputed champ (due to software optimizations), but the Xperia S leads the Gingerbread pack by a healthy margin.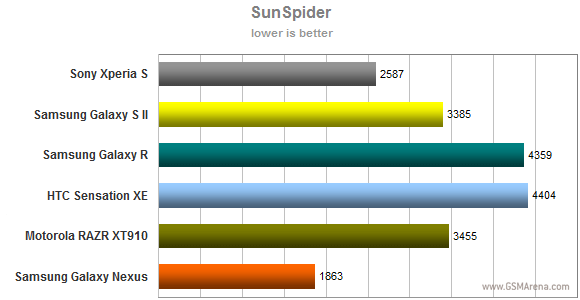 Pretty much the same goes for the BrowserMark test, which also gauges the browser's HTML capabilities. The HTC Sensation XE jumps ahead and is a very close third, behind the Sony Xperia S. And both are well behind the ICS-running Galaxy Nexus.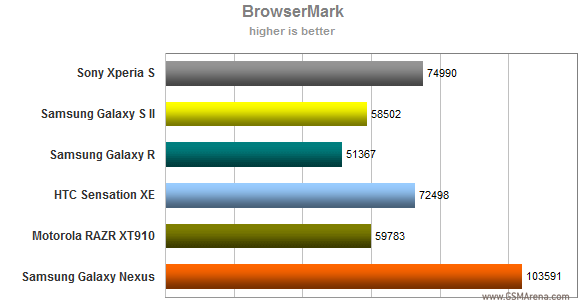 Battery life
We ran our battery tests on the Sony Xperia S and it's ready to go head to head with the Samsung Galaxy S.
The Sony Xperia S gives you about 7 hours and 41 minutes of talk time and coincidentally that's exactly as long as the iPhone 4S. The Samsung Galaxy S managed to endure nearly an hour more.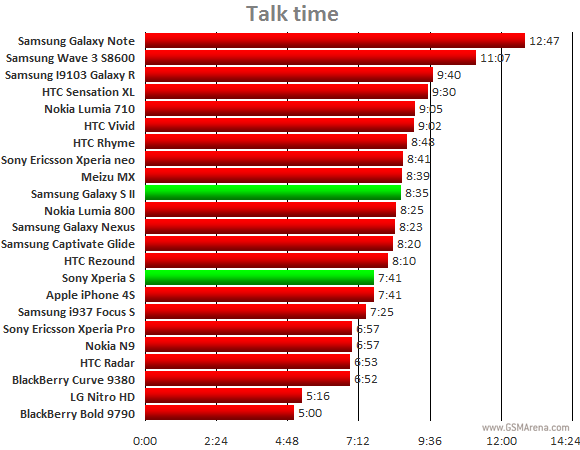 Then there's web browsing - the Xperia S takes this round by lasting an hour longer than the Galaxy S II but it's still about a couple of hours shy of the leaders in this category (which have smaller, lower-res screens though).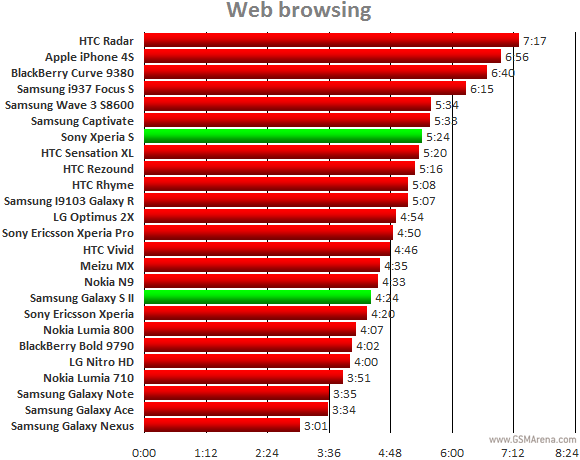 The mostly white pages hurt the Galaxy S II's AMOLED screen, but movies are another matter - it lasts 8 full hours of movie watching, while the Xperia S manages just 6 hours and 25 minutes.