The Sony Xperia D6503, rumored to be either the Xperia Z1L or the Xperia Z2 but for now codenamed Sirius, has been leaking all over the place these past few days. First there were some pictures of it and later we got a whole bunch of screenshots showing the new UI of the smartphone.
Now we get what appears to be the final batch of UI screenshots and information concerning the device. First off let's recap what we know - the Xperia D6503 sports a Snapdragon 800 MSM8974-AB with quad-core 2.3 GHz Krait 400, Adreno 330 GPU and 3 gigs of RAM. The camera is a 20.7 MP unit with the 1/2.5" sensor and the device runs on Android 4.4.2 KitKat.
However now we've got some new images that solidify the claim the Xperia Sirius will come with front-mounted stereo speakers.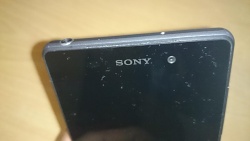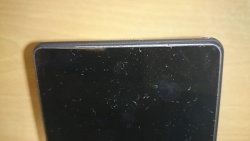 Sony Xperia Sirius stereo speakers
Here's an image of the Sony Xperia Sirius next to an Xperia Z1 - the Sirius should have a 5.2" 1080p screen compared to the 5" 1080p screen of the Xperia Z1. Size-wise both devices are identical, so Sony has obviously done a good job in slimming the bezels.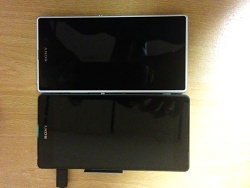 Sony Xperia Sirius next to Xperia Z1
The camera on the Sony Xperia Sirius will be able to capture 4K (2160p) video, just like the Samsung Galaxy Note 3. It will also sport slow motion video capture (Timeshift video), Background defocus mode for images with a narrower depth of field behind the focused target (blurry bokeh backgrounds).
The display will feature Glove Mode, which is rather self-explanatory - it will be more sensitive so that you can use it with gloves on. Then there's Smart Backlight control - it's Sony's take on Samsung's Smart Stay - the phone will detect when you're looking at the screen and keep it on. The phone will also have the double tap to wake feature, which we really love.
The Xperia Sirius will have USB DAC support - playing high-def audio while connected to an external amplifier.
Sony has included a Simple Home launcher, which will show a bigger grid of apps with three speed dial shortcuts and the most used (exchangeable by the user) apps - similar to what good old TouchWiz has been offering for a while now.
The Dialer will feature an answering machine feature with the ability to set your own greeting and set the machine to work at a certain time. There's also Smart call handling - raising the phone while a call is incoming will automatically answer.
There's also a close all apps shortcut in the app switcher interface.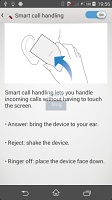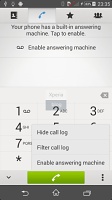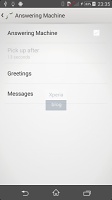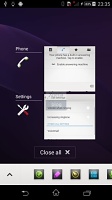 Answering machine • Close all option
Sony has included its own take on HTC's BlinkFeed. It's accessible through a swipe up from the navigation bar and will be located next to the Google Now shortcut. We don't know what exactly it will be but it looks like a grid of social information.
So there you have it - the latest from Sony, which we're expecting to see soon (likely on the MWC 2014 floor in February).
T
I am currently using one, It is a utter piece of crap compared to the previous Z1, so much echo on other party calls people are getting mad at me.
?
SONY & Tegra K1 it will be a very phenomenal combination, excellent graphic, clear ever, more faster, beacuse Tegra K1 192-cores have new best graphic in world, but for great shiny display the smartphone or tablet need contain: IGZO - Triluminos ...
?
The 2k recording is for when u hook ur phone up to replay on a 2k tv not for 2k replay on your phone. Some people I tell ya