Solid connectivity
The Sony Xperia sola has quad-band 2G and 3G. Mobile data speeds are boosted by 14.4Mbps HSDPA and 5.76Mbps HSUPA.
Local connectivity is covered by Wi-Fi b/g/n with DLNA, so you can easily play media (photos, videos, music) from DLNA-enabled storage devices or push content from your phone to a DLNA TV or music player.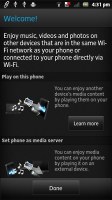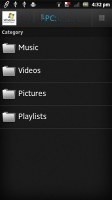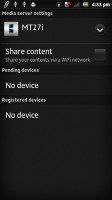 The Connected Devices app handles the DLNA functionality
A dedicated app, Media Remote, will serve as a remote control for DLNA-capable BRAVIA TVs and Sony DVD/Blu-ray players too. It has a few versions of the interface ranging from simply changing the channels to mouse input and viewing disc history.
The Media Remote app is available for free download at the Play Store so other droids can use it too.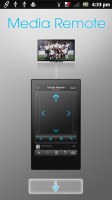 Stereo Bluetooth is version 2.1.
With NFC support you can read NFC tags but also make the phone act as a tag itself. You can create multiple tags and choose which one you want to share. A tag can be anything from contact info (usually yours so you can send it as a sort of wireless business card), a URL or just plain text.
The Xperia sola saves NFC tags you've scanned with it and you can even star some of them for easier access later.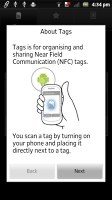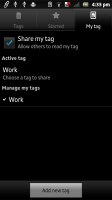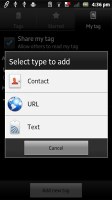 The Tags app lets you scan and create your own NFC tags
You can also use the Sony Smart Tag accessories, which can be set to trigger different actions - there's a long list of options available and multiple actions can be triggered at once by one tag. To streamline the process, you can use the Smart Tags widget.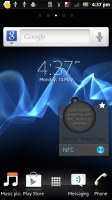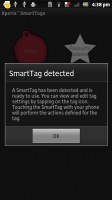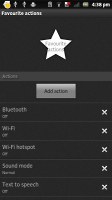 Smart Tags widget helps you set actions for NFC tags
You can give names to tags to help you remember where you placed each one (the tags in the box are Home and Bedroom by default). Here are some of the actions available: control Wi-Fi, Wi-Fi hotspot, Bluetooth, GPS, sound mode, you can have the phone open a URL, play a track, send a text, enable text to speech, change the wallpaper or launch an app.
Here's an example of what you can do with a Smart Tag - a tag in your car can switch on Bluetooth so the phone pairs up with the car audio, enable GPS and launch the SatNav app and enable text to speech, which will read incoming texts out loud.
Browsing with Floating Touch
The user interface of the browser is simple, with almost no visible chrome by default. Once the page loads, all you see is the URL bar and the bookmark button at the top of the screen. Once you zoom in and pan around though even that disappears (scroll to the top or press menu to bring it back).
The browser supports double tap and pinch zooming, along with the dedicated virtual zoom buttons. There's text reflow, which reformats text so that it best fits on the screen.
The browsing performance is excellent - panning, zooming and the text reflow are very fluid.
The minimalist UI is still very capable - hit the menu key and six keys pop up. You can open a new tab, switch tabs, refresh the page, go forward, and open bookmarks. The last button reveals even more options (text copying, find on page, etc.).
One of the important features in the web browser is the full Flash 11 support. YouTube videos played smoothly all the way up to 720p - no dropped frames, audio lag or video artifacts. Flash games played trouble free too.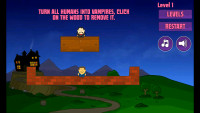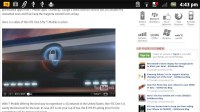 Flash games work great • Playing YouTube videos in the browser
The Floating Touch display of the Xperia sola can detect fingers hovering over it and the only app that actually uses this feature is the browser. All it can do is highlight links on webpages, adding an extra level of precision, which makes sense on a relatively small 3.7" screen.
Great organizing skills
The Sony Ericsson Xperia sola comes with a solid set of organizing options, including a document viewer.
The app in question is OfficeSuite and it has support for viewing document files (Word, Excel, PowerPoint and PDF, including the Office 2007 versions). For editing, you will need to get the paid app.
Reading documents is quite comfortable and panning is blazing fast. There's built-in file browser and cloud storage integration (Google, Dropbox, Box).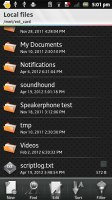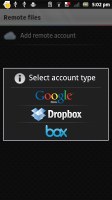 Built-in file browser • Cloud integration
The calendar has three different types of view - daily, weekly and monthly. The lower section of the screen is reserved for a list of upcoming events. Adding a new event is quick and easy, and you can also set an alarm to act as a reminder.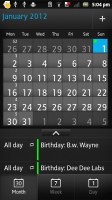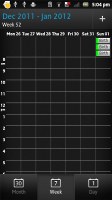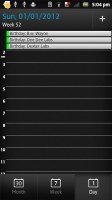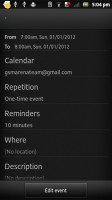 The organizer centerpiece • the calendar
The Calendar also pulls info on upcoming events from your Facebook account. Facebook events appear just like regular calendar entries but you can't edit them on the phone, they are read-only.
There is also a calculator aboard. It is nicely touch optimized - the buttons are really big and easy to hit. You can expand advanced functions (trigonometry, logarithms) by turning the phone landscape.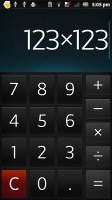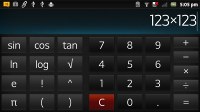 Regular Calculator • Scientific Calculator
The alarm clock app supports multiple alarms, each with its own start and repeat time. The Alarms app can also work as a desk clock - you have a big toggle for the brightness, as well as weather info and shortcuts to gallery slideshow and the music player.
The app has also grown a World clock along with stopwatch and timer functionality, which were missing in previous Xperia phones.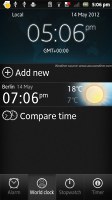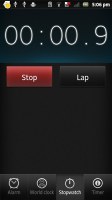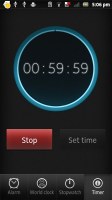 World clock • Stopwatch • Timer
The Power Saver app helps you extend your battery life by toggling things like Wi-Fi, GPS, Bluetooth screen brightness, auto sync and background data on and off automatically when the battery charge falls below a certain user-defined threshold.
There are three presets in total. The other two are a manual power saver and a timed saver. The latter can, say, keep all those power-hungry features off for the night and turn them back on in the morning.