4.6" 720 TFT with the Mobile BRAVIA Engine 2
The Sony Xperia SP comes with a 4.6" TFT screen of 720p resolution, which is the new norm for the mid-range. The pixel density adds up to 319ppi, which is enough to get into Retina territory and make everything appear tack sharp. It's no 1080p beast, but at this size the difference is pretty hard to spot with a naked eye.
The TFT screen is backed by the Mobile BRAVIA Engine 2, which enhances contrast and sharpness, brings down noise and saturates colors to make them more pleasing to the eye. The reds in particular tend to really pop out.
The contrast is only average and colors are hardly the best around. Brightness levels are pretty decent, though.
Display test
50% brightness
100% brightness
Black, cd/m2
White, cd/m2
Contrast ratio
Black, cd/m2
White, cd/m2
Contrast ratio
Sony Xperia SP
-
-
-
0.70
568
816
Sony Xperia ZL
-
-
-
0.44
575
1294
Sony Xperia Z
-
-
-
0.70
492
705
HTC One
0.13
205
1580
0.42
647
1541
HTC Butterfly
0.14
173
1200
0.45
501
1104
Samsung I9505 Galaxy S4
0
201
∞
0
404
∞
Oppo Find 5
0.17
176
1123
0.51
565
1107
Samsung N7100 Galaxy Note II
0
215
∞
0
402
∞
LG Optimus G Pro
-
-
-
0.41
611
1489
Nokia Lumia 920
-
-
-
0.48
513
1065
LG Optimus G
0.14
197
1445
0.33
417
1438
Apple iPhone 5
0.13
200
1490
0.48
640
1320
There are also the subjects of viewing angles. The Sony Xperia SP isn't the best performer in that aspect with color shifting and contrast loss occurring the moment you start tilting the screen.
Finally, the sunlight legibility on the Sony Xperia SP is mediocre, meaning that in brighter environments you might need to work a bit harder to find a proper angle for working with the smartphone.
Sunlight contrast ratio
Nokia 808 PureView
4.698
Apple iPhone 5
3.997
Samsung I9300 Galaxy S III
3.419
Samsung Galaxy S4
3.352
Samsung Omnia W
3.301
Samsung Galaxy S
3.155
Nokia N9
3.069
Samsung Galaxy Note
2.970
HTC One S
2.901
Samsung Galaxy S II
2.832
Samsung Galaxy S II Plus
2.801
Huawei Ascend P1
2.655
Nokia Lumia 900
2.562
HTC One
2.504
Sony Xperia Z
2.462
Samsung Galaxy S III mini
2.422
Motorola RAZR i
2.366
Sony Xperia ZL
2.352
Samsung Galaxy Note II
2.307
Apple iPhone 4S
2.269
HTC One X
2.158
Nokia N8
2.144
Oppo Find 5
2.088
BlackBerry Z10
2.051
Apple iPhone 4
2.016
Sony Ericsson Xperia ray
1.955
Samsung Galaxy Camera
1.938
HTC Butterfly
1.873
Sony Xperia V
1.792
Sony Xperia U
1.758
Sony Xperia SP
1.733
LG Optimus 4X HD
1.691
HTC One V
1.685
LG Optimus Vu
1.680
HTC Desire V
1.646
LG Optimus G Pro
1.552
LG Optimus 3D
1.542
Nokia Asha 302
1.537
Nokia Lumia 610
1.432
Gigabyte GSmart G1355
1.361
HTC Desire C
1.300
LG Optimus L7
1.269
LG Optimus L9
1.227
Meizu MX
1.221
Sony Xperia E dual
1.203
Samsung Galaxy Pocket
1.180
Sony Xperia tipo
1.166
Samsung Galaxy mini 2
1.114
You can find all about our display testing routines here.
Controls
The Sony Xperia SP has a pretty standard set of controls as far as the latest smartphones by the Japanese company go. The smartphone relies on virtual buttons, so understandably there are no keys beneath the display. All you can find there is the primary microphone and the transparent antenna which doubles as an illuminated notification strip.
The VGA front-facing camera is joined by the earpiece, the ambient light sensor and the proximity sensor above the screen.


The VGA front-facing camera is in the upper left corner
The left side of the phone features the bare microUSB port. The lack of protective cover facilitates usages, but can lead to some dirt accumulation with time.
On the right, you'll find the volume rocker near the top, the power/lock button (of the signature Xperia variety) and a two-step camera button.
We always appreciate a dedicated camera button on a phone, even more so when talking decent snappers. The shutter button on the Sony Xperia SP has good feedback and distinct half-press, although ideally it would have been a bit wider.



There are three keys on the right
The top of the Sony Xperia SP only features the 3.5 mm headphone jack.
The bottom is completely bereft of functional elements.


There's nothing to see at the bottom
The back panel of the Sony Xperia SP is user-removable, but even so you don't get access to the 2370 mAh battery. All you get underneath the plastic cover is the hot-swappable microSD card slot and the microSIM slot.



The back panel is removable but the battery isn't accessible
As far as battery life goes, the Xperia SP posted some very good numbers, even beating out the likes of the Xperia Z and ZL flagships. The Xperia SP achieved a score of 51h in our endurance rating, suggesting that it can last for more than two full days on a charge if you use it for an hour of web browsing, an hour of video watching and an hour of telephony per day.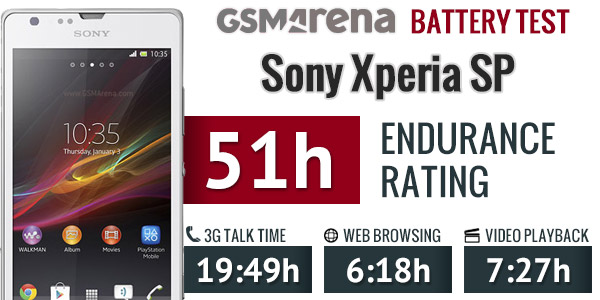 More info on the test can be found here.
Sony has done well to make the Xperia SP easy to handle despite its relatively large for the class dimension. The controls are all nicely placed and easy to press, so none of them causes any usability issues.