China's FCC equivalent, the TENAA, has images of Sony's upcoming T3 M50w smartphone, along with some specs of the device. This is usually an indicator that the device will be hitting the Chinese market soon.
Specs wise, the T3 isn't going to set any records: it's really thin at 7mm, has a 720p HD display, 1.4GHz quad-core processor, 1GB RAM, and 8GB internal storage. an 8MP primary camera, 1.1MP selife unit, and a 2500mAh battery that is non-removable. Probably the most interesting aspect of the T3 is the device's all stainless steel frame, which is a first for Sony.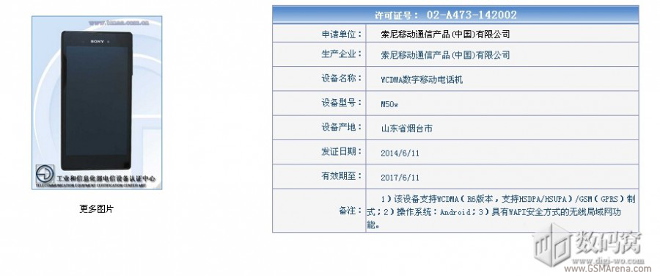 Price wise, expect the T3 M50w to be in line with the T2 Ultra Dual (around $350), and is expected to hit China sometime next month. Here are images along with tech specs of the T3 M50w that were found on the TENAA site:



License No. – 02-A473-142002
Applicant – Sony Mobile Communications (China) Co., Ltd.
Manufacturer – Sony Mobile Communications (China) Co., Ltd.
Device Name – WCDMA digital mobile phone
Equipment Type – M50w
Equipment Origin – Beijing
Issuing Date – 2014-6-11
Valid until – 2017 -6-11
s
the t-3 is not on par with t-2 ultra ..........its noting in front of t-2....i guarantee
W
The best thing about this phone probably just its steel frame, the others were nonsense
p
if price is under 20000, thn its very good mobile in this range....