The tablet Xperiance
Sony Xperia Tablet S review: The tablet Xperiance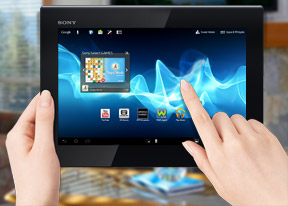 Some pre-installed applications
The Small apps have a couple of functions that aim to rival the Samsung Galaxy Note 10.1. The first one is called Clip - it snaps a screenshot and lets you crop out a part of it (or use as it is), then you can scribble notes on top with several colors and an adjustable brush size. You can tag the result to help find it easier later or share it.
The other option is called Memo and works alike, but instead of a screenshot it starts off with a blank canvas. Memos can also be tagged and shared. This Small app has a couple of more options - it lets you enter text with the on-screen keyboard and change its background color.
The Scrapbook app is a more advanced version of those two. It lets you create Books, each with multiple pages. Like a true scrapbook, you can put just about anything here - scribble notes, add "clips" (the ones you've created with the Clips Small app), images, videos and songs. You can share a page of a book as a PNG image, but you can't share full books.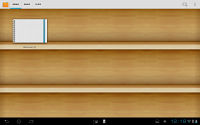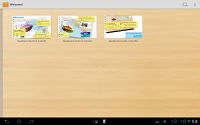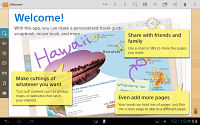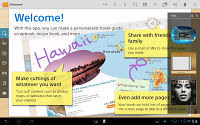 Scrapbook makes collages out of photos, clips and everything else
Zinio is preinstalled on the Tablet S - it's an app that lets you subscribe to a long list of digital magazines (paid ones), so you can read them on the tablet instead of the old ink on paper format.
Sony is in the ebook business and has, of course, pre-installed the Reader app. The app facilitates purchasing books from Sony but also offers old classics for free. The app has adjustable font size, day and night reading modes and supports both ePub and PDF books.
There's also a file transfer app, which allows you to easily transfer files between the built-in memory and the SD card or even attached mass storage devices. It's not a full-blown file manager though.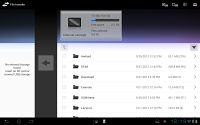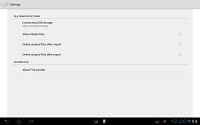 File Transfer is a basic file browser for copying files to and from the built-in memory
Maps on a big screen
The Sony Xperia Tablet S comes with a GPS receiver, which got a satellite lock in just over a minute with A-GPS turned off. A-GPS can speed this up quite a bit, but requires Internet access. We gotta say, we didn't experience any issues with signal reception.
The Xperia Tablet S comes with the latest Google Maps and Navigation, which allow for easy caching of areas of the map for offline use along with offline re-routing. This means you can use Maps without a data connection and even if you do need to go online, the vector maps are very data efficient.
For now though, turn-by-turn voice guidance using Google Maps Navigation is only available in select countries and unless you live in one of them, the best you can do is plan a route in advance and keep an eye on your current location during your trip.
Quite naturally, the app also supports the Street View mode. If it's available in the area you're interested in, you can enjoy a 360-degree view of the surroundings. When the digital compass is turned on it feels like making a virtual tour of the location.
If Google Maps Navigation doesn't do it for you, you can grab an alternative app from the Android Market - there are both free and paid ones.
Play Store
The Google Play Store offers a huge number of apps, so you can be sure that you won't be short of software to install on your Xperia Tablet S. The only problem is the portion of the apps designed to work on a big screen is relatively small, especially when compared to the number of apps in the Apple App Store optimized for the iPad.
There are featured apps, editors' picks and staff-recommended apps in addition to the usual top free and top paid. The Store will also recommend apps based on your download history.
The top new paid and top new free lists are worth checking out too and you shouldn't forget the trending apps. Naturally, there is a built-in search and apps are broken down into categories so you don't get lost.