The tablet Xperiance
Sony Xperia Tablet S review: The tablet Xperiance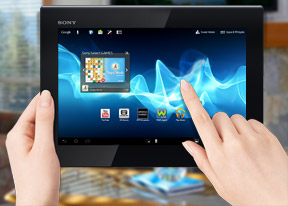 Split-screen contact book
While the Sony Xperia Tablet S doesn't have telephony, the People app is still quite useful. It's organized into three tabs - Groups, All (the default one) and Favorites.
Contacts are listed alphabetically with an image next to the name and an alphabet scroll to make finding a contact quicker (there's also regular search as you type).
The app uses a split screen interface, so that you can pick a contact from the list on the left and view its details on the right. You can add multiple accounts (Google and Skype by default) and filter which ones are visible in the contact list to avoid clutter.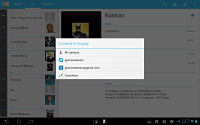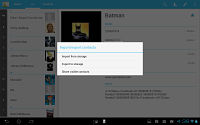 Picking which contact are shown in the contact book • importing and exporting contacts
When editing a contact, you can add multiple fields of different types to store more info.
The Favorites tab shows only starred contacts and uses a rectangular grid of their contact images. The images are big and easy to hit.
While the Xperia Tablet S doesn't have telephony features, we still tested the loudspeaker performance as it will be used for music and videos. It scored a Below average, which isn't very impressive. You can find more about the test itself here.
| | | | | |
| --- | --- | --- | --- | --- |
| Speakerphone test | Voice, dB | Pink noise/ Music, dB | Ringing phone, dB | Overall score |
| Sony Xperia Tablet S | 64.7 | 61.8 | 67.1 | Below Average |
| Samsung Galaxy Tab 7.0 Plus | 66.2 | 65.7 | 65.9 | Below average |
| Samsung Galaxy Tab 10.1 3G | 66.2 | 66.0 | 70.9 | Average |
| Samsung Galaxy Tab 7.7 | 69.1 | 66.6 | 75.7 | Good |
| Google Nexus 7 | 68.6 | 65.9 | 75.8 | Good |
| Samsung Galaxy Note 10.1 | 71.7 | 69.1 | 79.5 | Very Good |
| Samsung Galaxy Tab 2 10.1 | 72.9 | 66.6 | 82.7 | Very Good |
Email, chat and text input
The Sony Xperia Tablet S comes with two email applications out of the box - one for your Gmail and a generic one to use with any POP3/IMAP account.
They both have a split-screen interface. Initially, your folders are listed on the left and the emails in the currently selected one appear on the right. Upon clicking on a single message, the list of emails moves to the left tab while the body of the selected one pops up on the right.
Messages can be sorted by sender, subject or date. Bulk actions are supported, so you will easily manage mailboxes that get tons of messages.
You can set up the automatic email retrieval interval or you can disable that completely and only check your mail manually. There's also a handy setting that makes your client automatically download attachments only when you are connected over Wi-Fi.
It's basically the same treatment you get on Android smartphones with a few further optimizations permitted by the larger screen.
The Sony Xperia Tablet S comes with three chat apps out of the box. The first two are pretty much mandatory for an Android device, Gtalk and Google Plus Messenger, but there's also Skype pre-installed.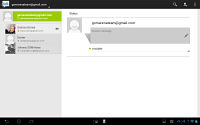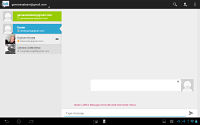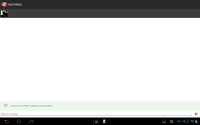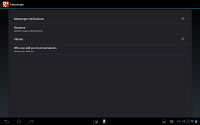 Gtalk and Google Plus Messenger
Skype is the same app as on phones, so its UI doesn't really make a good use of the tablet's big screen. Still, with a 720p-capable front-facing camera, the Tablet S can be more comfortable to use for Skype video calls than a laptop.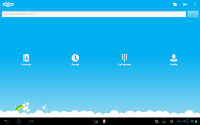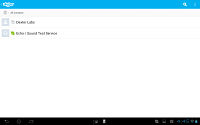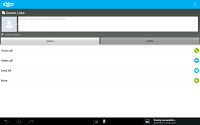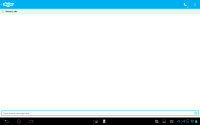 Skype comes pre-installed, but the UI needs work
For text input, the tablet relies on a custom keyboard. Most of the time it only displays letters, but on occasion (e.g. when entering a password), a numpad will appear on the right.
If you like, you can set the numpad to be always on, the screen is big enough to fit both letters and numbers. We quite like the arrangement and we think it works better than putting the numbers on the top row (which wastes too much vertical space).
Still, typing on such a big on-screen keyboard is far from the most comfortable experience in the world. In landscape orientation, your hands have to hover and the tablet is a bit too wide to type comfortably while holding it.
If you're used to typing on a tablet you might be okay though. Plus, things improve a bit when you put the Xperia Tablet S on a cover, tilted at a shallow angle. You still might want to look into the Surface-like keyboard/cover combo.