The tablet Xperiance
Sony Xperia Tablet S review: The tablet Xperiance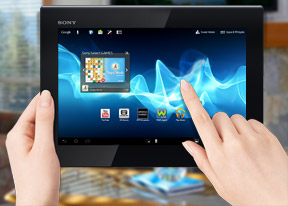 Two galleries, both good
The Sony Xperia Tablet S comes with two gallery apps - one is a standard-looking Android gallery (with quite a few modifications actually) while the other is called Album, which is the tablet version of Sony's custom gallery app that we saw on the Xperia acro S.
Let's start with the well-known Android gallery. It finds all images on the tablet's internal memory and also loads any Picasa albums you might have. Those can be made available for offline viewing.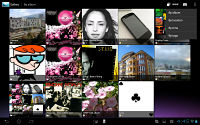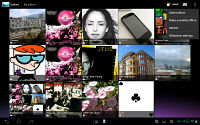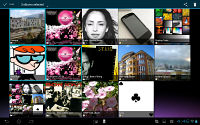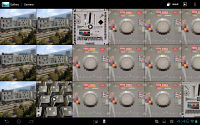 The stock Android gallery on the Xperia Tablet S
Photos are grouped by folder into a rectangular grid of thumbnails. You also have the option to group the images by date, location or tag.
When viewing a single image, you get options to edit or crop an image or start a slide show. Overlaid on the bottom of the screen is a strip of tiny thumbnails that can be used to jump to other images in the same folder (or whatever the images were grouped by).
A cool option here is to tap a button in the top right corner of the screen, which splits the screen in two. The image is in the top part of the screen, while the strip of thumbnails is moved to the bottom. You can adjust the splitting line, giving more room to the big image or to the grid of thumbnails (they animate from a single row to a grid as you move the line up). A map view is also available in this mode, with an option to pick between standard maps or satellite imagery.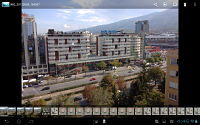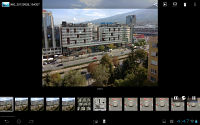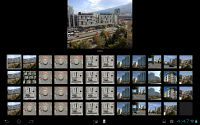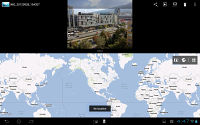 Switching to split-screen mode
In the Album app, images are arranged into stacks of thumbnails and sorted by date, but you can also opt for displaying all of your albums in one place. There are three tabs above the stacks - Pictures, Map and Online.
Pictures is the main tab - you can use pinch gestures to make the thumbnails bigger or smaller. The map tab opens a full-screen map with all the geotagged images scattered around the world.
The Online tab uses pictures from the connected Picasa or Facebook. You can post comments on photos from both and also like photos coming from Facebook. This tab will also scan the Wi-Fi network so you can browse photos shared from your computer.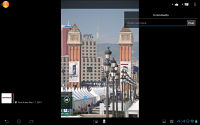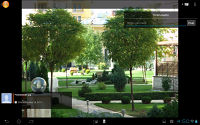 Commenting on photos from Facebook and Picasa
Walkman music player with plenty of enhancements
The Sony Xperia Tablet S uses a Walkman-branded music player app. The interface is dead simple - you get album art on the left/top (in landscape/portrait orientation) that you can swipe to move between songs and playback controls on the right/below.
Songs can be starred to mark as favorite in your music library and you can also "like" a song and post about it on Facebook. You can also replace the album art with a visualizer - you can pick from 7 themes or let it pick one at random.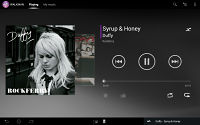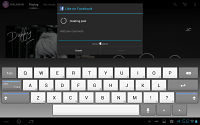 The now playing interface is very clean and simple • Liking a song on Facebook
The app has two tabs - Playing and My Music. The first tab holds the now playing interface, wile the other browses your local music library along with DLNA-compatible music sources.
Typical for Sony music apps, the Infinite button lets you look up song lyrics on Google, the artist in Wikipedia and search for the music video (both regular and karaoke) on YouTube.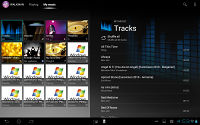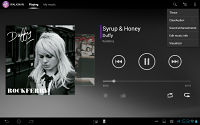 The second tab shows the music library and shared music from the local Wi-Fi network
The Xperia Tablet S features stereo speakers on its bottom, which you have to be careful not to muffle (especially if you're using a cover as a stand). They sound pretty good actually for tablet speakers.
There are a number of sound enhancing technologies. The first is ClearAudio+, which attempts to restore what was lost in the MP3 compression. Clear Phase in turn "automatically adjusts the sound quality of the internal speaker". You also get xLOUD and you can turn on S-Force Front Surround 3D to emulate 3D sound.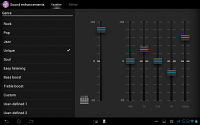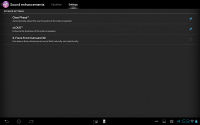 Equalizer and sound-enhancement features
Of course, there's an equalizer as well, with a number of presets along with manual controls. You can save two user defined presets. There are five frequency bands to be adjusted, plus Clear Bass.
Video player could use better codec support
The Sony Xperia Tablet S comes with a dedicated Movies app, which can be used to watch video, but you can also use the gallery to do that.
Using Movies does have some advantages though. For one, it's dedicated UI is easier to use and shows both local videos and ones shared over DLNA. It can also connect to Blu-ray recording devices and stream from them.
The Movies app offers some of the same audio enhancements as the music player. There's Clear Phase, xLOUD and S-Force Front Surround 3D.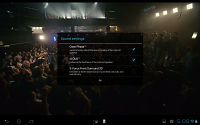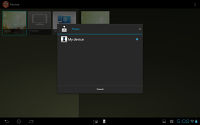 Enabling sound-enhancing features • playing the video on a different device through DLNA
As far as codec support goes, we've seen better. The Xperia Tablet S had little problem playing HD videos in MP4 and MKV format, including 1080p videos. DivX and XviD videos seemed to be a problem though as we only managed to get SD videos with these codecs going.
Sound is another issue - there's no support for AC3 or DTS, which are commonly found in MKV videos. Subtitle support is missing too.
Audio output is clean, but quiet
The Sony Xperia Tablet S did decently well in our audio quality test, but its volume levels failed to impress.
When connected to an active external amplifier the Sony slate was quieter than average even for a smartphone, but all of its readings turned out excellent.
Connecting a pair of headphones leads to a spike in stereo crosstalk and a slight increase in intermodulation distortion. Neither of these is too alarming, but we got below average volume levels again, which prevented us from giving the Xperia Tablet S a perfect score.
Check out the results for yourself for in the table below.
| | | | | | | |
| --- | --- | --- | --- | --- | --- | --- |
| Test | Frequency response | Noise level | Dynamic range | THD | IMD + Noise | Stereo crosstalk |
| Sony Xperia Tablet S | +0.05, -0.04 | -89.6 | 89.1 | 0.011 | 0.016 | -90.7 |
| Sony Xperia Tablet S (headphones attached) | +0.38, -0.11 | -89.6 | 88.9 | 0.018 | 0.241 | -59.9 |
| Google Nexus 7 | +0.03, -0.11 | -69.8 | 70.5 | 0.024 | 0.069 | -72.1 |
| Google Nexus 7 (headphones attached) | +1.39, -0.28 | -86.4 | 67.9 | 0.011 | 0.723 | -52.9 |
| Samsung Galaxy Tab 2 10.1 | +0.03, -0.05 | -90.4 | 90.4 | 0.013 | 0.027 | -91.8 |
| Samsung Galaxy Tab 2 10.1 (headphones attached) | +0.11, -0.04 | -90.3 | 90.3 | 0.0097 | 0.102 | -54.3 |
| Samsung P6800 Galaxy Tab 7.7 | +0.04, -0.07 | -90.3 | 89.3 | 0.0043 | 0.065 | -87.7 |
| Samsung P6800 Galaxy Tab 7.7 (headphones attached) | +0.19, -0.07 | -89.4 | 88.7 | 0.0078 | 0.152 | -43.4 |
| Samsung Galaxy Tab 10.1 | +0.03, -0.04 | -89.9 | 89.9 | 0.014 | 0.018 | -90.8 |
| Samsung Galaxy Tab 10.1 (headphones attached) | +0.05, -0.03 | -89.6 | 89.6 | 0.012 | 0.063 | -64.4 |
| Apple iPad 3 | +0.02, -0.12 | -90.9 | 90.9 | 0.0019 | 0.0095 | -92.7 |
| Apple iPad 3 (headphones attached) | +0.02, -0.12 | -90.9 | 90.9 | 0.0020 | 0.0095 | -46.4 |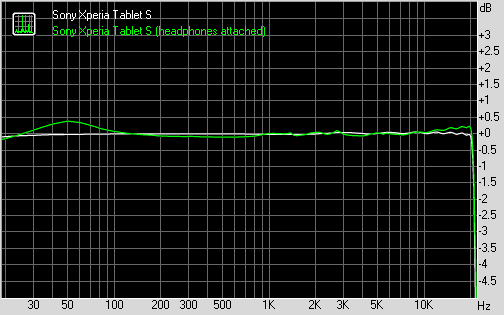 Sony Xperia Tablet S frequency response
You can learn more about the whole testing process here.