Stepping up
Sony Xperia Tablet Z review: Stepping up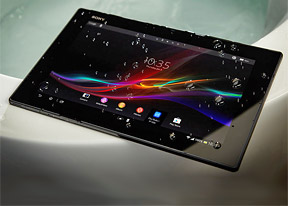 Unboxing the Xperia Tablet Z
The Sony Xperia Tablet Z comes in a big box, but there's very little of interest inside. Other than the tablet itself, there's a compact charger that pushes out enough juice to charge a tablet (some phone chargers may not be up to the task), a microUSB cable to go with it and a bunch of manuals.



Unboxing the Sony Xperia Tablet Z
The Tablet Z comes with a screen protector pre-applied, but depending how you intend on using the tablet, you may be better off without it, as it adds some extra glare to the screen.
Design and build quality
The Sony Xperia Tablet Z is based on the OmniBalance design philosophy, which was introduced by the Xperia Z smartphone. The bold angular styling is extra sleek and, we have to say, the design of one of the best-looking flagships scales impressively well to tablet size.
We're glad Sony decided not to keep the glass back though - the soft matte finish offers a lot more grip and is much, much better at hiding fingerprints. It's harder to clean up once it gets dirty, but we'll take that over a constantly greasy back any day.
The tablet is very thin - 6.9mm vs. 9.4mm for the iPad 4, 8.9mm for the Nexus 10 and the Samsung Galaxy Note 10.1. Those tablets also weigh at least 600g.




Size comparison: Xperia Tablet Z vs. Google Nexus 10
The slim profile drives up the cool factor, but it's the weight that really counts. You can feel the difference and the Sony Xperia Tablet Z is quite easy to hold in one hand, even by its corner. Also, the screen bezel is wide enough to make the tablet comfortable to hold in any orientation.


Sony Xperia Tablet Z in the hand
Lightweight materials and thin design didn't compromise the build quality though, the tablet feels very sturdy in the hand and doesn't bend or twist. The matte plastic on the back is not quite as premium as aluminum, but it is a lot better than Samsung's glossy plastic.
We do have one issue with how the tablet is put together - there are gaps around the screen glass, around the plastic panel on the back and around the plastic on the sides of the tablet. Those gaps collect dust fairly quickly and are hard to clean.



These small gaps will gather dust quickly and it will be hard to clean
Another potential problem is that all pots and slots are sealed by plastic flaps, which means you have to open and close a flap every time you plug in a cable or want to change a card.
There are two exposed pogo pins that can be used to charge the tablet with the special Tablet Z cradle, so you can at least save yourself the trouble of undoing the microUSB port flap every time you need to charge the thing. But the cradle costs extra, of course.
Those flaps are, of course, mandated by the IP57 certification, which protects the Sony Xperia Tablet Z against dust and water (water jets or submersion up to 1m for half an hour).
It's great to see that Sony kept all ports and slots standard and fairly easy to access (you don't need a special tool to access the microSIM card slot), despite the extra hassle of having to waterproof them.
Also, not using a proprietary port like Apple or Samsung (or even Sony itself with the Xperia Tablet S) is handy too, you can have only one charger or one MHL adapter to use with the tablet and a phone.
Display
The Sony Xperia Tablet Z uses a TFT display of WUXGA resolution (1920 x 1200) covered by shatter-proof glass (the supplier is undisclosed). The Tablet Z uses what Sony eagerly calls an OptiContrast design, which means there's no air gap between the glass and the display panel and the touch sensor has been integrated into the display panel itself.


Sony Xperia Tablet Z has a 10.1" TFT display with WUXGA resolution
Having no air gap reduces glare from bright sunlight and also makes the display assembly thinner. Sony also says this makes the display appear black when the screen is turned off (it is a lot darker than the Nexus 10 screen). Finally, the image on displays manufactured in this way appears to be closer to the glass surface adding for a more high-end look.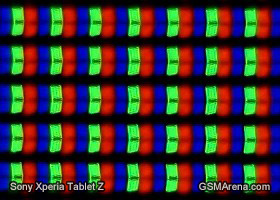 Regular pixel matrix for the Xperia Tablet Z
The Xperia Tablet Z has Sony's BRAVIA Engine 2, which constantly processes the screen's image feed to enhance contrast and make things look sharper, while reducing noise and enhancing color rendering. It can be turned off, but with BRAVIA Engine on images do look punchier.
The screen is reasonably sharp to begin with - at 224ppi, it's close to the 264ppi of the iPad 4. The Apple tablet does have a slight advantage in sharpness, but overall this is one of the better screens on an Android tablet (the Nexus 10 screen is sharper, 299ppi, but it has other issues).
Unlike Sony phones, viewing angles on the Xperia Tablet Z are very good with a minor contrast loss when viewed at an angle.
Contrast is good, though the brightness could have been higher, we usually kept the brightness slider towards the maximum. The display is fairly bright for a tablet screen, so it could be the brightness slider dimming it too quickly as you move it down.
Colors are vibrant, but our unit came with a fairly warm screen, which may not be to everyone's liking.
Display test
50% brightness
100% brightness
Black, cd/m2
White, cd/m2
Contrast ratio
Black, cd/m2
White, cd/m2
Contrast ratio
Google Nexus 10
0.26
223
859
0.50
443
878
Sony Xperia Tablet Z
-
-
-
0.53
531
996
Sony Xperia Tablet S
0.35
334
947
0.67
526
783
Apple iPad mini
0.25
208
838
0.51
458
812
Apple iPad 3
0.21
167
809
0.6
477
779
Apple iPad 4
0.21
163
797
0.63
476
762
Samsung Galaxy Tab 7.7
0
200
∞
0
328
∞
Asus Google Nexus 7
0.25
244
954
0.36
327
908
Samsung Galaxy Note 10.1
0.27
223
832
0.49
406
821
Samsung Galaxy Tab 10.1
0.31
257
826
0.55
502
915
Samsung Galaxy Tab 7.0 Plus
0.17
196
1141
0.34
424
1236
Despite the OptiContrast design of the display, it's still pretty reflective, resulting in less than perfect sunlight legibility. It's not as reflective as the Nexus 10's screen, but it isn't much better either.