Stepping up
Sony Xperia Tablet Z review: Stepping up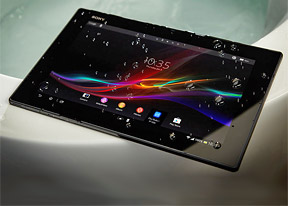 Split-screen contact book
While the Sony Xperia Tablet Z doesn't have telephony, the People app is still quite useful as you can send texts or even call contacts using apps like Viber.
Contacts is organized into three tabs - Contacts, Favorite and Groups. The first tab lists all contacts alphabetically with an image next to the name and an alphabet scroll to make finding a contact quicker (there's also regular search as you type).
The app uses a split screen interface, so that you can pick a contact from the list on the left and view its details on the right. You can add multiple accounts (Google and Skype by default) and filter which ones are visible in the contact list to avoid clutter.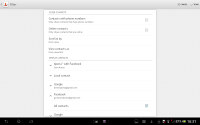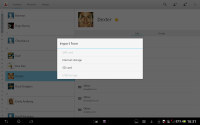 Picking which contact are shown in the contact book • importing and exporting contacts
When editing a contact, you can add multiple fields of different types to store more info. You can choose Link contact and the tablet will find potential duplicate entries so you can merge all entries for a single contact into one.
The Favorites tab shows only starred contacts and uses a rectangular grid of their contact images. The images are big and easy to hit. The Groups tab uses a split screen interface to let you browse through groups with options for mass text or email (there's an "x of y members" label, which shows how many contacts in the group can be messaged at once, in case some don't have phone numbers of email addresses).
Contacts can be backed up to the SIM card, the internal storage, microSD card or even external USB storage.
All that's great, but we wish there was better integration with Facebook - you can see the contacts in the list, but you can't easily check their latest updates or send them a message.
While the Xperia Tablet Z doesn't have telephony features, we still tested the loudspeaker performance as it will be used for music and videos. It scored a Below average, which isn't very impressive.
| | | | | |
| --- | --- | --- | --- | --- |
| Speakerphone test | Voice, dB | Pink noise/ Music, dB | Ringing phone, dB | Overal score |
| Amazon Kindle Fire | 66.6 | 63.7 | 66.9 | Below Average |
| Apple iPhone 5 | 66.8 | 66.1 | 67.7 | Below Average |
| Microsoft Surface RT | 61.7 | 60.2 | 64.2 | Below Average |
| Sony Xperia Tablet Z | 66.0 | 64.6 | 70.1 | Below average |
| Google Nexus 10 | 68.3 | 66.1 | 67.8 | Average |
| Asus Google Nexus 7 | 68.6 | 65.9 | 75.8 | Good |
| Samsung Note II N7100 | 70.0 | 66.6 | 80.5 | Good |
| Apple iPad mini | 68.2 | 65.7 | 75.7 | Good |
| Apple iPad 4 | 67.2 | 66.1 | 75.9 | Good |
| Motorola RAZR XT910 | 74.7 | 66.6 | 82.1 | Very Good |
| LG Optimus G | 74.6 | 71.3 | 82.7 | Excellent |
You can find out more about the test here.
Email, texting, IM and text input
The Sony Xperia Tablet Z comes with two email applications out of the box - one for your Gmail and a generic one to use with any POP3/IMAP account.
They both have a split-screen interface. Initially, your folders (or labels in Gmail) are listed on the left and the emails in the currently selected one appear on the right. Upon clicking on a message, the list of emails moves to the left tab while the body of the selected one pops up on the right.
You can set up the automatic email retrieval interval or you can disable that completely and only check your mail manually. There's also a handy setting that makes your client automatically download attachments only when you are connected over Wi-Fi.
Both apps support multiple accounts, but the Gmail app is restricted to Gmail only and does not have a combined inbox. The generic email app also allows messages to be sorted by date, sender, subject, priority, read, starred and size (useful if you're looking for an attachment).
The Messaging app handles SMS and MMS. It uses a split-screen user interface similar to the email apps. The threads (conversations with a contact) are on the left and the messages themselves on the right.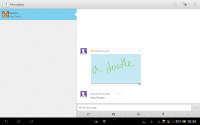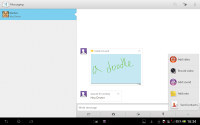 The Messaging app handles SMS and MMS
You can type a standard message or turn it into an MMS by attaching a picture, video, sound, contact or your location. The Doodle feature lets you draw something and send it as an MMS.
Individual messages can be starred so they are easy to find later.
The Sony Xperia Tablet Z comes with three chat apps out of the box. The first two are pretty much mandatory for an Android device, Hangouts (which replaced Gtalk) and Google Plus Messenger, but there's also Viber pre-installed.
Hangous signs into all your Google accounts at once and you can chat from all of them. It too uses a split-screen interface and can send regular text messages but also photos. The other option is to start a video call (no plain voice calls just yet) and you can chat (text or video) with multiple contacts at once.
Viber recently got updated to support tablets and desktop computers, so you can now call your friends from the Tablet Z. Google+ Messenger feels a little useless now that Hangouts is available, but you can still use it.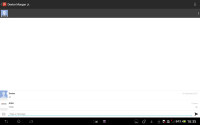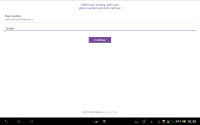 Hangouts is Androids new chat app • Viber is also pre-installed
For text input, the tablet relies on a custom keyboard. Most of the time it only displays letters, but on occasion (e.g. when entering a password), a numpad will appear on the right.
The keyboard is too large to type comfortably on (especially in landscape mode), so it's great that you can enable the mini keyboard. It takes a little less than the width of the screen and you can move it around. Note that this keyboard seems to be available only on the LTE version of the Tablet Z, an odd limitation of the Wi-Fi only version.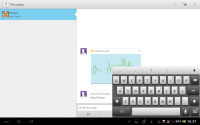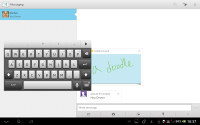 The mini keyboard takes up less space and is easier to type on
Sony has added a fair number of customization options to the Tablet Z keyboard. You can enable bilingual word suggestions, symbols on long press, the Google voice typing key and the smiley key. All these options are disabled by default.
There's an option for gesture input too - swipe over the keys instead of tapping them.