Stepping up
Sony Xperia Tablet Z review: Stepping up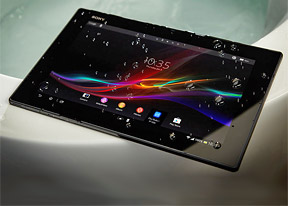 Social gallery with DLNA
The Sony Xperia Tablet S came with two gallery apps - the stock Android app and a custom Sony one. This time around, Sony decided to leave only its custom solution.
Pictures is the main tab - you can use pinch gestures to make the thumbnails bigger or smaller. On the left you'll see the month and year the pictures were taken on along with a count. There are no alternatives to sorting by date.
The My Albums tab has several special albums and your online albums too. You can open Facebook and Picasa albums and post comments on photos (also, like photos in a Facebook album). Photos from DLNA servers on your network are also accessible from here.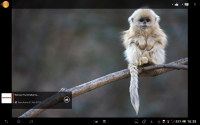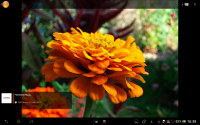 Commenting on photos from Facebook and Picasa
The special albums include Faces, which uses facial recognition to sort photos by face, Maps and Globe both of which pull geo-tagging info from photos and place them on a map or 3D globe respectively.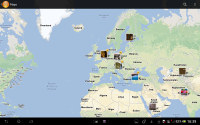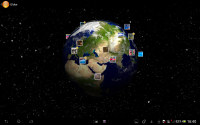 Showing your friends the places you've traveled is easy with Albums
Sony's proprietary PlayMemories service can sync your photos (from the Tablet Z and other devices) with the cloud and later accessed from multiple devices.
There's also a slideshow option, which offers four different transition themes and background music - either a track or a playlist from your library, or "Default music" as a last resort.
Walkman music player with plenty of enhancements
The Sony Xperia Tablet Z uses a Walkman-branded music player app. The interface is dead simple - you get album art on the left/top (in landscape/portrait orientation) that you can swipe to move between songs and playback controls on the right/below.
Songs can be starred to mark as favorite in your music library and can be liked on Facebook. You can use the infinite button to look up a song on YouTube (for the music video or a karaoke version), search for lyrics or find info about the artist on Wikipedia.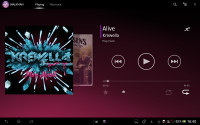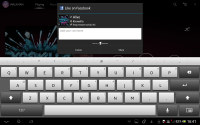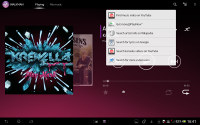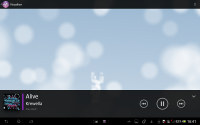 The now playing interface is very clean and simple • liking on Facebook • Infinite button • visualizer
There's a visualizer option, which offers 8 different themes that animate along with the song. You might need to download music info for the visualizer to work better.
The app has two tabs - Playing and My Music. The first tab holds the now playing interface, while the other browses your local music library along with DLNA-compatible music sources. You can use the Throw feature to push a song to a DLNA-enabled player.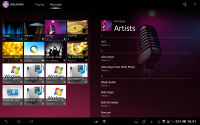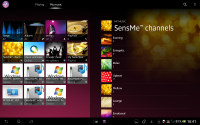 The second tab shows the music library and shared music from the local Wi-Fi network
The Xperia Tablet Z features stereo speakers on its bottom, which sound pretty good actually for tablet speakers.
There are a number of sound enhancing technologies. The first is ClearAudio+, which attempts to restore what was lost in the MP3 compression. Clear Phase in turn "automatically adjusts the sound quality of the internal speaker". You also get xLOUD and Surround sound or S-Force Front Surround 3D.
The Dynamic normalizer option minimizes the differences in volume between different songs.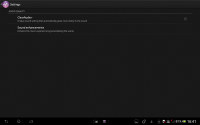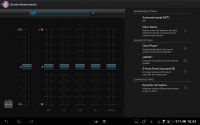 Equalizer and sound-enhancement features
Of course, there's an equalizer as well, with a number of presets along with manual controls. You can save two user defined presets. There are five frequency bands to be adjusted, plus Clear Bass.
FM radio with RDS, Track ID
The Sony Xperia Tablet Z has an RDS-enabled FM radio receiver - the app is pretty simple, it's a big slider to change the frequency, but the visualizations keep it from getting boring. You can star channels and color code them to find the ones you need easier later on. Sound can be played through the speakers (you still need the headphones connected as they act as an antenna).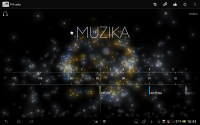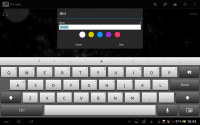 The FM radio has visualizations too • you can star and color code your favorite channels
TrackID is available out of the box to find the name of the band and song that's currently playing (on the radio or what it can record with its microphone). The Thumbs up button in the radio detects the song name and lets you post a comment on Facebook about it.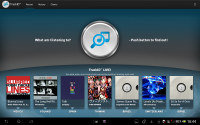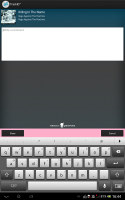 TrackID tells you what you're listening to • you can Like a song you've heard on the radio
Good video player, but it could use better codec support
The Sony Xperia Tablet Z comes with a dedicated Movies app, which can be used to watch video, but you can also use the gallery to do that.
Using Movies does have its advantages though. For one, its dedicated UI is easier to use and shows both local videos and ones shared over DLNA. It can also connect to Blu-ray recording devices and stream from them.
Better yet, it can detect the name of a TV show, the season and episode number for each file. It then sorts the files by show and season, making it very easy to manage large collections.
The Movies app offers some of the same audio enhancements as the music player. There's Clear Phase, xLOUD and S-Force Front Surround 3D.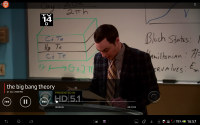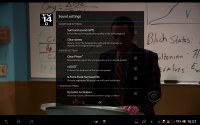 Enabling sound-enhancing features
As far as codec support goes, we've seen better. The Xperia Tablet Z had little problem playing 1080p videos in MP4 and MKV format. DivX and XviD videos in HD however, seemed to present a problem as we only managed to get SD videos with these codecs going.
Sound is another issue - there's no support for AC3 or DTS, which are commonly found in MKV videos. Subtitle support is missing too.
Audio quality is good but not the best
The Sony Xperia Xperia Tablet Z did quite well in the first part of audio output test. It wasn't the loudest device we have, particularly in the slate category, but its scores were excellent. Volume levels aren't bad, but they could have been better.
The Sony tablet didn't manage to impress quite as much when we plugged in a pair of headphones. The stereo crosstalk increased quite a lot and some distortion crept in. Frequency response was also affected, although it remained pretty good. Nonetheless, these are more issues than we are used to seeing on tablets, and when you consider that the volume level is only average, we can only give a passable mark to the Xperia Tablet Z in this scenario.
Check out the table and see for yourself.
| | | | | | | |
| --- | --- | --- | --- | --- | --- | --- |
| Test | Frequency response | Noise level | Dynamic range | THD | IMD + Noise | Stereo crosstalk |
| Sony Xperia Tablet Z | +0.11, -0.10 | -87.0 | 89.2 | 0.033 | 0.030 | -87.8 |
| Sony Xperia Tablet Z (headphones attached) | +0.21, -0.36 | -86.6 | 88.8 | 0.114 | 0.233 | -45.4 |
| Apple iPad 4 | +0.04, -0.00 | -85.7 | 85.7 | 0.0019 | 0.0017 | -85.2 |
| Apple iPad 4 (headphones attached) | +0.00, -0.07 | -85.7 | 85.6 | 0.0027 | 0.093 | -81.0 |
| Google Nexus 10 | +0.03, -0.04 | -82.3 | 82.2 | 0.011 | 0.022 | -81.4 |
| Google Nexus 10 (headphones attached) | +0.09, -0.24 | -82.7 | 82.7 | 0.067 | 0.204 | -77.9 |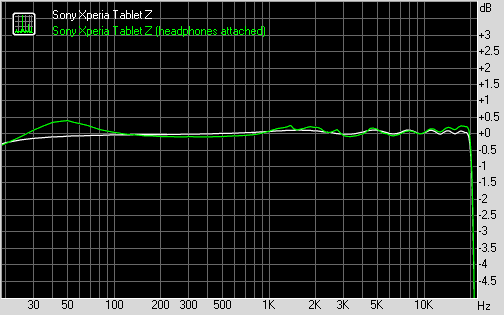 Sony Xperia Table Z frequency response
You can learn more about the whole testing process here.