Stepping up
Sony Xperia Tablet Z review: Stepping up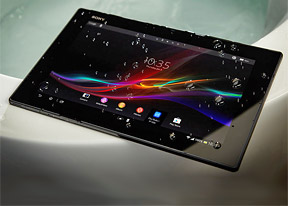 Great connectivity with TV remote functionality
The Sony Xperia Tablet Z comes in two versions - Wi-Fi only and LTE+Wi-Fi. The LTE-enabled version comes with quad-band 2G mobile data support (no voice connectivity), tri-band, HSPA+ enabled 3G and penta-band 4G LTE. The max speeds are 42/100Mbps down and 5.8/50Mbps up for HSPA+ and LTE respectively.
Both versions have dual-band Wi-Fi a/b/g/n, meaning they will work on both 2.4GHz and 5GHz networks. The transfer speed is rated at up to 150Mbps either way (you'll need a 802.11n network to get those speeds).
Even if you get a Tablet Z without 3G, you can still use mobile Internet, provided you have a data plan on your droid phone and the Xperia Link installed. The app simplifies the tethering process. It puts a widget on the homescreen that lets you turn tethering on and off.
You might be thinking that you can just use your droid's Wi-Fi hotspot feature to do the same (and you could). The difference here is that Xperia Link uses Bluetooth to share the Internet connection and not Wi-Fi. This should be more power efficient than a Wi-Fi hotspot especially considering you can keep Bluetooth on all the time, which will let tablet and phone hook up automatically once they are close enough (you can't do that with a hotspot as your battery will be dead in a couple of hours).
The Xperia Tablet Z also comes with Bluetooth 4.0 and a built-in GPS receiver with A-GPS and GLONASS support.
NFC is also on board and if you have Xperia tags you can use them to automate actions using Smart Connect. The app can also trigger actions based on time or when you plug in headphones or a charger.
NFC is used for One-touch mirroring - you can tap your Tablet Z to the remote of a compatible Sony BRAVIA TV and video playback will automatically be transferred to the TV. You can switch to NFC-enabled speakers the same way.
For wired connectivity, it has a standard 3.5mm audio jack on its right and a MHL at the bottom, which handles charging, data connections with a computer and HDMI TV Out. The Transfer app can be used to access USB mass storage devices and transfer data to and from them.
One feature that has become increasingly popular on mobile gadgets these days is the IR port on top. It's used to control digital appliances like TV sets, CD, DVD and Blu-ray players, cable boxes, amps, projectors, media PCs and so on (and not to transfer data like in the olden days).
The port comes complete with a Remote control app, which can handle multiple devices. Adding a new one is quick - you pick the type of device and the maker and the Tablet Z will handle the rest. If your device is not on the list, you can teach the tablet its controls by pointing the remote at it and pressing the buttons.
The Remote control app is available as both a Small app and as a full-screen app, which offers more functionality. The Small app shows how Sony imagines people will use the tablet - watching TV, while browsing on the tablet (the so called "second screen viewing" is on the rise) and you can always change the channel, adjust the volume or do more.
"More" comes in the form of macros - a list of actions that can trigger complex operations. You can, for example, switch the TV input mode to HDMI input and hit play, all with a single button press. When you create a macro, the tablet will make you go through each step so that it can time how long it takes the other device to react to each command (e.g. how long tasks such as switching between signal inputs takes or something like that).
Chrome and Small browser
The Sony Xperia Tablet Z skips the stock Android browser in favor of Chrome. It has a tabbed interface similar to its desktop counterpart along with features like Incognito mode and Request desktop site. You can use voice search if you don't feel like typing your query.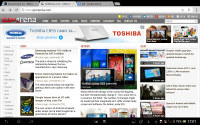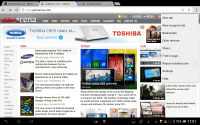 Chrome for Android is available out of the box
It also supports tab syncing with the desktop Chrome browser. This means you can seamlessly switch from browsing on a computer to browsing on the Xperia Tablet Z.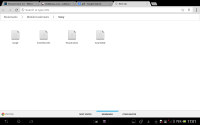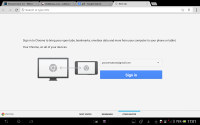 Syncing tabs with your desktop
It doesn't have Flash or a built-in PDF viewer like the desktop Chrome though, in fact there's no support for plug-ins at all.
The Xperia Tablet Z also comes with the Small app browser. It can only browse none tab at a time and there's no option to switch from Chrome to the Small Browser. You can go the other way around though and open the current page in the big Chrome browser. Another annoyance is that bookmarks are not shared between the two browsers on the tablet.
The Small Browser has a Request desktop site feature, but no incognito mode.
The screen of the Sony Xperia Tablet Z is big enough that even the Small Browser covering half the screen offers a comfortable reading experience. The high pixel density also helps as even tiny text is legible.