Mini just got bigger
Sony Xperia tipo review: Mini just got bigger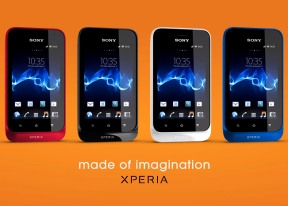 Ice Cream Sandwich styled by Sony
The Sony Xperia tipo runs Android 4.0 out of box, and is among the first Xperia's that didn't have to wait to get Ice Cream Sandwich. The jump from Gingerbread hasn't been that drastic for Sony devices, particularly because the interface is still covered head to toe by the custom skin that Sony used to style Android ever since Gingerbread.
The Sony Xperia tipo has the usual five-pane homescreen configuration, without an option to add or remove panes. There are four docked shortcuts (two on either side of the launcher shortcut). These are visible on all five homescreen panes and are user configurable: they can be either single icons or folders with multiple items in them.
Speaking of folders, one of the differences is that they're now displayed a bit differently - they show thumbnails of the first four items in them. Not a major change, but gives you quick peek of what's inside.
The homescreen does a neat trick called Overview mode. Pinch to zoom out on any of the 5 homescreen panes and a new screen opens up with a cool transition. All active widgets are displayed in a type of floating cloud, and selecting one takes you to the homescreen where that widget is located.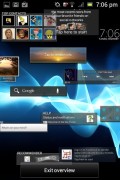 The Overview mode helps you find the widget you are looking for
The Xperia tipo has some custom-made Sony widgets in addition to the standard set. Those include the Timescape widget (alongside its dedicated app) and a Mediascape-like widget for photos and videos (the actual app isn't there anymore, the standard gallery is back).
Adding a widget is done through a special scrollable interface which displays all available widgets. To browse through them, you have to scroll up or down and tap on the one you want, which places it on your currently selected homescreen. To remove it, simply hold and drag the widget to the trashcan icon which appears on the bottom of the screen.
The widget selector can be a little tedious if you're trying to go to a specific widget, but is a great way to see what you have available to you.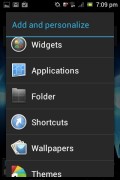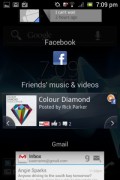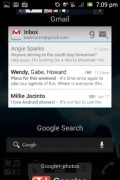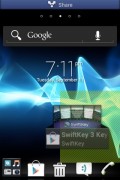 Widgets menu • Selecting and adding widgets
A cool new addition to the lockscreen missing from Xperia phones of old is the music player widget, which lets you control music playback without unlocking the phone. You can also enable Pattern, PIN or Password unlock, in ascending order of security.
The standard notification area is present and accounted for, although for some reason it isn't accessible from the lockscreen as it usually is on ICS (and on other ICS-running Xperia phones).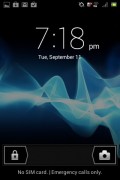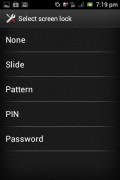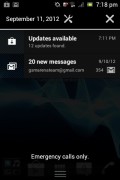 The lockscreen • Lockscreen options • The standard notification area
Synthetic benchmarks
The Sony Xperia tipo runs on a Qualcomm MSM7225AA Snapdragon chipset, which packs a 800MHz Cortex-A5, 512MB of RAM and an Adreno 200 GPU. The sub-1GHz processor initially may seem like a major downer, but in reality it performs quite well - the ICS runs smoothly with no major holdups and there's isn't much more you can ask for in the budget smartphone category.
Let's take a look at how the tipo stacks up against the competition.
Our first test is BenchmarkPi, which tests CPU computing power. Naturally, the 800MHz processor struggled against the more robust offerings in the Xperia line, but outdoes the older Galaxy Ace Plus.
BenchmarkPi
Lower is better
Sony Xperia go
543
Sony Xperia sola
551
LG Optimus L7
773
Sony Xperia tipo
987
Samsung Galaxy Ace Plus
1037
Linpack is another processor test, and the tipo does very well against devices in its class. The only other close competitor is the HTC One V, which also sports a single core processor, except of the 1 GHz variety.
Linpack
Higher is better
HTC One V
34.4
Sony Xperia tipo
32.63
LG Optimus L7
25.4
Samsung Galaxy mini 2
19.9
HTC Explorer
15.8
Samsung Galaxy Pocket
10.4
Samsung Galaxy Y Duos
10.3
Samsung Galaxy Ace
9.9
SunSpider tests JavaScript performance in web browsing, and with the ICS optimizations we see that the tipo doing very well against some of the Gingerbread droids.
SunSpider
Lower is better
HTC One V
3299
Sony Xperia tipo
3531
LG Optimus L7
3661
HTC Sensation XE
4404
Samsung Galaxy mini 2
5911
Samsung Galaxy Ace
9061
HTC Explorer
10784
Samsung Galaxy Y Duos
11966
Samsung Galaxy Pocket
12105
BrowserMark throws HTML5 into the mix, to see how future-proof the tipo is. Scoring second best, the tipo really shines in the budget class.
BrowserMark
Higher is better
LG Optimus L7
61470
Sony Xperia tipo
54938
HTC One V
42342
Samsung Galaxy mini 2
33994
Samsung Galaxy Ace
27844
HTC Explorer
22464
Samsung Galaxy Pocket
20338
Samsung Galaxy Y Duos
19634
Nenamark 2 is our graphics benchmark and here is where the tipo shows a result more in line with a budget offering. While 15.9 fps is enough for third place, it is hardly a result which is acceptable for gaming.
NenaMark 2
Higher is better
HTC Sensation XE
23.0
LG Optimus L7
19.3
Sony Xperia tipo
15.9
Samsung Galaxy mini 2
15.4
HTC Explorer
15.1
Samsung Galaxy Y Duos
13.2
Samsung Galaxy Pocket
12.9
Samsung Galaxy Ace
12.0
The ICS optimizations Sony has cooked into the Xperia tipo really do it justice - perhaps the long wait for it to provide an Android 4.0 version really was worth it. When looking at the tipo next to the mini 2 from Samsung, a device with virtually the same specifications, we can see that the tipo beat it handily in every category. It's a pleasant surprise to see how much performance Sony has been able to crank out of that 800 MHz processor.