You may have seen Android tablets which have projectors and projectors which come with Android. Forget about all these. Here's a device that can project a touchable Android UI anywhere you go. And that's not all the Sony Xperia Touch is capable of. Join us as we discover what it's all about.
What it is in a nutshell...
The Xperia Touch is an Ultra Short Throw projector, which means it's one of the few elite projectors which can project an image of up to 100 inches in diagonal while sitting at just 38cm (15 inches) distance from the surface they are projecting on.
It's also an Android smart device with a Snapdragon 650 chipset inside. With stereo speakers and a small battery built-in, it also lends itself to carrying around - to an extent.
But best of all, it's a smart device with IR touch functionality. Put it on any flat surface, and you get a 23-inch big 'screen size,' showing you an Android UI, which you can interact with like it's a regular tablet. How cool is that? And the touch functionality hardly has any caveats - it's responsive, there is no lag, and it just works.
You can watch our video review to get you started, but this text review gets into much more detail about the pros and cons of using such device in daily life so don't miss reading our scoop further down too.
How it works...
You can use the Sony Xperia Touch in what are essentially two modes though there is no real switch or toggle to speak of. They are more like two distinct use cases.
Coffee table mode
The first one is what we call the Coffee table mode. It's when you have the projector on a horizontal surface standing on its feet. The projected image lights up the surface in front of it with an image that's 23 inches in diagonal.
In this mode you get the best experience on a flat white surface - like a coffee table - hence our name for this mode. But it doesn't have to be a white surface. It also works on any wooden or stone countertop, but your experience will vary depending on how dark the surface is and how uniform its shade is.
Regardles of the surface's hue or shade though, the most important requirement is that it's flat. The user experience is less than ideal on an uneven surface. See-through glass surfaces don't work at all as expected.
Wall mode
The second mode or use case is when you have the projector shine its image on the wall. If you put it right against the wall with its feet touching it, it would project the same 23-inch image, and it would still offer the touch functionality though we find that to be a lot less accurate on the wall than on the table.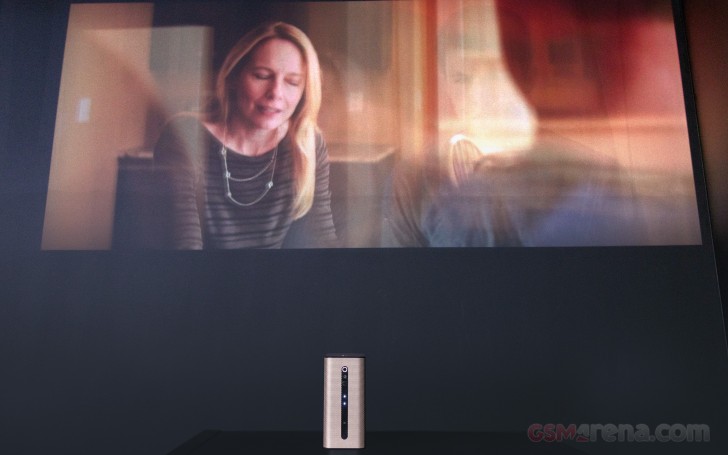 If you give the projector some distance to the wall, the projected image quickly gets bigger. At 38cm from the wall (15 inches), you are already looking at a 100-inch projected image. With conventional projectors, you need about 3m of distance (10 feet) to get a picture this big so we're sure you can appreciate the benefits of the Ultra Short Throw technology. Unfortunately, it's one of the features that makes the Xperia Touch so expensive.
Controls and ports
The other part of the equation is that the Xperia Touch has almost the same hardware as a high-end Android tablet. It runs on Android 7.0 Nougat and has a Snapdragon 650 chipset inside, coupled with 3GB RAM and 32GB of storage. You can add extra storage using the microSD slot.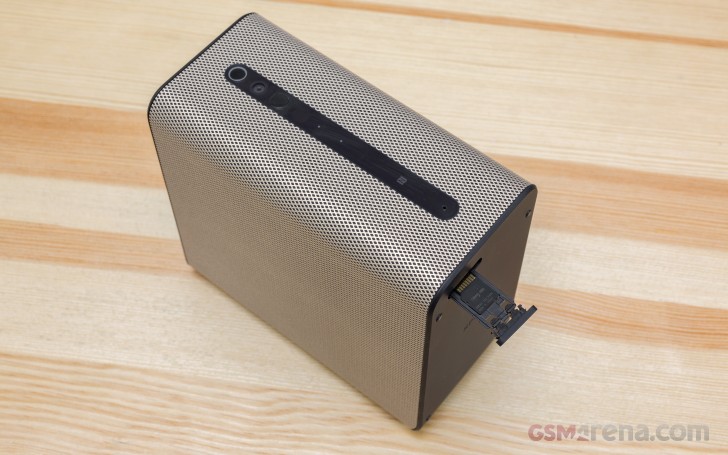 There are a few controls on top. You get the power button and volume buttons, and there is also the 13MP F/2.0 camera, the mic and quite a few sensors.
The Xperia Touch is packed with sensors - there are temperature and humidity sensors, an ambient light sensor, a proximity sensor, a barometer, a magnetometer, a gyroscope, a motion detector, and the IR sensor for touch.
The IR sensor allows for multi-touch interaction, and it can detect up to 10 fingers simultaneously. And there is no lag at all. If the surface you are using it on is flat, it works flawlessly.
The projector itself utilizes a laser diode as a light source and its maximum brightness is 100 lumens, which is not much by any standard but you have got to remember that this projector is a lot closer to the surface it has to light up than the conventional ones. It also has autofocus and automatic keystone correction so the image you get with it is always sharp.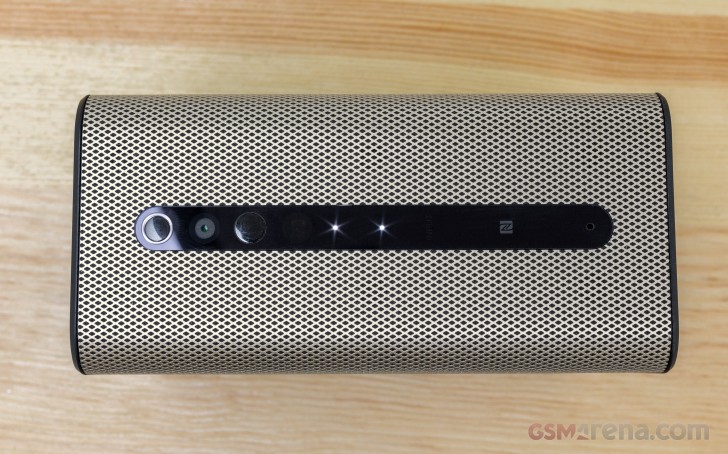 The Xperia Touch also has NFC for quick pairing between devices. There is also Bluetooth 4.2 aptX and 802.11ac Wi-Fi support with Miracast, DLNA, and Wi-Fi Direct. It pretty much covers all the connectivity features a high-end tablet would offer you. There is even a GPS receiver.
There is an HDMI type D port too - it's the smallest size available, also called microHDMI.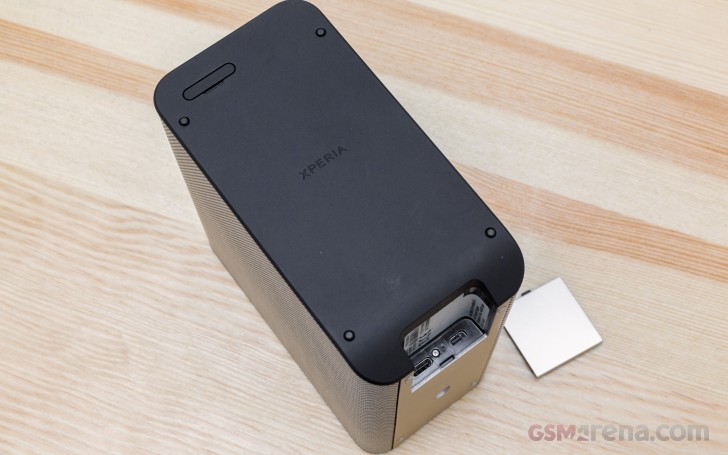 What we loved...
The Xperia Touch design is exquisite. Perforated metal covers the device and it only weighs about 1kg, so it's easy to carry around. There is a strong outwardly resemblance to a certain kitchen appliance, but once that lens starts shining, you quickly forget all about that. We're sure you've seen projectors before, but we promise, you will be floored the first time you experience first-hand what it's like to have a touchscreen projected on any surface around the house.
Sony rates the optimum size of the projected image to be up to 80" in diagonal, but in a dark room, we enjoyed a 100" image without any complaints about extra distortion or inadequate luminance. Sure, at 1366 x 768px the resolution is not that high in the first place, but if you are watching the 100" image from across the room, it's quite adequate.
The built-in stereo speakers sound quite alright when having in mind the Xperia Touch portability. They are in line with what you'd get with sub-$100 Bluetooth speakers regarding loudness and quality.
The Snapdragon 650 is quite snappy, and all apps and games work just like you'd expect. What's best though is that the Xperia Touch will run all Android apps and games you already know, there are no limitations or compatibility issues. You can use all the titles you already use on your phone or tablet.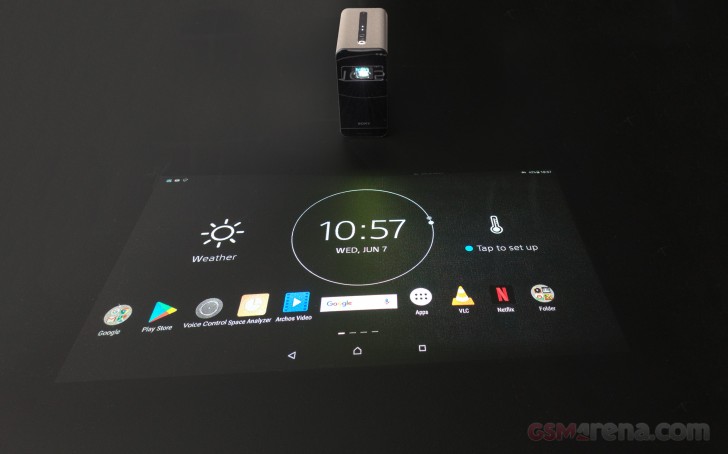 The built-in camera and mic mean you can even Skype on the big screen anywhere you go, but there is a caveat. To see the projected image well, you need a darker setting, while for the other party to see you well, it's best that you are in a well-lit environment, so it's a matter of compromise between the two.
The 13MP camera has a wide-angle 22mm lens, and it can also record 1080p video so you can leave video messages to your family. That, combined with the presence sensor, which wakes the projector anytime somebody comes by, really adds to the whole "Back from the future" vibe of the device.
What we hated...
The Xperia Touch is a unique device, and as such, none of the drawbacks we found ruined the experience for us. Consider the things we list in this section more of a consequence of the Tech reviewer's syndrome than real dealbreakers.
Playing games on a coffee table feel surprisingly natural. But while a handful of gaming genres feel native to the large touchscreen, the majority of titles are not optimized for interaction on a super large touchscreen, and they don't make the best use of the available space. We love the opportunities that the large 23-inch screen size opens regarding multi-player gaming, but we'd need to see more apps and games for this to become "a thing."
Despite this fact, we'd call the projector's Coffee table mode a win. There are hardly any serious drawbacks as long as you can find a flat surface and relatively dark environment.
The Wall mode, however, is not without its issues. Every time you as much as nudge the projector, it turns off for a few seconds until it's completely stationary again. It won't even run when you hold it in your hand.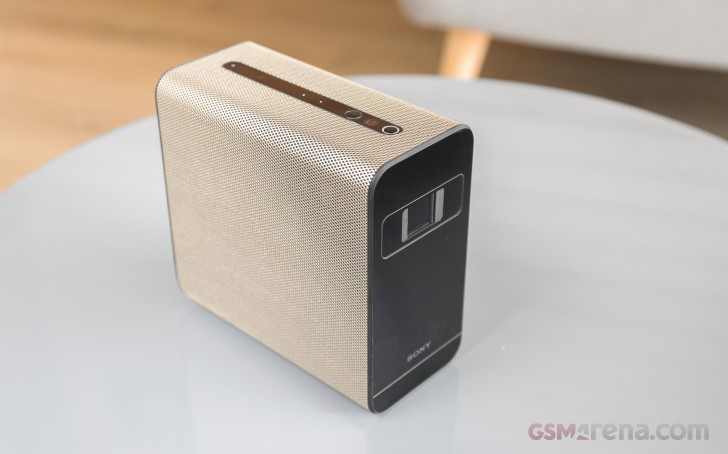 If you tend to move the projector around to different places, this behavior can quickly turn into a huge nuisance as there will be frequent moments when you are trying to adjust its location to get the best image on the wall.
It is precisely for this reason, we would have appreciated having a dedicated Play/Pause button on the device itself. Right now, these automatic pauses when the projector light turns off until it's stationary again mean you will miss parts of the video if you attempt adjusting its position once it has started playing.
Even worse, there is really no way to control the Android UI in Wall mode because the touch functionality doesn't work if the projection is bigger than the minimum 23 inches because the IR sensor has limited reach.
So in Wall mode, a Bluetooth remote control is a must-have. The finger and hand-waving controls, which we saw in early tech demos, are not implemented yet, and Sony should have bundled the projector with at least some dedicated remote.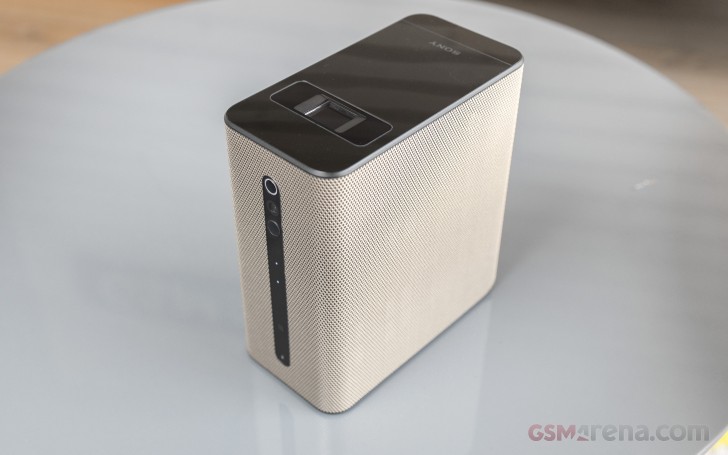 And speaking of bundling, a protective carrying case is another must-have, and for this price we expected Sony to include one. The Xperia Touch is a portable device, after all, and it's meant to be taken around to friends, to school, to the office or to clients for quick presentations.
And if you want to break free from cable use, the built-in battery offers only up to an hour of video watching. It's a 1200mAh battery and you could easily imagine they could have added just enough for the projector to last an hour and a half or two hours so you can at least enjoy a full movie before you need to scramble for the power adapter.
Even if you have the power adapter handy at all times, its power cable is just too short. It's shorter than a phone's charger, and that's odd for a device meant to be mostly used plugged in. And it's not a regular charger that you can easily replace with a longer cable - it's a hefty power brick outputting a maximum of 45W via the USB Power Delivery standard.
But let's say you don't need the portability. You might be okay with setting it up permanently next to a white wall and not be bothered about taking it around the house. Using it as a dedicated media player means you will want to hook it to an external audio system and you would expect to plug external storage drives in it from time to time. Well, neither is feasible on the Xperia Touch. There is no cable audio output while the only way to plug a drive in the projector is via the USB-C port and this one is already taken up by the power plug (not to mention it's not at the most convenient location for the purpose either).
Wrapping it up...
As we already said, neither of those drawbacks is a dealbreaker in the face of the unique feature set of the Sony Xperia Touch. As a device, which you could say comes from the future, the little projector is allowed a free pass or two. Once you see an interactive Android UI projected on any surface at your home, you will be quick to forget all those shortcomings.
For around €1500 or $1700 depending on where you're shopping, the Xperia Touch has a price tag matching its unique feature set. But you have got to remember none of the available Ultra Short Throw projectors comes cheap and none of those offers anything close to the Xperia functionality.
Unfortunately, this high price tag means the Xperia Touch will be easier to find in showroom floors rather than the small homes, where it would offer the biggest benefit. Regardless of this fact, though, the IR sensing touch interface is an exciting technology, and we can't wait to see where it takes us next.
Pre-orders in the US will open on June 16.
Sony Xperia Touch
Pros
Cons

Beautiful design.
Light and portable.
Loud stereo speakers.
Snappy processor.
Runs all Android apps and games.
IR touch input is really good on flat surfaces.
Great projected image quality.
Camera and mic are great for videocalls on the big screen.

Relatively low light output.
No Audio Out port.
The USB port is shared with the power cable.
No remote control or carrying case bundled.
The power cable is really short.
Battery life should have lasted a full movie.
Prohibitively expensive.
l
I totally agree I tested it myself no need that much darkness I think sony did an amazing job .....
T
The brightness is way too low. Nice gadget, but not useful, tbh. Unless you use it is a dark room. Not for 161.000 yen.
?
How was your commend upvoted?! You didn't even read the article! Projector in this thing is a lot more than 100$. Good projectors start at 350$ and good enough is 500$ and those are based on old tech. In Xperia Touch is new generation projector...
ADVERTISEMENTS