23MP main camera, but also a 13MP selfie shooter
The camera on the Sony Xperia X is a 23MP unit, and it captures images up to 5,520 x 4,140 pixels in a 4:3 ratio. The lens has an aperture of f/2.0 and a field of view equivalent to a 24mm lens in 35mm film terms.
All of the above sounds a lot like the setup of the Xperia Z5 and its two brethren. And it's only logical that Sony has taken its current top camera and refined it for the Xperia X - it doesn't seem very sound practice on any level for such complex hardware to have a single generation lifespan.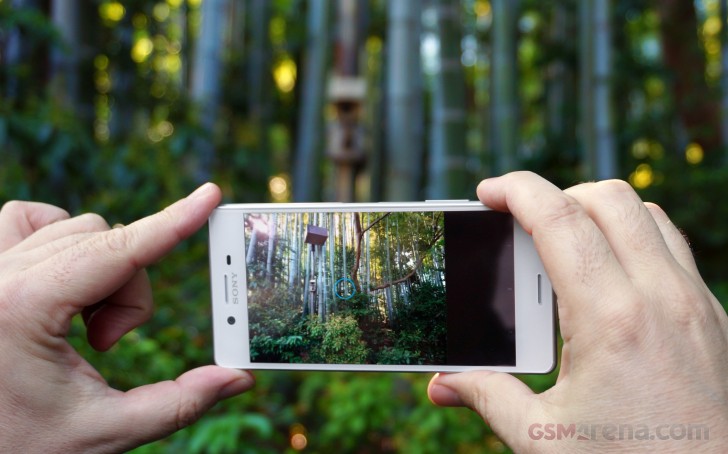 And then, do you remember Sony's old 20.7MP snapper, which was used in 4 generations of Xperias from the Z1 to the Z3+? Admittedly, Sony's generations didn't work quite the way they did with other makers, but those four still account for two and half years of flagships.
But we're not bringing up the Z1's camera without a reason. Sony itself compared the X's camera to the one of the Z1 to emphasize how thin the new smartphone's module has gotten, while still managing to fit 6 optical elements.
With a total height of 5.62mm this new camera assembly is the thinnest one to house a Type 1/2.3" sensor, Sony says. Compare that to the 6.32mm height of the Z1's unit and you're looking at an 11% reduction, which is indeed quite impressive in these already miniature devices.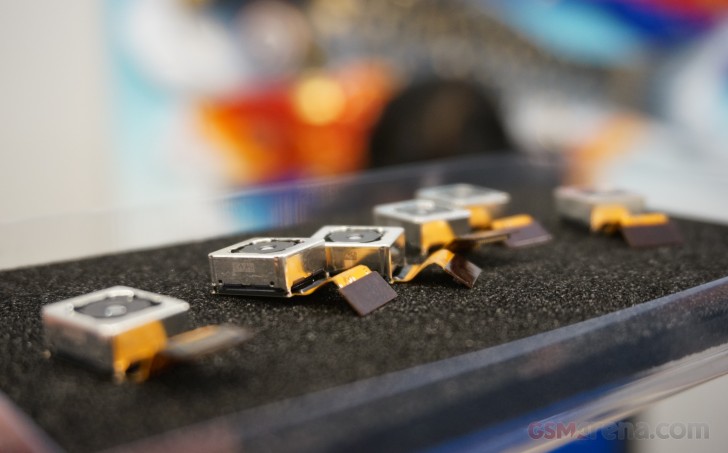 Another key point in Sony's presentation of the Xperia X's camera is autofocus. Introduced on the Xperia Z5, the Hybrid autofocus system has been taken a step forward and has gotten Predictive now, but it is in its essence, based on a hybrid use of contrast and phase detection.
The Predictive Hybrid autofocus system is meant to assist with shooting of moving subjects by tracking and analyzing their motion and anticipating their change of position in the time it takes between pressing the shutter button and the camera actually capturing the image (what is commonly referred to as shutter lag).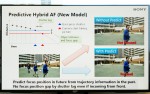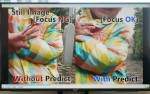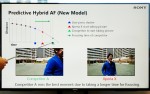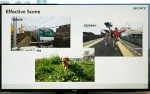 Predictive Hybrid autofocus explained
Sony's suggested use cases that take full advantage of it include approaching vehicles and moving children and pets. In practice we found its use limited and also initial setup was tricky - you need to be very precise when tapping on the screen to select the subject you want to track. That said, there may be users that can better incorporate it in their smartphone photography.
We were most impressed with how quickly the camera can launch and capture an image, by pressing and holding the two-stage manual shutter release, itself a rarity on a smartphone. Sony claims that standby-to-shot-taken time is less than 0.6s and they had a rig set up ready to prove it, which the Xperia X did every single time.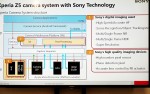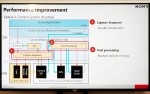 The camera syb-system has been redesigned compared to the Xperia Z5
The one thing we're not thrilled about is the lack of 4K video recording. The Snapdragon 650 chipset is capable of doing the number-crunching, so the reason for the 2160p capture must lie elsewhere. It could be battery life, it could be heat management, or it could be the most obvious one - reserve 4K recording for the true flagship, whichever that may be.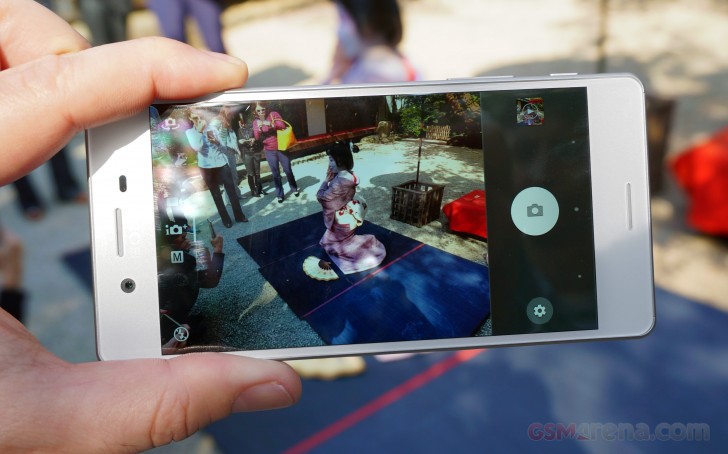 The rear camera is only part of the story, though. It's on the front, where the leap has been made, a leap from 5MP (where Z-series topped out) to 13MP. It's a rather large sensor too - a Type 1/3" unit, in a world dominated by 1/4" and 1/5" imagers. Additionally, like a proper camera, the front-facer gets autofocus and a (reasonably) bright f/2.0 lens.
The notable absentee is the front-facing flash, but Sony has the C and M-series for that, we guess. Mind you, the existing Xperia C5 Ultra, as well as the Xperia M5 have a similar selfie setup, going strictly by the numbers - so there might be some shared hardware here too.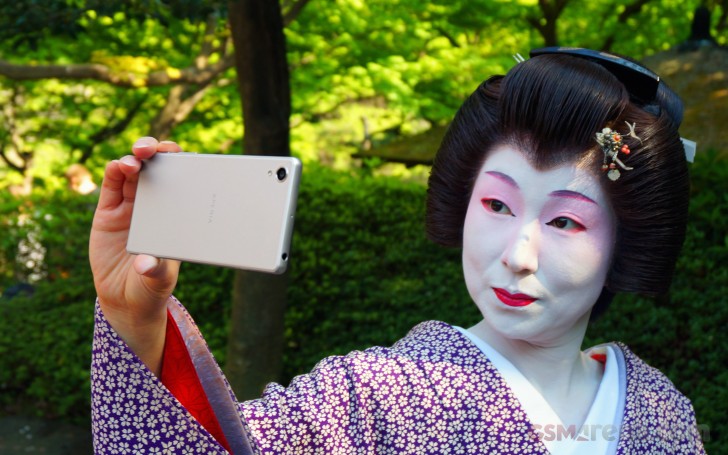 Sony has also worked on the software side of things to improve the camera's image quality in low light. The approach they've used is multi-tiered, starting with pixel binning to create a lower-res, but cleaner image, then take a multitude of those and compare them to try and further reduce noise (what they call Multi-shot noise reduction), and finally upscale to the original resolution.
Normally that sounds like an awful lot of processing, and pixel binning and then upscaling isn't something you want your camera to be doing in daylight. When it comes to low-light photography, on the other hand, you'd be pleased with every algorithm that manages to rescue a shot. Sony did show us a photo, taken at ISO 6400 in 2lux of available light, and while the Xperia X can't work miracles, the results are quite usable.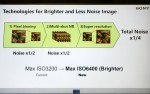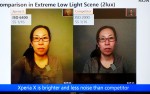 Front camera low-light noise reduction
For the non-believers, a room was set up with very dim lighting, where we could do a quick side-by-side, and the Xperia did indeed produce brighter images with decent detail.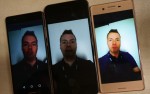 Front camera exposure comparison in 2Lux: Huawei P9 vs iPhone 6s Plus vs Xperia X