Camera
The Sony Xperia X is the company's new photography star. It uses a big 1/2.3" 23MP Exmor RS sensor behind a F/2.0 G Lens.
The big addition in this camera generation is the Predictive Hybrid Autofocus. You can tap on your subject and the camera will track its movement, keeping the focus locked on it. This is great for subjects who would move all around the scene.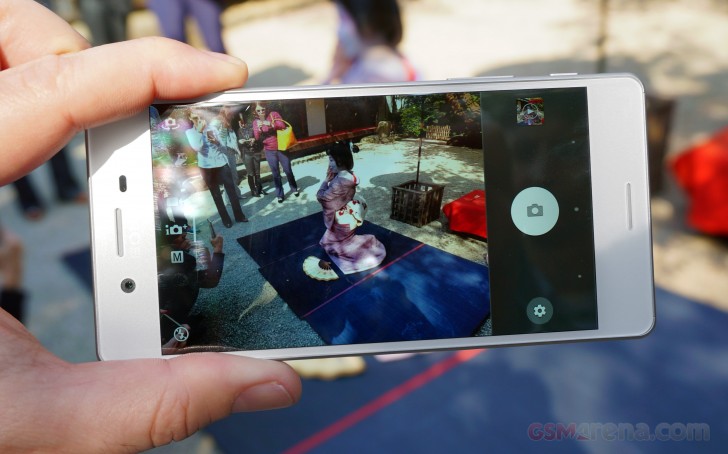 The X camera lets you capture moments in the blink of an eye - from a locked phone, it takes a mere 0.6 seconds to capture the first shot. To use that feature, you need to enable taking a photo when waking the camera with the shutter key in Settings. The feature worked as fast as advertised and took the shot before we even got the chance to see the camera viewfinder. Then again, a lot of the photos came out blurry because we were still adjusting the framing of the scene while the phone took the pics.
The front camera is equally impressive. It has a 1/3" Exmor RS sensor with 13MP resolution and f/2.0 G Lens. It's the kind of setup some lower-end phones would use for their main camera.
Sony tech promises good performance in low light and smartly adjust the shutter speed based on movement in the scene - a static scene gets a long exposure time to reduce noise, a dynamic scene a short one to reduce motion blur.
Sony's latest camera UI is fairly streamlined (as seen in the Z5 series as well). You change modes by swiping up and down. Superior Auto will probably be the main mode you use, but there's a Manual option too. However, it is quite limited as you can change ISO and white balance, that's it.
The Camera App tab holds some useful features and some features, which are just there for fun.
Some of the available modes are Sweep Panorama, Slow-motion video, Face in picture, Sound Photo and a few more. Those are the pre-installed modes, more can be downloaded.
The selfie cam has pretty much the same features aside from minor differences (no ISO in manual mode). It even reminds you to look at the camera when taking a photo.
Image quality
The Sony Xperia X camera can perform well. Looking at our compare tool, resolution-wise, the X outperforms almost all camera phones in our database. The tiny print is visible and you see detail that is completely missing in photos from competitors.
However, it does suffer from the classic Sony weaknesses. Noise is ever-present and even stronger in every area that's not perfectly lit. Corner softness is barely visible, but it's there.
The noise - reduce noise - sharpen style of processing robs the camera of per-pixel detail and it's most noticeable in high-frequency detail like foliage and grass. The Xperia X has heaps of pixels to throw at the problem and photos are best viewed at less than 100%.
The Superior Auto had a relatively small impact, it would sometimes add contrast compared to the Manual mode shot, but in most cases you have to look hard to notice anything.
Color reproduction leaves something to be desired, colors in photos being undersaturated compared to real life hues. Due to the screen and gallery viewing enhancements on the Xperia X, though, you may not notice it until you take the photos off the phone.
The predictive motion-tracking autofocus works fairly well as long as the object it tracks does not leave the frame.
We're also quite happy with the re-focusing speed in general. Switching from subjects in close distance to ones far away is quick and seamless - okay, perhaps it's not as fast as Samsung's Dual Pixel AF, but it's an improvement over the Xperia Z5 camera.
Speaking of, when we reviewed the Z5 (admittedly an early unit) we encountered several software issues. There is none of that here.
You can compare the Xperia X against some competing phones in its class over at our Photo Quality Comparison tool. Look at the fine print on the London map and the details on the 10 pound banknote. Look at the bottom right corner to judge the noise levels.
HDR
Technically, Superior Auto is supposed to engage HDR as needed, but there's a toggle in the Manual mode. Either way, the effects are so small that even in extreme situations you only get a minor improvement.
Panorama
The Xperia X has a sweep panorama like Sony's digital cameras, but the results are not terribly impressive. The panoramas are 1080px tall, stitching has issues (ghosting) and the resolved detail is quite low.
Selfies
The selfie camera has an above-average resolution, its focus is well-adjusted to shoot at arm's length (you'd think all selfie cameras are like that).
In perfect light, you can squeeze a lot of detail out of a selfie. Indoors, however, the increased noise eats away the resolution advantage. Again, Xperia photos are best viewed at less than 100% - which is another way of saying they look great on the phone's screen.
Videos
The Xperia X can record 1080p at 30fps and 60fps, but there's no 4K option even though it's a feature that's sneaking into midrange phones recently - even the Xperia M5 has it.
Image quality can be quite good, but it is not without its flaws. Some of the finer detail either gets smeared out by noise reduction, other shows jaggies.
When there are moving objects in the scene, there's an intermittent "pulsation" caused by compression fluctuation in an action packed scene - it's the phone's way to make sure it captures everything smoothly within a fixed bitrate ceiling.
You can watch an example of this effect in our camera sample - every time a car passes in front of the camera the quality drops and then recovers quickly.
The good news is that switching from 30fps to 60fps does not have a noticeable impact on quality so you can enjoy the smoother action without paying a quality penalty as is usually the case. You do need more storage though, as 30fps videos are shot at a bitrate of 18Mbps, while 60fps videos hover around 30Mbps.
In either case audio is recorded in stereo at 156Kbps/48kHz. The quality of the microphones is impressive, they capture detailed audio even in noisy environments and eliminate most of the wind noise.
The Sony Xperia X features SteadyShot, a digital image stabilization. When shooting from a steady position, however, the system can actually add vibrations and cause unpleasant jittery action in videos but it's fine when you shoot handheld. It's still something that Sony should perhaps look into as you literally can't capture a decent video with the phone mounted on a tripod unless you turn off the digital stabilization manually.