Sony Xperia XA3 handled on video, looks every bit as tall as rumors suggest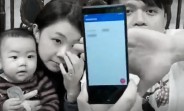 A few days ago we reported on a few blurry renders of what seems to be Sony's Xperia XA3 being handled in the wild. Today, we can show you the blurry source to those blurry renders - a quick (and a bit hectic) hands-on video of the device in the wild.
The video doesn't add any new information to the renders, but it does remove any suspicion that this is a functioning device.
The Sony Xperia XA3 will have a screen of taller than usual 21:9 aspect ratio with a slim bottom bezel and a thick top one (likely because it houses the earpiece, the selfie camera, and the speaker). Rumor has it the Xperia XA3 will have a 1080x2560px 5.9-inch CinemaWide screen while the Xperia XA3 Ultra will have a 6.5-inch one.
The video shows us that when an app doesn's scale properly for the Xperia XA3's taller aspect, it places a thick black bar on the bottom.
The Xperia XA3 will have 4GB of RAM, 64GB of expandable storage, a 3,500mAh battery and a dual rear camera (expected to be a 23MP + 8MP combination).
Sony will unveil the Xperia XA3 (possibly alongside the Xperia XZ4 and XA3 Ultra) at the Mobile World Congress later this month.
G
A Chinese person leaking this 'Japanese' phone. Maybe a Foxconn employee.
G
Can Sony please change the naming scheme already ? XA,XZ etc. please stop it's confusing
?
Nice features Sony cells.