Sony Xperia XR (F8331) renders look just like the live unit from 10 days ago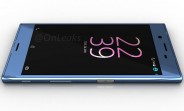 You know how a typical smartphone leak chronology has the renders first, then blurry live photos from a back room at a production facility? Well, not so with the future Xperia XR (name to be confirmed, but also known as F8331).
Live unit images surfaced first (not even blurry either), and now we have the renders, courtesy of @onleaks. Unsurprisingly, there are no discrepancies and the renders look just like the real deal.
The thoroughly reworked design gets a confirmation, though the side-mounted power button/fingerprint scanner combo from the Xperia Z5 and Xperia X has been kept. The other new major differences are the dual LED flash on the back (Xperias have stuck with a single LED solution up until now) and the USB Type-C port on the bottom.
Additionally, having the actual CAD files means precise dimensions - the Xperia XR measures 146.4 x 71.9 x 8.1mm. That's 2.7mm taller and 1.5mm wider, but also half a millimeter thinner than the Xperia X Performance.
A
This phone needs higher specs to be competitive (for example 4GB RAM, minimum, at least 3200 battery), a better faster camera that generally takes better pictures overall in all conditions, a fingerprint sensor for US models, less bloat, fewer worthl...
A
Here comes another forgettable, underwhelming, overpriced, under-spec'd, and under marketed SONY phone. Do we really need so many new SONY phones every year? They are mostly the same thing, over and over again. Honestly, it seems that SONY is so clue...
D
i so some some opinions about that phone is plastic,well ti me that look like aluminium or metal,and o those real photos finish look simmilar to finish on frame of z3,and z3 has aluminium frame,and there is certian diffrence bettwen finish on plastic...
ADVERTISEMENTS