Camera
The 23MP primary camera of the Sony Xperia XZ is familiar from existing Sony high-end models, but in some aspect it's better than any of them.
The sensor isn't new - starting with the Z5, Xperias have used a multi-aspect 24.8MP sensor, now officially named as Sony IMX300. It is a custom sensor model, which is used only on Sony smartphones, and not supplied to other OEMs.
Depending on whether you shoot in 4:3 or 16:9 aspect ratio, different portions of the sensor are used and you get either 22.8MP or 20.1MP images, respectively, and never the full 24.8MP. Hence the official 23MP designation. Among the benefits of having such a multi-aspect sensor are the similar field of view in both modes (measured diagonally), and higher-res 16:9 shots than what you'd get by cropping from a regular 23MP sensor with a 4:3 aspect ratio.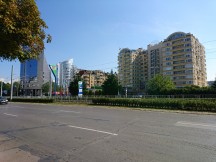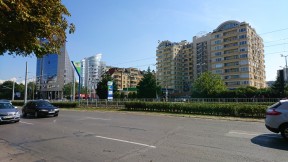 Coverage comparison: 22.8MP 4:3 image • 20.1MP 16:9 image
As we already mentioned, this sensor was first used in the Xperia Z5. Later on, the same sensor was used in the Xperia X and the Xperia X Performance. It's also used now inside the XZ. You can read more about it in our dedicated article we published back when the Z5 came out.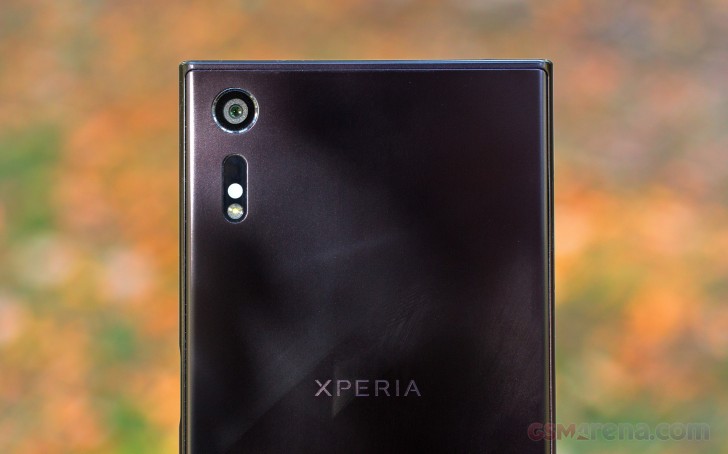 The sensor is placed behind a 6-element lens with an ultra wide-angle 24mm-equivalent field-of-view and a f/2.0 aperture. These particular specs of the camera have not changed since the Xperia Z5.
Historically, flagship Xperias have had no optical image stabilization, and neither does the XZ. Sony's SteadyShot with Intelligent Auto has been upgraded, however, and now offers 5-axis image stabilization. We're not too comfortable with the term 'axis' that's become all too popular for describing what is a 'degree of freedom', but the point is that Sony's system is able to compensate for translation alongside two axes and rotation around all three. Or shift shake in the X and Y direction and yaw, pitch, and roll shake.
However, it only works in a narrow range of scenarios, when shooting video. It's activated in FullHD mode only, and when shooting close-up subjects. In cases, where both of these conditions don't apply, it's back to its usual 3-axis algorithm (pitch/yaw/roll).
That's not all that is new about the Xperia XZ's camera. While from the Z5 on high-end Xperias have had hybrid contrast/phase detection autofocus, the XZ adds laser autofocus to the mix, to help speed things up, by taking care of close-distance subjects and letting the other systems, well, focus on the rest of the focusing range.
But wait, there's more. Sony has also installed an RGBC-IR sensor (RedGreenBlueClear-InfraRed) to assist the image sensor in figuring out the color temperature of the ambient lighting, and adjust the white balance accordingly.
There's just one LED for the flash, though - no change there.
Introduced on the Xperia X, predictive autofocus is here as well. The idea is that you can tap on your subject and the camera will track its movement, keeping the focus locked on it. This is great for subjects who would move all around the scene such as a toddler or a pet.
Camera interface
The Xperia XZ uses Sony's latest camera UI. You change modes by swiping up and down (or left and right, if you're holding it in portrait). Superior Auto will probably be the main mode you use, only make sure you select the 23MP resolution - it's 8MP by default.
There's a Manual mode too, which has gotten a few more features this time around. What was once just exposure compensation and white balance selectors, has now been expanded to include full range shutter speed selection (1/4000s - 1s) and a manual focus slider. The ISO setting is still tucked away in an extra settings menu, though.
The Camera App tab holds some useful features and some features, which are just there for fun. Some of the available modes are Sweep Panorama, Slow-motion video, Face in picture, Sound Photo and a few more.
The selfie cam has pretty much the same features as the main camera aside from minor differences (the selfie cam's manual mode has no ISO selector or manual focus slider). It even reminds you to look at the camera lens when taking a photo.
Like other Xperias, the Xperia XZ's camera lets you capture moments in the blink of an eye - from a locked phone, it takes a mere 0.6 seconds to capture the first shot. To use that feature, you need to enable taking a photo when waking the camera with the shutter key in Settings.
Image quality
How do we go about this. To put it simply, the Xperia XZ's camera output is alright. It excels at resolving high-intricacy detail like foliage (and test charts) in good lighting, but with the sheer resolution of the 23MP images we'd be surprised if it didn't. All that detail, however, is mixed up with noise and noise reduction artifacts, which doesn't look good when pixel peeping.
Stick to fit-to-screen magnification and you'd appreciate the good dynamic range and genuine color reproduction, particularly in natural light.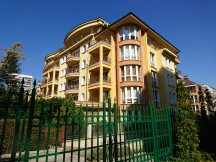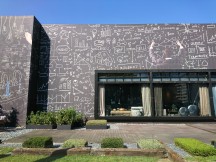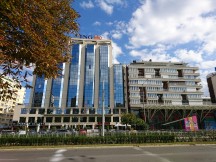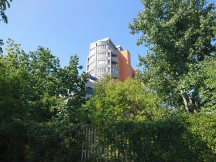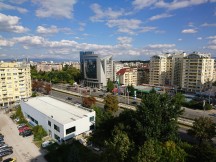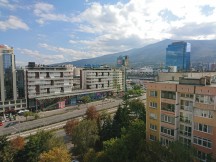 Camera samples: Superior Auto mode
As usual, we're providing the samples of the same scene taken in Manual mode. While there may be subtle differences in some specific scenarios, generally there's little to tell them apart from those taken in Superior Auto. The way we see it, unless you specifically want to tweak shutter speed, ISO or focus, Superior Auto is the way to go.
Artificial light is when the dedicated RGBC-IR should help with white balance, and while it may very well be able to judge the color temperature perfectly, images still come colder than we'd like. Incandescent light in particular is rendered a lot cooler than the average person perceives with their eyes.
The other headline feature on the XZ is the triple-hybrid autofocus with laser assist being the new kid on the block joining phase and contrast detect. Laser works at close range and should be particularly useful in low light. Well, we experimented while shooting the test charts at the studio and the speed didn't blow our minds, despite the fact that it's a perfectly tailored scenario for the tech to shine.
In the past, Sony smartphone cameras have been plagued by lens issues, and we've observed the usual corner softness on the XZ, as well as on the X Compact. These two, however, seem particularly prone to lens flare with some examples shown below.
High-contrast situations can be handled in one of two ways. You can either shoot in Superior Auto and let the Xperia decide what's best for you, or you can switch to manual and flip the HDR toggle yourself. On the X Compact the dedicated HDR mode produced noticeably brighter images than Superior Auto - brighter overall, like positive exposure compensation. On the XZ the processing is much more restrained, and the results are more pleasing, but also practically the same as in Superior Auto - again, just stick to that. The thing is, without a live HDR preview you can never be sure what will come out in the end.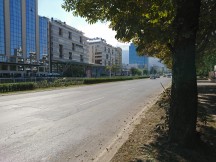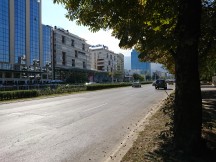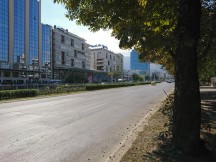 HDR scenario: Superior Auto • Manual mode, HDR off • Manual Mode, HDR on
The Xperia XZ doesn't feel right at home in low light though. The samples below were shot at dusk, and while exposure is spot-on and colors aren't washed out, zooming in reveals how soft and lacking in detail the images are. And that's not even at night.
Naturally, we shot our test posters with the Sony Xperia XZ and here's how it fared next to reigning flagships iPhone7 and Galaxy S7 edge. Of course, our tool allows you to compare it against any other smartphone that we've shot with.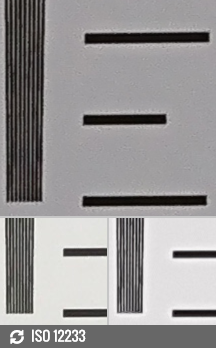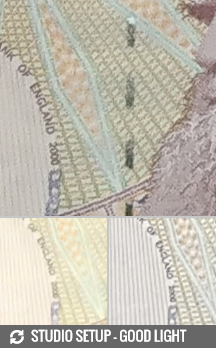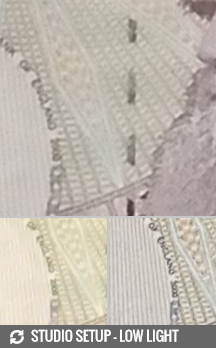 Sony Xperia XZ in our photo compare tool
Panorama
Sony's panoramas have been and still are among the poorest you can find on a flagship, in both user interface and image quality. Yes, there's a Sweep panorama mode, but you still have to manually select the sweeping direction and the images are of low resolution and have stitching issues.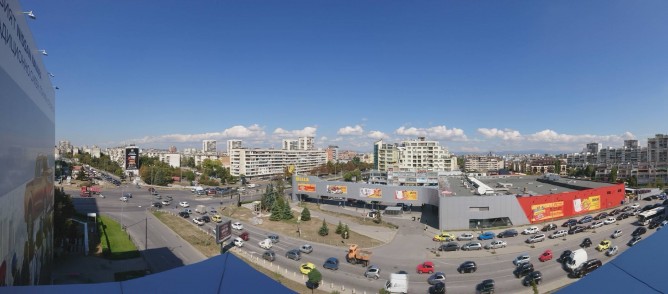 Panorama sample shot in portrait
13MP selfie camera
The Xperia XZ is equipped with a 13MP selfie camera, making it the highest-res front-facer on a big-name flagship - Sony gets it. It produces excellent images too, packed with detail and with good dynamic range. It does suffer in less than ideal light, though.
Video recording
The Xperia XZ is the only model in Sony's current lineup to feature 4K video recording - largely a marketing decision, since the Xperia X, X Perfomance and X Compact all have the hardware to do it. Of course, you get the standard 1080p/30fps and high-speed 1080p/60fps options.
A few caveats go with the above. For one, 2160p recording is a shooting mode all in itself, instead of being a setting in video recording. Digital stabilization is available, of the SteadyShot Standard type, but it appears that Sony uses the center 3,840x2,160 pixel portion of the sensor only, thus resulting in a severely narrower field of view, compared to still shots.
The 1080p/60fps mode also gets the SteadyShot Standard variety. In contrast, shooting in 1080p/30fps mode gives you the option between Standard and Intelligent Active. It's this last mode that gets the headline 5-axis stabilization (still digital), but only when recording close-up subjects.
Bit rates are 56Mbps for 4K, 30Mbps for 1080p/60fps and 17.5Mbps for 1080p/30fps. Audio is recorded in 156Kbps in all cases.
4K video is somewhat soft, but you can still read the gas prices on the gas station sign. There isn't much detail in the shadows, though. The footage is practically noise-free too, and looks really natural.
Why use 1080p when you have 4K? Certainly someone at Sony thought so, because FullHD footage is nothing spectacular. The Xperia X Compact we just reviewed produces noticeably more detailed 1080p videos. And with the limited field of view of 2160p capture, you may often end up having to resort to lower-res modes to get more in the frame, and end up disappointed by the difference in quality.
You can also download the untouched video samples: 2160p (11s, 72MB), 1080p at 60fps (14s, 51MB), 1080p at 30fps (10s, 23MB).
Finally, you can compare the Xperia XZ to any of the numerous phones and tablets we've tested, but we've pre-selected the iPhone 7 and Galaxy S7 edge.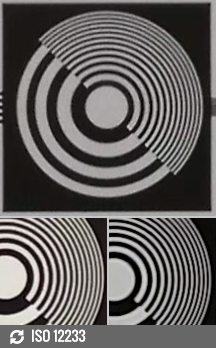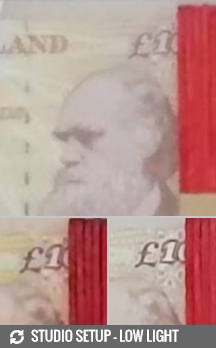 Sony Xperia XZ in our video compare tool: 2160p