Unboxing
Sony has never been much about flamboyant boxes and fancy presentation and the XZ1 makes no exception. It comes in a simple 2-piece cardboard box and frankly, it's probably the more sensible approach. What good is spending money on packaging that is going to sit in the closet? Most electronics are purchased online these days anyway, so "on shelf appeal" is not really a big concern anymore.
Inside the box you get the XZ1 in one of four colors: Moonlit Blue, Venus Pink, Warm Silver or black. Also included are a wall charger, Type-C cable, and a pair of Sony's MH750 earbuds.
Our unit arrived with a basic Sony UCH20 charger, rated at 1.5A@5V. It really can't take advantage of the XZ1's Quick Charge 3.0 and USB power delivery support, so we hope retail packages in other markets are coming with better power adapters. Either that or you will have to get one yourselves if you fancy a quick top-up every now and then.
Sony Xperia XZ1 360-degree spin
The biggest XZ1 design change has to be the metal unibody design. The older three-piece construction has given way to one made from single piece of bent metal alloy, much curvier and rounder around the sides. This refined Loop surface, as Sony calls it, means fewer gaps in the construction - definitely a plus. It probably helped with IP65/68 certification in addition to boosting its looks.
The modernized take on the familiar Xperia silhouette made it harder for the radio inside to function, so a few tweaks were needed; most prominently, a trio of looping antenna lines sits on the sides of the phone. It's an unorthodox look that will probably split opinions.
The top and bottom also had to be finished in plastic, and are thus colored in a slightly different shade than the rest of the body. They are also curved now, Instead of flat as on most of the Xperia lineup lately.
Hardware overview
The Xperia XZ1 unibody back not only looks but also feels very premium, especially when you pick it up off the table and touch cold metal. We have to complement Sony on the color choice and execution for the finish. Moonlit Blue and Venus Pink look playful enough to have some youthful appeal, but aren't too flamboyant so serious adults can still use them. Of course, the Warm Silver and traditional Black are likely better suited for the boardroom environment.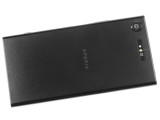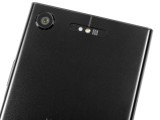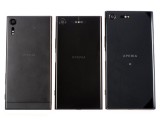 Xperia XZ1 back • Xperia XZ1 back • XZs, XZ1, XZ Premium
There is really not much to distract from the design of the back, with all the elements of interest concentrated on a single plastic strip. This is where the NFC was forced to reside to work around the metal construction. It shares the space with the camera companions - the laser autofocus module and LED flash.
The 19MP camera itself is in the top left corner, protruding quite a bit outside the phone's 7.4mm body. A good shooter with a large sensor like that needs its space.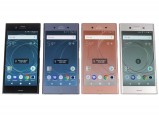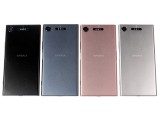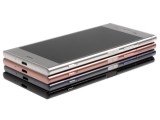 Xperia XZ1 in all four color variants
On to the sides and the new antenna lines we mentioned earlier. We can't really say we appreciate the lack of symmetry, but other than that, they grew on us quickly. And we appreciate Sony's effort to keep the lines confined to the sides.
On the right side sits the hardware shutter key - a convenience Sony fans have come to love. Also on the right side is a convenient volume rocker, as well as Sony's bigger power button variant - the one with a fingerprint reader inside.
The reader is pretty snappy and reliable, and its position on the side really works great for most. However, it takes up space and is Sony's primary excuse for not trimming the side bezels on its phones. We are not sure the trade-off is worth it, though, given that there is plenty of underutilized space below the screen.
The opposite bezel only houses a SIM card/microSD card cradle. It is still plagued by a couple of long-standing Sony issues, which we are going to complain about until they eventually get addressed. For one, Sony is still sticking with a hybrid design for its dual SIM variants. A dedicated microSD slot would be greatly appreciated. And we don't think Sony's two-part cradle is good with a launcher that restarts every time you pull out the SIM - so everytime you use the microSD card, the XZ1 restarts.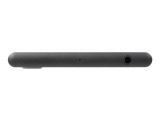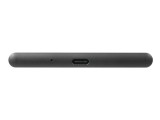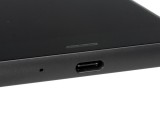 Top and bottom bezels are now plastic
Materials and curvy profile aside, the top and bottom bezels of the Xperia XZ1 are not really that interesting. One holds a USB 3.0, Type-C port and a microphone. The other is occupied by a 3.5mm audio jack and a secondary microphone, to power stereo audio recording and noise canceling.
On to the front then. The entire surface here is Gorilla Glass 5 and also perfectly flat. It's doesn't have 2.5D curved glass, but at least you can easily find a good glass screen protector to go on top for some extra piece of mind, if that's your thing.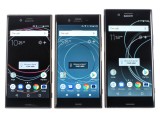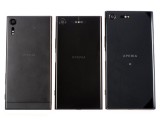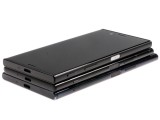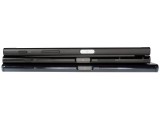 Xperia XZ1 alongside the XZs and XZ Premium
Other elements of itnerest on the front of the Xperia XZ1 include a notification LED, light and proximity sensor combo and the 13 MP selfie snapper. The top and bottom bezels, surrounding the display are rather spacious, but on the plus side, they do house a pair of grilles - both functional and part of Sony's rather impressive S-Force Front Surround setup.
The speakers have been tweaked to deliver a more balanced stereo effect and "50% more sound pressure over the Xperia XZ". We'll get back to those in the loudspeaker section in a few moments.