First impressions
Sony Xperia XZ1 Compact hands-on review
Sony Xperia XZ1 Compact hands-on
For the most part, the Xperia XZ1 Compact looks and behaves like a compressed version of its bigger brother, which really is the main point. So no complaints there. Of course, there are some notable cutbacks here and there, but nothing too severe in our book.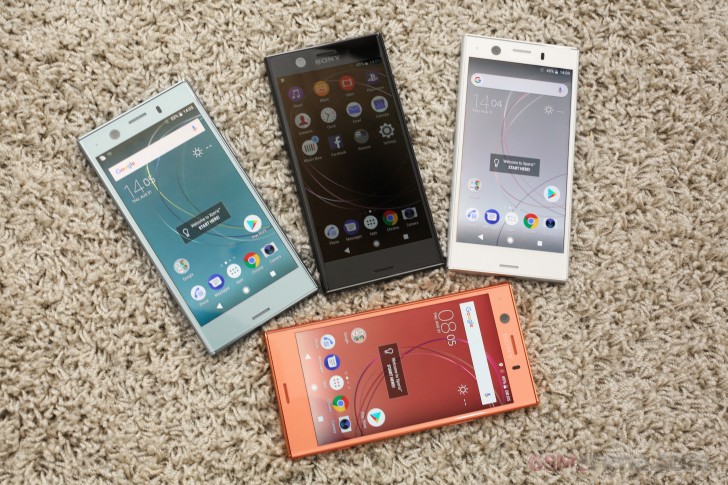 Right off the bat, there is the question of materials. If you've already gone through our Xperia XZ1 hands-on, you've probably noticed we spend a lot of time discussing Sony's new antenna line design and re-positioned NFC antenna. On the regular XZ1 this is necessitated by the new metal alloy unibody design for the back pannel.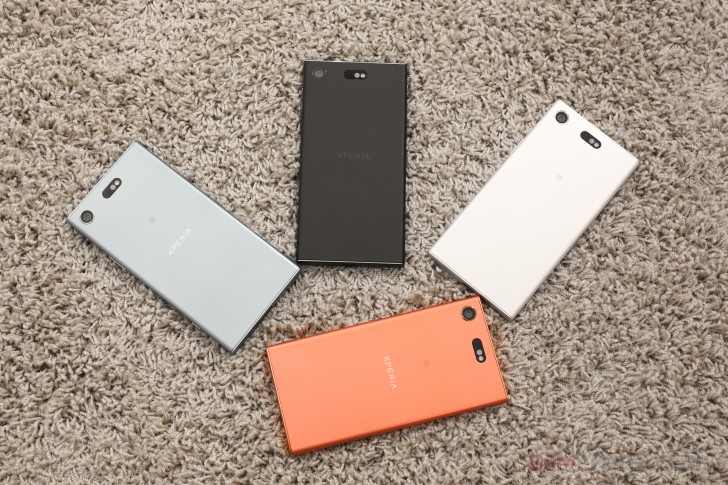 The XZ1 Compact sports a much cleaner and uniform finish, with no visible antenna lines. This is a clear bonus from ditching metal and going for a glass fiber reinforced plastic instead. Now, we don't really want to get into the whole plastic versus metal debate here, but let's just agree that both have their advantages. While some might appreciate the signature feel of the XZ1 alloy more, there is a lot to be said about the durability, or rather, lower susceptibility to dents and scratches of a plastic build.





Xperia XZ1 Compact next to the XZ1
Plus, the XZ1 Compact feels really solid, and Sony did a great job with the finishes: toned down, yet playful for the Horizon Blue and Twilight Pink varieties and a more serious, formal look for Snow Silver and Black. Plus, circling back to our previous point, you do get to enjoy the color uninterrupted by antenna lines and plastic inserts.
Material swap aside, the shape of the XZ1 Compact is quite similar to that of the regular XZ1. It is almost as if Sony took the XZ1 and put in in a Xerox at let's say 70%. After adding some girth to accomodate the internals, that is. This, of course, means it gets the new two-piece design, with no separate middle frame and a curvier profile, especially on the sides. Well, perhaps a tad less curvy than its bigger brother.
It still has that Sony distinctive look to it, just a bit "jazzed-up". Let's say it's an acquired taste, and chances are that you either love it or hate it. We do have to note that since the top and bottom sides have a curve in Sony's new "Loop surface" design, the XZ1 Compact can't stand up on its own like many of its predecessors. We can't really imagine that this affects prospective buyers out there all that much, though. Sony also claims that the top and bottom pieces are actually metal and functional antennas - an interesting engineering choice.
While on the topic of small annoyances, we can't fail to mention the relatively wide bezels around the 4.6-inch display. Just like with the XZ1, Sony claims it really needs the extra space to accommodate its signature side-mounted power button/fingerprint reader combination. It works great, and we do appreciate the fact that Sony managed to cram it into the smaller XZ1 Compact. Still, after seeing the XA1 and XA1 Ultra pulling off the bezeless look, we do kind of miss it.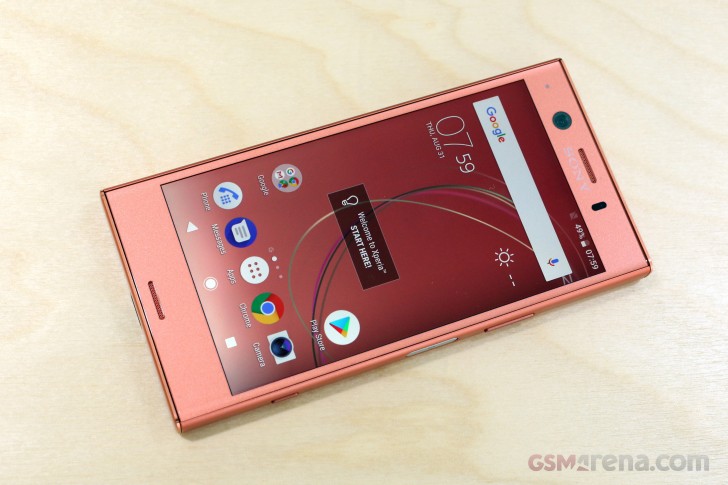 Nitpicking aside, we really do admire Sony's achievements in cramming pretty much all the XZ1 hardware into a 129 x 64 x 9.3 mm, 140 gram body. While on the topic of controls, we appreciate the convenient placement and recesses for the comfy power button we mentioned earlier, even if it does take up some extra space. The volume rocker dedicated camera shutter key are also nicely positioned. It is particularly nice to see the latter didn't get the boot in the shrink-down process.
The same goes for the 3.5mm audio jack, which shares the top bezel with a secondary microphone. On the opposite side, we find another microphone (vital for powering the XZ1 Compact's stereo audio capture) and a Type-C port. Behind it lies an older and slower USB 2.0 interface instead of the USB 3.1 on the regular Xperia XZ1.
Only the SIM and MicroSD card tray occupy the left-hand side of the XZ1 Compact, which would make for a really clean look, were it not for Sony's persistence with its rather rough design. It doesn't sit flush, but at least it does it does a good job of sealing the internals to guarantee the phone's IP65/68 rating.
On to the the front of the XZ1 Compact then, where we find a mix on exciting hardware and what is probably the handset's biggest specs compromise. Of course, if you read the specs carefully enough, you know we are referring to the 720p IPS panel. However, looking at the display in person and taking a few additional things into consideration, this setup might just be a blessing in disguise.
First off, 720p looks perfectly fine on a 4.6-inch diagonal, as far as we are concerned. Both the Xperia X Compact and Z5 Compact before it back that statement up nicely. Plus, despite the downgrade in resolution, Sony still infused the panel with a slew of tech, including TRILUMINOS, X-Reality and Dynamic Contrast Enhancement. The only thing really missing from the list is HDR support, which the Xperia XZ does have. We will have to test the advertised 138% sRGB coverage and 600cd maximum brightness for ourselves in the in-depth review, but our initial subjective opinion of the way the 4.6-inch panel looks is quite positive.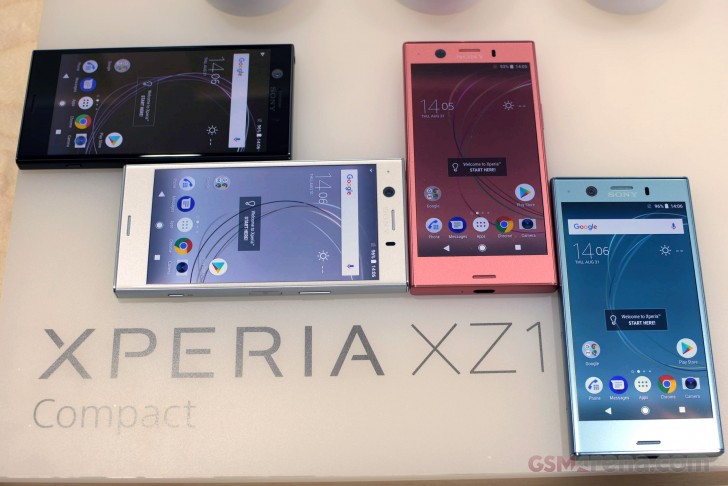 Then there is also the positive side of HD resolution to consider as well. For one, it should go easier on the 2,700 mAh battery inside the XZ1 Compact. By the way, another impressive size constraint accomplishment on Sony's part, when we consider the XZ1 has the same power pack on board, Qnovo Adaptive Charging, Quick Charge 3.0 and all. That means we can probably expect better battery endurance out of the little sibling.
And that's not the only thing the XZ1 Compact will likely be better at. The Adreno 540, inside the Snapdragon 835 that is somehow crammed into the compact body only has to push pixels at a 720p native resolution. This should equate to beastly on-screen rendering performance and top in-game frame rates. Provided Sony manages to cool the chip properly, that is. The company has a rather mixed track record in this area, but it is no stranger to innovative solutions. We are really eager to see how well the XZ1 Compact holds its cool once we put it through our rigorous review tests.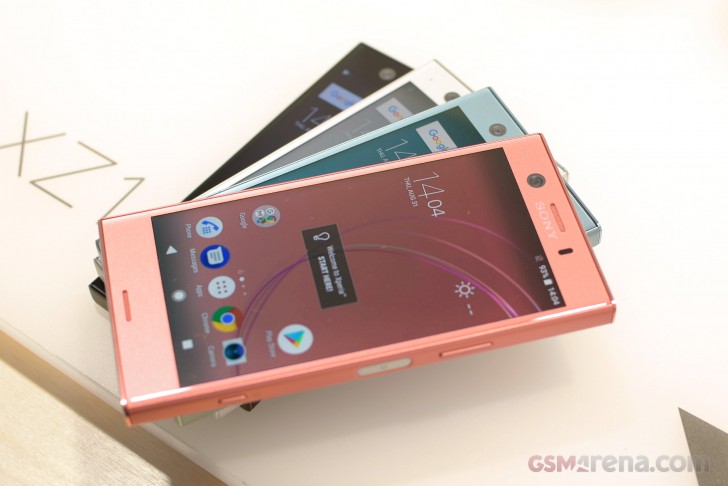 While still on the topic of cramming powerful hardware into a compact body, another thing that Sony left intact on the XZ1 Compact is the S-Force Front Surround stereo speaker setup. Again, we really need to run some controlled tests to see how well it performs, especially in this smaller body, but it does sound really crisp in person. Plus, Sony didn't skip on other advanced audio features either, like the DSEE HX upsampling engine, High-Resolution Audio and the Clear Audio+ equalizer. Bluetooth fansh are potentially in for a treat as well, since the Bluetooth 5.0 modem is leveraged even further through the use of LDAC and AptX-HD technologies.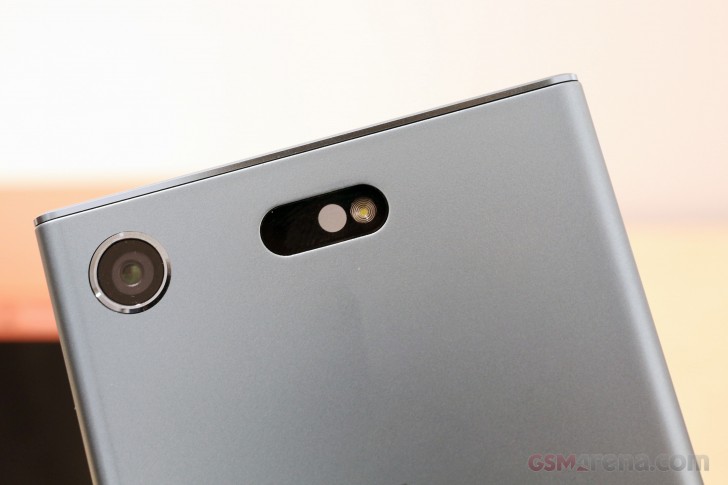 The camera department on the XZ1 Compact looks like another exercise in space management. Despite its smaller footprint, the 4.6-inch Experia has the same 19MP, 1/2.3 Exmor RS setup its bigger sibling sports. You might have seen it on the Xperia XZ Premium or the XZs as well.
At its core is Sony's clever RAM-buffered camera pipeline. It provides a noticeable boost in processing time and enables a a few hero features on the company's recent flagships. This includes the super slow motion 960 fps capture at and HD resolution - still an industry leader. Also, there's the Predictive Capture algorithm - great for snapping the perfect shot.
The Xperia XZ1 adds a few extras to the already impressive feature set, which the Compact is equipped with as well. Most notable of these is probably autofocus burst. What it does is allow for blazing-last refocusing while capturing bursts of still shots. This is a world-first in the smartphone realm and really puts Sony's Predictive Hybrid Autofocus system and snappy hardware setup to the test. Combined with the 5-axis SteadyShot stabilization and Anti-Distortion Shutter technologies, Sony is also boasting, we really have high hopes for this new trick in Sony's camera arsenal. Once again, our initial experience with it is quite positive, but further testing is required.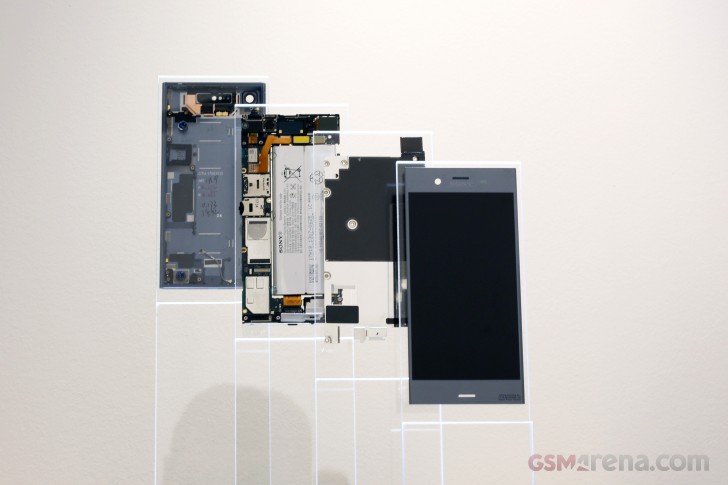 Another novelty is a fresh new trigger for the Predictive Capture feature. It still tracks moving objects as usual, but now pays special attention to smiles as well. This sounds like a great way to snap a perfect memory, but the show floor is not really the place to thoroughly test its performance.
It would also be remiss of us to leave out the 3D Creator application on board the Xperia XZ1 and XZ1 Compact. It is an interesting concept for sure and looks promising enough, even if it lacks polish in its current form. The idea is to execute a carefully guided pan around an object and have the software transform it into a 3D object. The latter could be used as an avatar, imported into a VR or AR platform and even printed out on a 3D printer. It supports preset modes for a scanning a face, head or food, as well as a freeform mode. The pre-loaded samples in each category look impressive, but we couldn't really mimic the results on the spot. Again, we'll reserve judgment for a later time.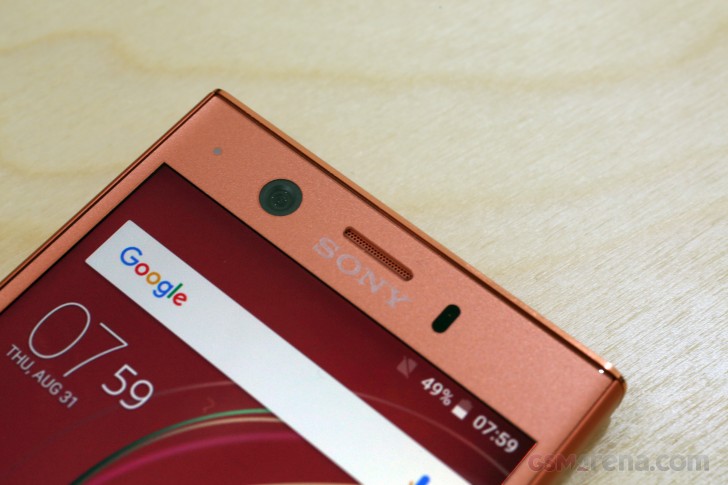 To round the camera department off, we can't fail to note that the XZ1 Compact doesn't borrow it's selfie shooter from the regular XZ1. Instead in has an 8MP, 1/4" snapper with an impressively wide field of view. 120 degree, or a 12.5mm equivalent should be enough even for the most ambitious group shots. And in case that is a bit too broad to accommodate your regular selfie needs, there is also a toggle to bring it down to 80 degree (22mm equivalent).
Since this is essentially a first encounter, it is a bit too early to discuss software or performance. We are dealing with an early unit in every sense of the word. However, it might be worth mentioning that the phone at our disposal seems to run a mostly familiar Xperia Launcher, at least visually, that is. This might, very well, be subject to change, but it does seem like Sony is thankfully not trying to mend what is not broken. Not severely, in any case. The company has also promised both the XZ1 and XZ1 Compact will launch, running Oreo.