Sony Xperia XZ1 hands-on
Since we are getting into some comparisons here, we should note that the XZ1 is intended as a direct descendant to the original XZ, even though its specs sheet and camera setup put it a lot closer to the XZ Premium. On certain markets, the XZs fits in somewhere in this comparison as well, but regardless, the main parallel should be between the XZ and the XZ1.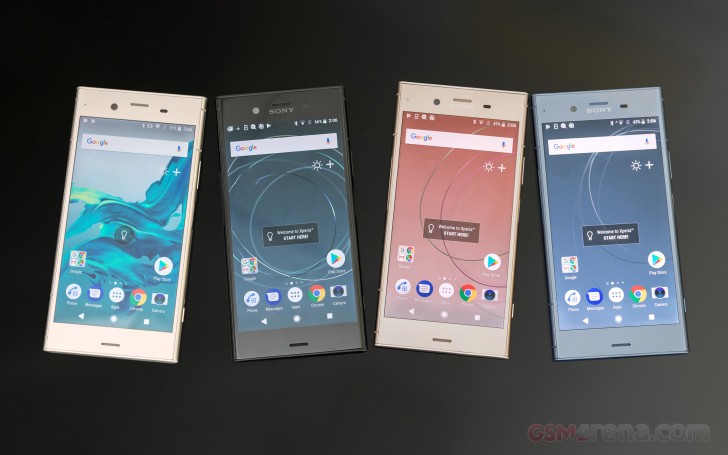 The biggest design change of all has to be the metal unibody design. The older three-piece construction has given way to one made from single piece of bent metal alloy, much curvier and rounder around the sides. This new "Loop surface", as Sony refers to it, means fewer gaps in the construction - definitely a plus. It probably helped with IP65/68 certification, if nothing else. During our talks with Sony representatives, terms like "full body joint structure" and "anti twist and bend construction" were also thrown around, which might hint at a stronger overall build.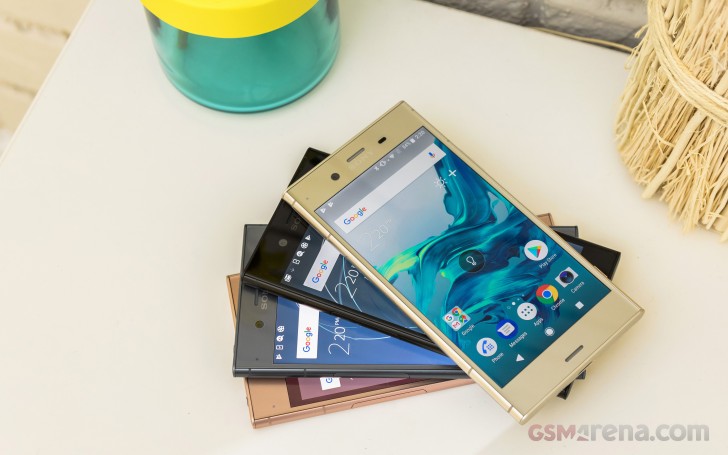 All metal, however, means antenna hurdles. Sony decided to accommodate most of its internal radios with three rather distinctive antenna lines on the sides - two on the left and one on the right. Let's just say that these are an acquired taste, but we definitely appreciate the effort to incorporate them.
The back of the XZ1 is actually fairly clean. In keeping with tradition, the 19MP, 1/2.3" camera is in the top left corner, flanked by a plastic inlay, much like on the XZ Premium. It is, however, a bit longer this time around, since It also has to house the NFC radio. This is likely the reason behind the small vertical plastic inlay that extend up from it to the top bezel. Overall, it's not a bad look, but it is different.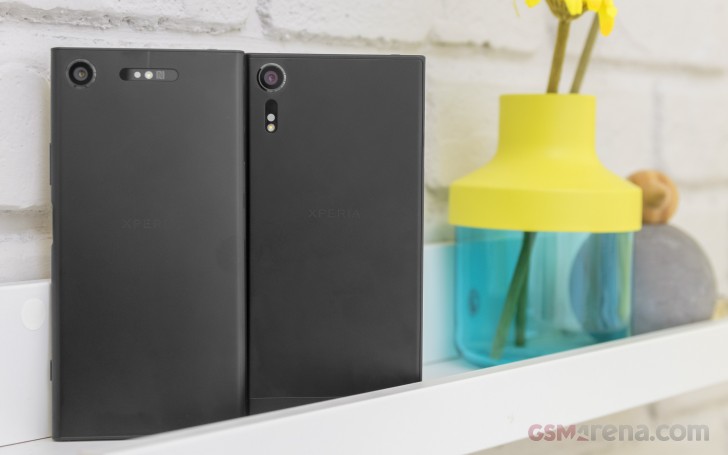 This new-found curvy trend extends to the top and bottom bezels as well. These are both very clean and only house the USB 3.1 Type-C port, a microphone and the 3.5mm jack, plus a secondary mic on the other side, respectively. The material of choice here seems to be plastic as well. A less obvious consequence of the new curvy profile is that unlike some of its predecessors, the XZ1 can no longer stand up straight on its own. However, we really doubt anybody who's not looking for a good glamour shot will really be affected.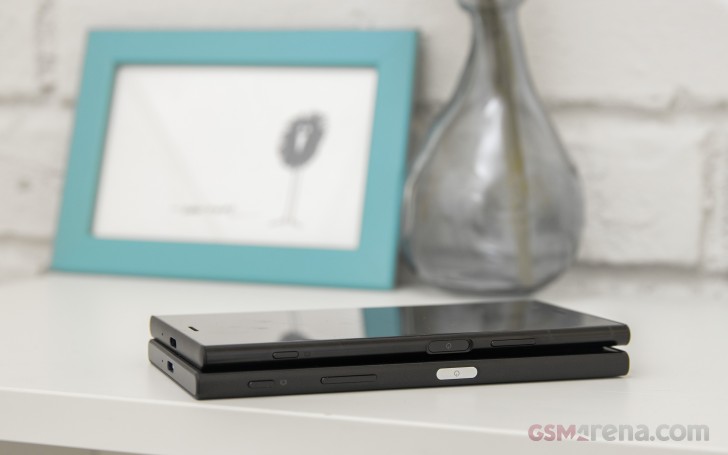 On to the front of the XZ1 then. The entire surface here is Gorilla Glass 5 and also perfectly flat. It's not as trendy as some of the curvy panels these days, but at least you can easily find a good glass screen protector to go on top for some extra piece of mind, if that's your kind of thing. There are plenty of side bezels surrounding the 5.2-inch display. Again, not universally appealing, especially since we have already seen otherwise from the likes of the Xperia XA1 and XA1 Ultra.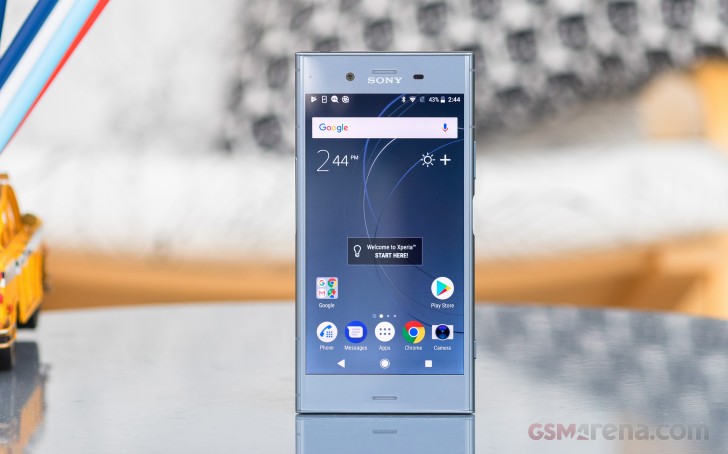 The panel itself is a 1080p one. This might come as a disappointment to any fans of Sony's chart-topping 4K offers, but these seem to be reserved for the Premium line for now. Plus, there are some significant disadvantages to running on such a high resolution as well. Not to mention that the XZ1 looks perfectly sharp to us in person at FullHD.
In keeping with its flagship traditions, Sony chose a pretty tricked-out LCD panel for the XZ1. This includes its patented TRILUMINOS, X-Reality and Dynamic Contrast Enhancement technologies - lofty titles, if nothing else. But, jokes aside, with and advertised maximum brightness of 700cd and 138% sRGB coverage, the 5.2-inch Xperia XZ1 display looks impressive on paper and in person. It is HDR compatible as well, with Sony promising both Netflix and Amazon Video content support.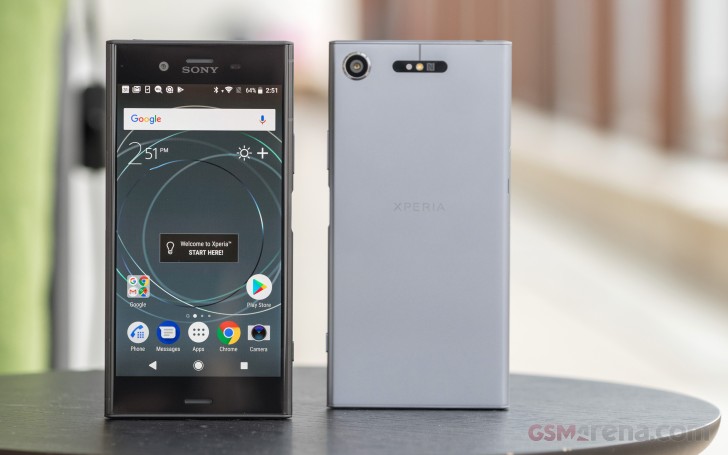 As for the bezels surrounding it, Sony maintains that the extra space is necessary to fit in the bigger power button and all its fingerprint reading internals. We guess that it's a somewhat acceptable trade-off, unless you are in the US, where the biometric reader will likely be disabled yet again for legal reasons.
Speaking of controls, we definitely like the recessed power button and the conveniently lowered volume rocker on the right. The dedicated camera shutter beneath that is also a neat little bonus and one that Sony fans have really grown accustomed to. That being said, we won't spare our ongoing criticism of Sony's long-standing SIM and SD card tray design. It is far from flush with the rest of the surface, and it's constantly noticeable while handling the device. Also, the Sony still hasn't figured out a way to keep the phone from rebooting when you pop the SIM out.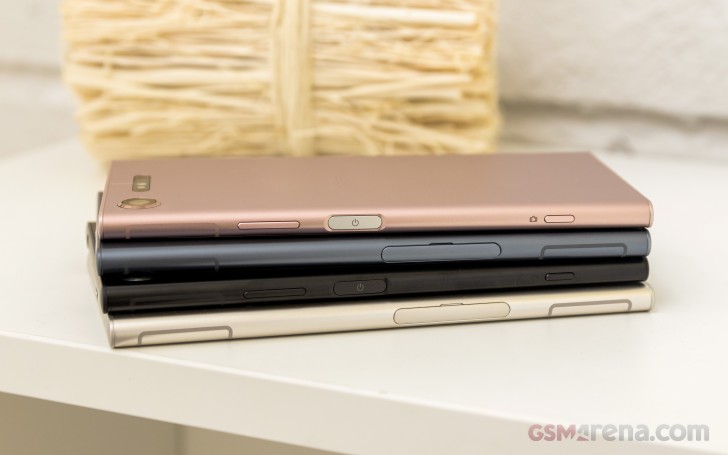 Back to the front of the device, and to the pair of grills on the wide top and bottom bezels in particular. Both are indeed functional, and part of Sony's rather impressive S-Force Front Surround setup. To quote Sony's marketing team, the setup has been tweaked to deliver a more balanced stereo effect and "50% more sound pressure over the Xperia XZ". We are not exactly sure what the last part is referencing or how the upgrade should manifest in the end result, but prior to running any actual tests, all we can safely say is that the XZ1 sounds really good in person. It is not particularly loud though. But again, we will reserve judgment for the full review.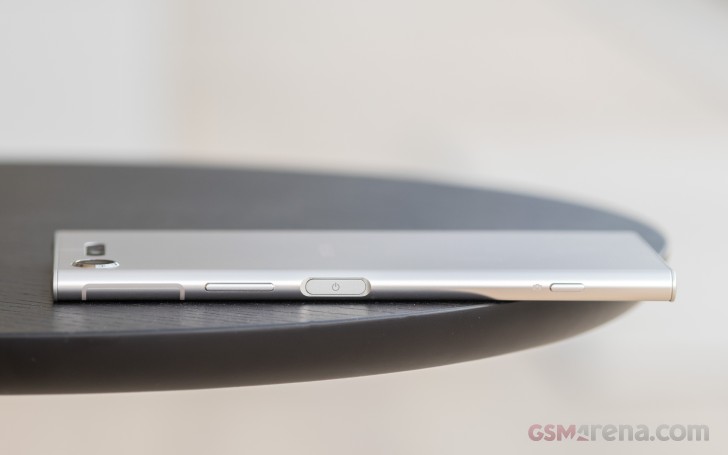 We also can't wait to play around with the slew of included Sony audio enhancements, like the DSEE HX upsampling engine, High-Resolution Audio and the Clear Audio+ equalizer. Bluetooth fans are potentially in for a treat as well, since the Bluetooth 5.0 modem is leveraged even further through the use of LDAC and AptX-HD technologies. We will also give Stereo Recording and Digital Noise Cancellation a spin on the recording front.
Speaking of capture, let's talk about the camera. The Xperia XZ1 borrows its from the XZ Premium. You might have also seen it of the XZs, on certain markets, that is. We didn't really get a chance to take it out on a spit at the event, but we are fairly certain that it is up to par with the XZ Premium experience. And that is a really high performance bar to mount.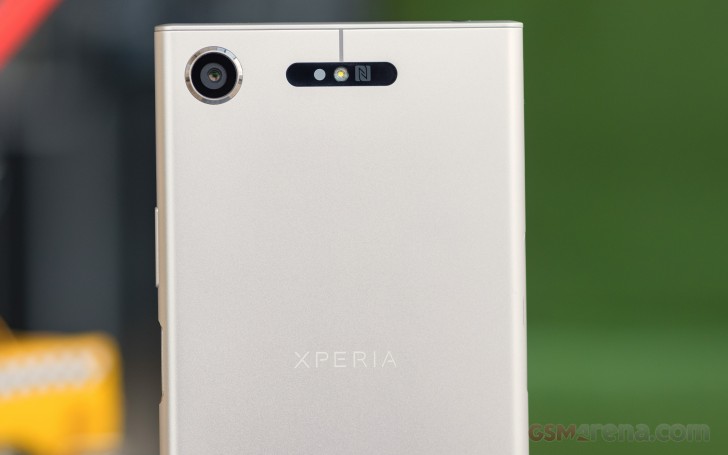 Naturally, the headlining features are all present. This includes the super slow motion 960 fps capture at and HD resolution - still an industry leader. Also, the Predictive Capture algorithm - great for snapping the perfect shot. Both are enabled by Sony's RAM buffered camera pipeline, and the team behind it all has managed to sprinkle a few extra features in for the XZ1 as well. Most notable of these is probably autofocus burst. It allows for blazing-last refocusing while capturing bursts of still shots.
This is a world-first in the smartphone realm, and really puts Sony's Predictive Hybrid Autofocus system and snappy hardware setup to the test. Combined with the 5-axis SteadyShot stabilization and Anti-Distortion Shutter technologies Sony is also boasting about, we really have high hopes for this new trick in Sony's camera arsenal. Once again, our initial experience with it is quite positive, but further testing is required.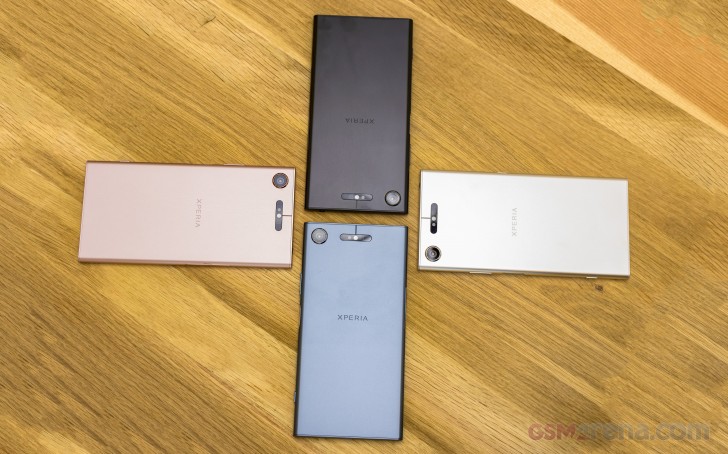 Another notable addition to the camera repertoire is a new trigger for the Predictive Capture feature. Besides fast moving object it now looks for and tracks smiles as well. This sounds like it could really come in handy for parents after that perfect picture of their child - in focus and with a smile.
Also, there is a 3D Creator application on board the Xperia XZ1 that could be interesting in the long run. Its purpose is the three-dimensional capture of objects for later use in things like digital avatars or even 3D prints. In its current state, it supports preset modes for a scanning a face, head or food, as well as a freeform mode. The process is rather fiddly, taking a long time and some awkward panning and hovering around the subject, but the results seem to show potential - especially considering that it's all done without the use of specialized sensors or even a second camera. On the plus side, this could potentially mean the the feature could run on other devices. At the very least, the Xperia XZ Premium and XZs.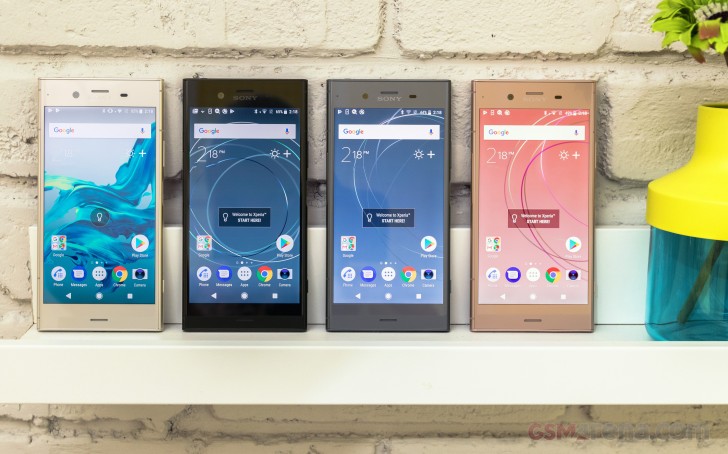 While on the topic of software and extra features, the Xperia XZ1 looks pretty familiar on the surface, but could potentially have some surprises hidden under the surface. Again, since this is an early unofficial unit we are handling, most OS aspects are subject to change, but we will mention that the test handset is running an Android 8 Oreo ROM. Sony has promised both the XZ1 and XZ1 Compact will launch, running Oreo. Other than that detail, the Xperia Skin on top looks mostly unchanged.
Just to bring things to a natural conclusion, the XZ1 really seems to "pop" in Moonit Blue and Venus Pink. Both are just eye-catching enough for a unique look, but equally toned-down to not stick out too much in a formal setting. Of course, if you frequent boardroom meetings, the phone looks equally good and even classier in Warm Silver and traditional Black.