More than a week ago, a possible Sony XZ1 model was spotted on GeekBench running Android 7.1.1 with a Snapdragon 835 and 4GB of RAM. Today, a new benchmark reveals a couple of new details including the supposed screen size and resolution, as well as both cameras' megapixel count.
In addition, the XZ1 carries two model numbers. G8341 and G8342, the latter of which likely indicates a dualSIM capable variant.
According to these benchmark results, the Sony Xperia XZ1 will feature a 5.1-inch 1080p display with a resolution of 1920 x 1080 pixels. Otherwise, there are 64GB of internal storage, an Adreno 540 GPU, a 19MP main camera and a 13MP front-facing camera.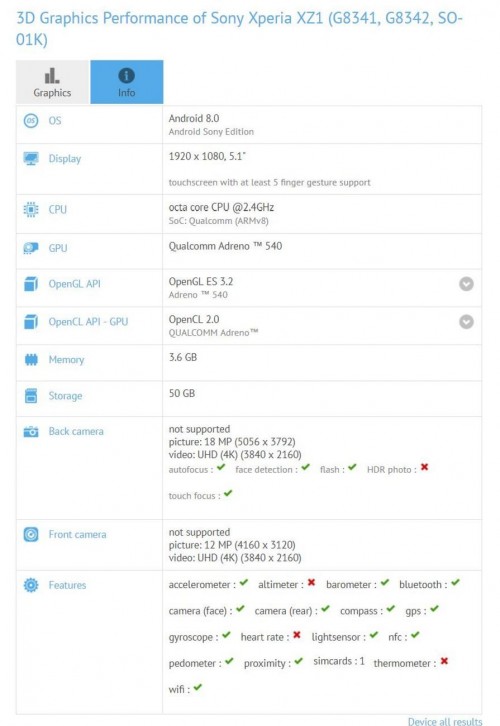 One interesting tidbit about this leak is that the previous benchmark showed the Sony Xperia XZ1 running on Android 7.1.1 while the latest GFX Bench result shows that the phone runs Android 8.0. The caption under it says "Android Sony Edition".
We're not sure when the Xperia XZ1 will be uncovered, but signs are pointing to a possible IFA announcement at the end of August into the beginning of September (but don't count on it right away). After all, rumors are swirling around a possible official release of Android O sometime this week. Google likes to do things on Wednesdays, so we could be looking at an August 9 surprise launch.
On a related note, the Xperia XZ1 Compact was also spotted in benchmarks as well as a Sony Xperia X1. So we could be expecting the two devices to be announced relatively soon.
Thanks for the tip!
D
I was hoping that they woud go for dual cameras to eliminate bad effects of wide angle lens.
D
and still leaking data to Chinese servers ?
D
It is not about the camera tech but the incompetant camera software that Sony has. i have used 3rd party camera apps & found better results than Xperia camera app.
ADVERTISEMENTS