Android Oreo works well with Xperia
The Sony Xperia XZ2 Compact runs on Android 8.0 Oreo. Despite the latest Android OS, don't expect a radical change in the UI of the device compared to its siblings, like the XA2, XA2 Ultra, or most of its recent predecessors, like the XZ1, for that matter. Like many other manufacturers, the Japanese giant has mostly decoupled its signature UX from the Android underneath at this point, so as to deliver a familiar experience across its lineup.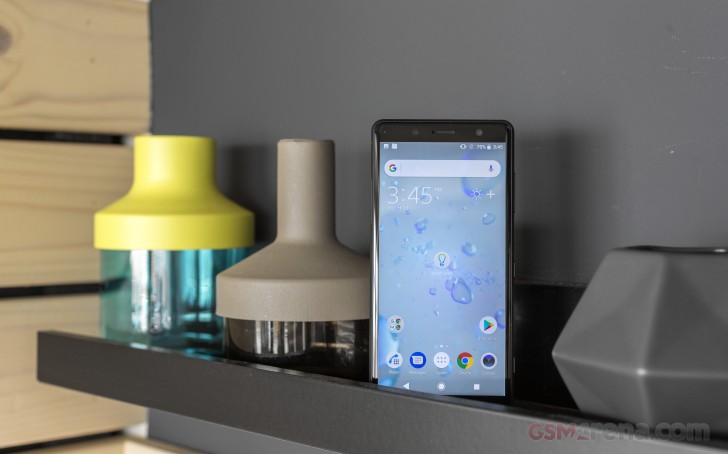 It is worth noting, though, that unlike the mid-range XA2 pair, the flagship XZ2 duo is still not part of Sony's Open Device program. We can only hope it's a question of time, though, since participation not only facilitates custom ROM development but also means a vanilla Android build - available straight from Sony.
During setup, the Xperia Launcher actually prompts for approval for a big chunk of said apps. If you don't like or need any of the non-essentials, you can simply tick them off the list and never deal with them again.
Long-term Sony fans should feel right at home with what is essentially the same Xperia launcher. The homescreen appears unchanged from previous Xperia generations. This includes the swipe down gesture, which shows a screen of the apps you use most along with recommendations for new apps to install. The search field is highlighted so you can start typing the app's name immediately. There is also a Google Feed pane, accessible through a left swipe on the home screen.
Themes are available (both free and paid) that can customize the look and sound of the Xperia XZ2 Compact. These are managed through a dedicated interface but seem to be distributed via the Google Play Store. Some themes are even interactive, with their wallpapers reacting to your touches.
The notification drawer and the task switcher are very similar to the vanilla Android ones. There is also a Split Screen feature available to a limited number of apps.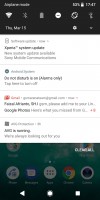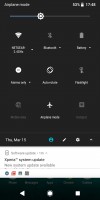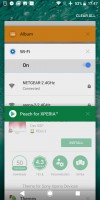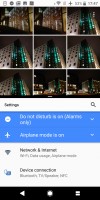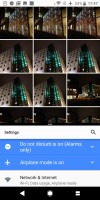 Notification shade • Quick toggles • Task switcher • Split screen • Split screen
The traditional app drawer is present and even if you opt out of all the additional app installs during setup, you will still end up with at least a few essentials. Sony takes great pride in the A/V prowess of its devices, and the multimedia apps are all custom and feature-rich - Album, Music, and the Video app.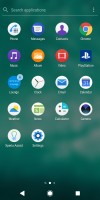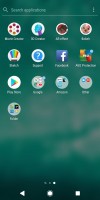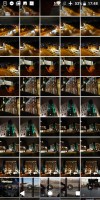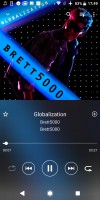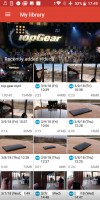 App drawer • All apps • Album • Music • Video
The Xperia Assistant is a new addition to the mix. Naturally, in keeping with current trends, it utilizes AI, but nothing too fancy, like Bixby, Siri or the Google Assistant. Unlike those, the Xperia app lacks a voice of its own, at least for now that is and is more of an interactive manual and convenient management hub for some of the device's features. The main interface is arranged in a chat manner, although you rarely get to actually type. Rather, the Assistant guides you via suggested topics.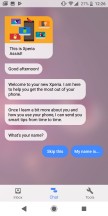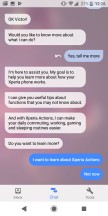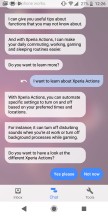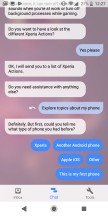 Xperia Assistant main chat interface
It's a fairly intuitive mode of operation, even if not particularly speedy. When you reach a certain juncture in your conversation, the Xperia Assistant can drop convenient links to features you might be interested in checking out. Those cards, or notifications, of sorts, also end up in your inbox, for quicker access later, without having to repeat the conversation with the AI. In some cases, the assistant can directly navigate you to an interface of interest. It can also remind you of various things and send you tips through its own volition when it deems them applicable. You can thankfully enable or disable this behavior on a per-topic basis.
The third and final tab in the Xperia Assistant UI is titled Tools and serves as a convenient management hub for convenient Xperia features, like the extensive STAMINA mode battery-saving platform and the Battery Care feature.
We particularly like the latter, since modern batteries do actually benefit from proper care, or rather avoiding certain unfavorable scenarios, like keeping the device charged up all the way for prolonged periods of time. We wish more manufacturers extended such efforts to preserve the longevity of their sealed-in battery backs.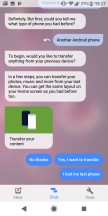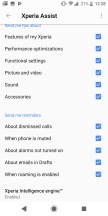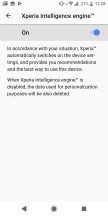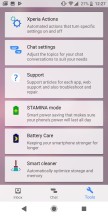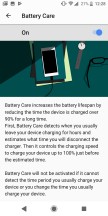 The assistant drops tip cards • Assistant settings • Xperia Assistant tools
Finally, in addition to the fingerprint unlock, you can set up Smart Lock. It gives you conditional security - trusted nearby devices, locations, faces, or voices can allow you to skip the security protocol that you may have set up on the phone.
Performance
Sony has been dead serious about the prowess of its Compact flagships and the XZ2 model makes no difference. The latest Compact packs the same chip as its bigger XZ2 sibling - the top-of-the-line Snapdragon 845.
The Snapdragon 845 chip (10nm LPP) has a new octa-core processor with brand-new Kryo 385 cores. The high-performance quartet of Kryo 385 Gold cores is clocked at 2.7GHz and the architecture derives from Cortex-A75. The power-efficient Kryo 385 Silver cores (based on Cortex-A55) work at 1.7GHz.
The new SoC employs Adreno 630 GPU, 30% more powerful than the Adreno 540 inside the Snapdragon 835.
The Snapdragon 845 chip inside the Xperia XZ2 Compact units is coupled with 4GB of RAM. Unlike the XZ2 model, the Compact won't be having editions with 6 gigs of RAM.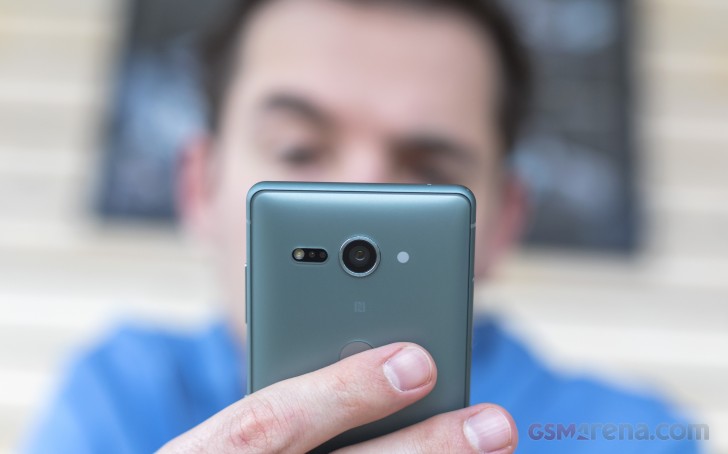 We start with some pure CPU number-crunching ratings courtesy of GeekBench. The Snapdragon 845 fall just a bit short of its Exynos 9810 rival inside the Galaxy S9. Still, both chips rule over the rest of the Android gang by a chunky margin.
GeekBench 4.1 (multi-core)
Higher is better
Apple iPhone 8
10214
Samsung Galaxy S9
8830
Sony Xperia XZ2 Compact
8487
Sony Xperia XZ2
8466
Xiaomi Mi 6
6719
Samsung Galaxy S8
6656
Apple iPhone 7
5831
Oppo R11
5777
Sony Xperia XZ1 Compact
5596
Sony Xperia XA2
4215
LG G6
4175
Apple remains the undisputed king of the hill when it comes to pure CPU prowess. Samsung did better than Qualcomm this year with its third-generation custom Mongoose cores, as well.
GeekBench 4.1 (single-core)
Higher is better
Apple iPhone 8
4234
Samsung Galaxy S9
3759
Apple iPhone 7
3459
Sony Xperia XZ2
2454
Sony Xperia XZ2 Compact
2446
Samsung Galaxy S8
1991
Xiaomi Mi 6
1929
Sony Xperia XZ1 Compact
1826
LG G6
1767
Oppo R11
1596
Sony Xperia XA2
865
Moving on the GPU tests, it's the Snapdragon's GPU to shine. The Adreno 630 easily steal the crown of the best mobile GPU to date.
GFX 3.1 Manhattan (1080p offscreen)
Higher is better
Sony Xperia XZ2 Compact
60
Sony Xperia XZ2
55
Samsung Galaxy S9
46
Apple iPhone 7
43
Sony Xperia XZ1 Compact
41
Xiaomi Mi 6
41
Samsung Galaxy S8
36
LG G6
26
Huawei P10
22
Oppo R11
15
Sony Xperia XA2
9.6
For the onscreen test, keep in mind that the XZ1 Compact runs on a 720p screen, while the Galaxy S9 has 1440p to handle.
GFX 3.1 Car scene (onscreen)
Higher is better
Sony Xperia XZ1 Compact
50
Sony Xperia XZ2
33
Sony Xperia XZ2 Compact
33
Xiaomi Mi 6
25
Huawei P10
16
Samsung Galaxy S9
14
Samsung Galaxy S8
13
Oppo R11
8.6
LG G6
8.5
Sony Xperia XA2
6
The compound AnTuTu benchmark, which take into account many other hardware aspects of its test subjects, is often considered as the most reliable test on Android. And here the Xperia XZ2 Compact aced the chart, although it's not far from the XZ2 and Galaxy S9.
AnTuTu 7
Higher is better
Sony Xperia XZ2 Compact
265326
Sony Xperia XZ2
259244
Samsung Galaxy S9
250156
Sony Xperia XZ1 Compact
204581
Samsung Galaxy S8
199022
LG G6
158785
Huawei P10
144458
Comparing numbers and topping chart is easy, but the reality is that all modern smartphones are up to the job. Apple, Huawei, Samsung, Sony or Xiaomi - all proprietary and mass-market chips does an excellent job in handling whatever the task hassle-free and this will last for at least two years. Yes, benchmark scores show raw power, but in real life everything is cutting-edge.
Thanks to the 10nm LPP manufacturing process the Snapdragon 845 chip inside the XZ2 Compact keeps its tiny environment cool even when stress tests are running. We didn't experience any bottlenecks or throttling, and that's what's important here.