Sony's light customizations on top of Android 8.0 Oreo
One thing you can count on with Sony smartphones is that from a software standpoint they all look and behave in a pretty much identical way, and that's not far detached from stock Android. That's all fine and dandy, except the OS version on the XZ2 Premium is 8.0 Oreo - not Pie, and not even the latest Oreo available. There's the August security patch on board our review unit, so at least it's up to date security-wise.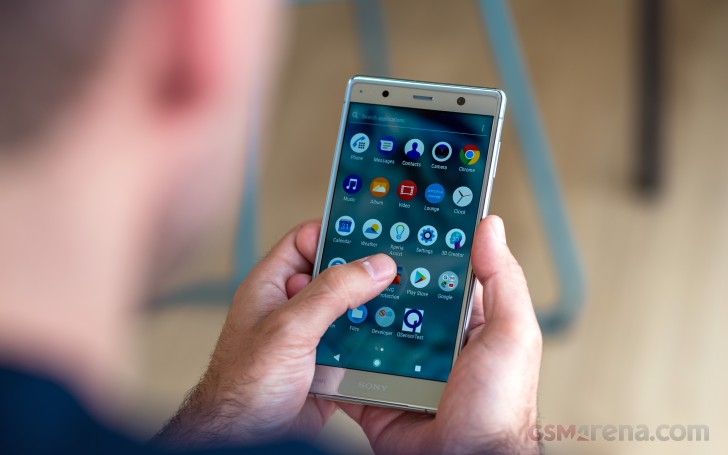 Long-term Sony fans should feel right at home on the XZ2 Premium with what is essentially the same Xperia launcher. The homescreen appears unchanged from previous Xperia generations. This includes the swipe down gesture, which shows a screen of the apps you use most along with recommendations for new apps to install. The search field is highlighted so you can start typing the app's name immediately. There is also a Google Feed pane, accessible through a left swipe on the home screen. You can get rid of the shortcut to the app drawer and evoke it with an upward swipe like on the Pixels.
Themes are available (both free and paid) that can customize the look and sound of the Xperia XZ2 Premium. These are managed through a dedicated interface but are in fact distributed via the Google Play Store. Some themes are even interactive, with their wallpapers reacting to your touches.
The notification drawer and the task switcher are very similar to the vanilla Android ones. There is also a Split Screen feature available to a limited number of apps.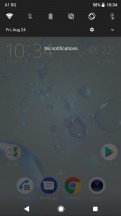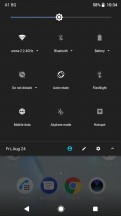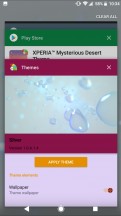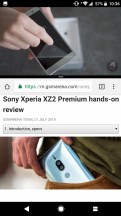 Notification shade • Quick toggles • Task switcher • Split screen
Sony takes great pride in the A/V prowess of its devices, and the multimedia apps are all custom and feature-rich - Album, Music, and the Video app.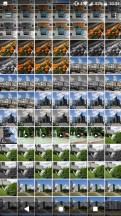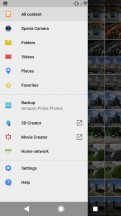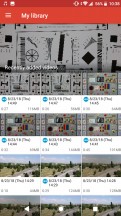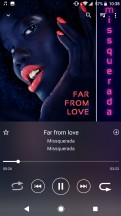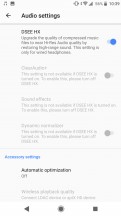 Album • More Album • Music • Audio settings • Video
The Xperia Assistant is a relatively recent addition to the Xperia custom software. Naturally, in keeping with current trends, it utilizes AI, but nothing too fancy, like Bixby, Siri or the Google Assistant. It lacks a voice of its own, at least for now, and is more of an interactive manual and convenient management hub for some of the device's features. The main interface is arranged in a chat manner, although you rarely get to actually type. Rather, the Assistant guides you via suggested topics.
It's a fairly intuitive mode of operation, even if not particularly speedy. When you reach a certain juncture in your conversation, the Xperia Assistant can drop convenient links to features you might be interested in checking out. Those cards, or notifications, of sorts, also end up in your inbox, for quicker access later, without having to repeat the conversation with the AI. In some cases, the assistant can directly navigate you to an interface of interest. It can also remind you of various things and send you tips through its own volition when it deems them applicable. You can thankfully enable or disable this behavior on a per-topic basis.
The third and final tab in the Xperia Assistant UI is titled Tools and serves as a convenient management hub for convenient Xperia features, like the extensive STAMINA mode battery-saving platform and the Battery Care feature.
Synthetic benchmarks
You know the flagship formula - the latest Snapdragon and heaps of RAM inside. It's no different on the Xperia XZ2 Premium and it comes with the S845 and a 6 gigs of memory for your running apps.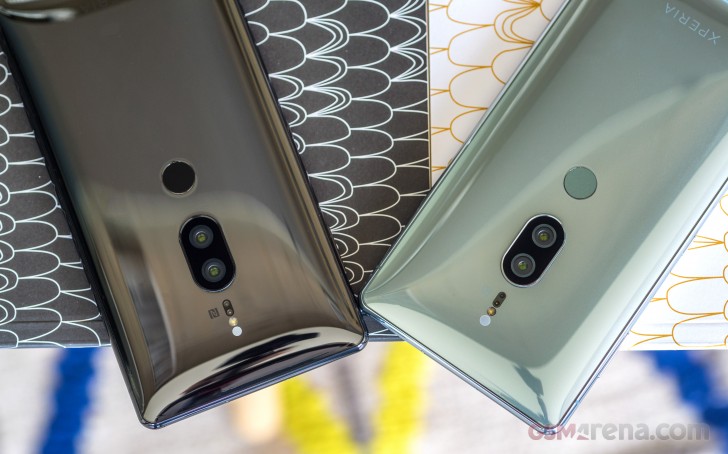 With hardware this similar between high-end devices, it's no surprise that the benchmark scores aren't radically different either. In single-core GeekBench, the S845 handsets are within a few percent from each other, the XZ2 Premium in there. The S835 crowd from last year is a few steps behind as is the Huawei P20 Pro with the soon to be replaced Kirin 970. Meanwhile, the Exynos Galaxy S9+ and Note9 boast substantially better single-core performance, eyeing up the iPhone X, but not quite catching up.
GeekBench 4.1 (single-core)
Higher is better
Apple iPhone X
4256
Samsung Galaxy S9+
3771
Samsung Galaxy Note9
3642
vivo NEX S
2466
HTC U12+
2456
Sony Xperia XZ2
2454
OnePlus 6
2450
Xiaomi Pocophone F1
2438
Xiaomi Mi 8
2431
Sony Xperia XZ2 Premium
2419
LG G7 ThinQ
2395
Oppo Find X
2322
Motorola Moto Z3
1924
Huawei P20 Pro
1907
Sony Xperia XZ Premium
1836
Google Pixel 2 XL (Android 9)
1807
The difference between this year's and last year's crop remains in the multi-core test, but here the Exynos Galaxies lose their edge. The Xperia XZ2 Premium posts predictably great numbers, though a bunch of competitors have a minor advantage.
GeekBench 4.1 (multi-core)
Higher is better
Apple iPhone X
10215
vivo NEX S
9160
Samsung Galaxy Note9
9026
OnePlus 6
9011
Xiaomi Pocophone F1
9003
HTC U12+
9001
Samsung Galaxy S9+
8883
LG G7 ThinQ
8865
Sony Xperia XZ2 Premium
8509
Xiaomi Mi 8
8494
Sony Xperia XZ2
8466
Oppo Find X
8018
Huawei P20 Pro
6679
Motorola Moto Z3
6614
Google Pixel 2 XL (Android 9)
6055
Sony Xperia XZ Premium
5460
In the graphics benchmarks, you'd expect the 4K display to bring about lower fps numbers, but in fact the Xperia XZ2 Premium tops the chart in onscreen GeekBench Manhattan 3.1. The secret is that it's actually treated as a 1080p display for the purposes of the benchmark as the phone renders in 4K when there are high-res videos and photos to be displayed. In the offscreen test a handful of devices inch ahead of the Premium, but it does remain in the top half of the chart.
GFX 3.1 Manhattan (onscreen)
Higher is better
Sony Xperia XZ2 Premium
57
vivo NEX S
55
OnePlus 6
55
Sony Xperia XZ2
51
Oppo Find X
50
Xiaomi Mi 8
50
Apple iPhone X
44
Sony Xperia XZ Premium
41
Huawei P20 Pro
37
Motorola Moto Z3
37
HTC U12+
33
LG G7 ThinQ
30
Samsung Galaxy Note9
25
Samsung Galaxy S9+
24
Google Pixel 2 XL (Android 9)
15
GFX 3.1 Manhattan (1080p offscreen)
Higher is better
HTC U12+
60
Oppo Find X
60
vivo NEX S
60
OnePlus 6
58
Sony Xperia XZ2 Premium
58
LG G7 ThinQ
57
Sony Xperia XZ2
55
Xiaomi Mi 8
53
Apple iPhone X
51
Samsung Galaxy S9+
47
Samsung Galaxy Note9
45
Motorola Moto Z3
42
Huawei P20 Pro
40
Sony Xperia XZ Premium
39
Google Pixel 2 XL (Android 9)
30
Switching over to Antutu, we've got BBK's overachievers Oppo Find X and vivo NEX S on top and then it's the Xperia XZ2 Premium, tied with the Pocophone F1, OnePlus 6, and HTC U12+. The Exynos Galaxies are slightly behind the S845 team, while the Mi 8 underdelivers.
AnTuTu 7
Higher is better
Oppo Find X
291218
vivo NEX S
287081
Xiaomi Pocophone F1
265314
Sony Xperia XZ2 Premium
264734
OnePlus 6
264200
HTC U12+
263696
LG G7 ThinQ
259393
Sony Xperia XZ2
259244
Samsung Galaxy Note9
248823
Samsung Galaxy S9+
246660
Xiaomi Mi 8
217298
Huawei P20 Pro
209884
Motorola Moto Z3
207903
Google Pixel 2 XL (Android 9)
206711
Overall, the Xperia XZ2 Premium puts out pretty high numbers in the benchmarks, but it does tend to throttle after repeated runs and it also warms up on the outside quite a bit in the process.