Camera
The 23MP primary camera of the Sony Xperia XZ is familiar from existing Sony high-end models, but in some aspect it's better than any of them.
Starting with the Z5, Xperias have used a multi-aspect 24.8MP sensor (now officially named as Sony IMX300 - a custom sensor model, which is used only on Sony smartphones). Yes, it's actually almost 25MP.
Depending on whether you shoot in 4:3 or 16:9 aspect ratio, different portions of the sensor are used and you get either 22.8MP or 20.1MP images, respectively. Hence the official 22.8MP designation.
Among the benefits of having such a multi-aspect sensor are the similar field of view in both modes, and higher-res 16:9 shots than what you'd get by cropping from a regular 23MP sensor with a 4:3 aspect ratio.
As we already mentioned, this sensor was first used in the Xperia Z5. Later on, the same sensor was used in the Xperia X and the Xperia X Performance. It's also used now inside the XZ. You can read more about it in our dedicated article we published back when the Z5 came out.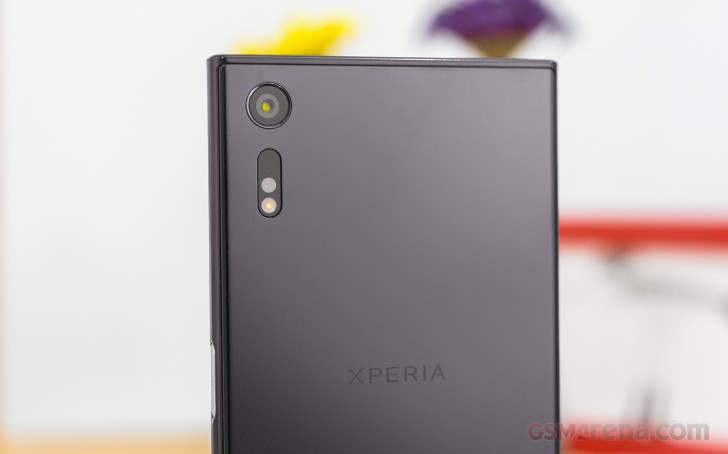 The sensor is placed behind a 6-element lens with an ultra wide-angle 24mm-equivalent field-of-view and a f/2.0 aperture. These particular specs of the camera have not changed since the Xperia Z5.
Update (September 13, 2016): We might have gotten a little too excited about the 5-axis image stabilization. As some readers correctly pointed out in the comments, the stabilization is not optical, bit digital instead and only works in a narrow range of scenarios, when shooting video. It's activated in FullHD mode only, and when shooting close-up subjects. In cases, where both of these conditions don't apply, it's back to a 3-axis algorithm (pitch/yaw/roll).
The article has been corrected to reflect that.
Historically, flagship Xperias have had no optical image stabilization, and neither does the XZ. Sony's SteadyShot with Intelligent Auto has been upgraded, however, and now offers 5-axis image stabilization. We're not too comfortable with the term 'axis' that's become all too popular for describing what is a 'degree of freedom', but the point is that Sony's system is able to compensate for translation alongside two axes and rotation around all three. Or shift shake in the X and Y direction and yaw, pitch, and roll shake.
That's not all that is new about the Xperia XZ's camera. While from the Z5 on, high-end Xperias have had hybrid contrast/phase detection autofocus, the XZ adds laser autofocus to the mix, to help speed things up, by taking care of close-distance subjects and letting the other systems, well, focus on the rest of the focusing range.
But wait, there's more. Sony has also installed an RGBC-IR sensor (RedGreenBlueClear-InfraRed) to assist the image sensor in figuring out the color temperature of the ambient lighting, and adjust the white balance accordingly.
There's just one LED for the flash, though.
Introduced on the Xperia X, predictive autofocus is here as well. The idea is that you can tap on your subject and the camera will track its movement, keeping the focus locked on it. This is great for subjects who would move all around the scene such as a toddler or a pet.
Camera interface
Sony's latest camera UI is fairly streamlined. You change modes by swiping up and down (or left and right, if you're holding it in portrait). Superior Auto will probably be the main mode you use, but there's a Manual option too. A novelty introduced by the Xperia XZ is specifically the new, more powerful Manual mode. What was once just exposure compensation and white balance selectors, has now been expanded to include full range shutter speed selection (1/4000s - 1s) and a manual focus slider. The ISO setting is tucked away in the menu, though.
The Camera App tab holds some useful features and some features, which are just there for fun. Some of the available modes are Sweep Panorama, Slow-motion video, Face in picture, Sound Photo and a few more.
Most importantly, 4K video recording resides here - it's not a setting inside video mode, but a mode all in itself.
Those are just the pre-installed modes, but you can download even more.
The selfie cam has pretty much the same features as the main camera aside from minor differences (the selfie cam's manual mode has no ISO selector or manual focus slider). It even reminds you to look at the camera lens when taking a photo.
The Xperia XZ's camera lets you capture moments in the blink of an eye - from a locked phone, it takes a mere 0.6 seconds to capture the first shot. To use that feature, you need to enable taking a photo when waking the camera with the shutter key in Settings.
Samples
We took a few (hundred) shots with the Xperia XZ and you would find a selection of hand-picked samples below. This being non-final firmware, we're not going to be harsh on the XZ. Let's just say that the images are packed with detail, but also have a high amount of noise and even some oversharpening. Overall, the camera seems tuned just like we saw on the previous models in the X lineup.
We captured a bunch of low-light shots at dusk.
The front-facing 13MP shooter had its share of action too.
Video recording
The Xperia XZ can record 2160p video. If there was ever any clue that the X Performance was not the proper flagship, it was the omission of a 4K video mode. Well, here's a 4K video shot by the Xperia XZ. Mind you, it's been pretty windy around here these days.
And here's a regular plain 1080p/30fps video sample as well.