Triluminos display
The Sony Xperia Z1 comes with a 5" 1080p Triluminos display, backed up by the company's X-Reality engine. Sony has already demonstrated the potential of that combo with the Xperia Z Ultra, so we know that it's clearly superior to the company's screens from the first half of the year.


The 5" 1080p screen is tack sharp
The pixel density breaks down to 441ppi, which is as good as it gets in terms of sharpness. No matter how closely you look, you won't be able to tell pixels apart and images will always look tack sharp (provided they have enough resolution in the first place).
Here's a shot at the underlying pixel matrix of the screen that we've taken with our digital microscope.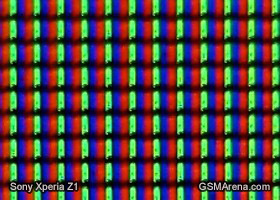 A key area that has seen improvement with the latest Sony display tech is viewing angles. Those have been a long-standing issue of all of the company's screens over the past few years, but now things are looking much better. You do get contrast compression when you look from a very wide angle, but everything still remains legible. At this point, the difference between this and the best screens in business is more about the premium feel of icons appearing as if printed on the screen. In terms of usability though, the Xperia Z1 is as good as any.
A word of warning is due as we've been getting a lot of user reports that not all Xperia Z1 units out there have the same quality screens. It seems some of them come with panels, which have the same properties as the one on the Xperia Z. These of course, may be pre-production samples or as conspiracy theiorists suggests, leftover panels from the Xperia Z production line. Whatever the case, have this one in mind when you are picking up yours.
The native display contrast of the Sony Xperia Z1 that we have is great and surprisingly, it's even much better than that of the Z Ultra. Colors are also nicely punchy, but still fairly accurate. If you'd like a bit of extra punch to your images and videos you should enable the X-Reality engine, which is the successor of the Mobile Bravia Engine. It aims to improve sharpness, reduce noise, while boosting contrast and saturation, and it does a pretty good job of it.
Display test
50% brightness
100% brightness
Black, cd/m2
White, cd/m2
Contrast ratio
Black, cd/m2
White, cd/m2
Contrast ratio
Sony Xperia Z1
-
-
-
0.38
580
1513
Sony Xperia Z Ultra
-
-
-
0.47
467
1001
Sony Xperia Z
-
-
-
0.70
492
705
Huawei Ascend Mate
0.23
222
982
0.67
711
1053
Samsung Galaxy Mega 6.3
0.12
160
1364
0.32
440
1379
Samsung I9505 Galaxy S4
0
201
∞
0
404
∞
HTC Butterfly S
0.15
165
1117
0.43
451
1044
HTC One
0.13
205
1580
0.42
647
1541
Oppo Find 5
0.17
176
1123
0.51
565
1107
Apple iPhone 5
0.13
200
1490
0.48
640
1320
Even more impressively, the Xperia Z1's screen is much less reflective than those of its predecessor and the Z Ultra. This, combined with its higher brightness, helped the new Sony flagship smartphone to a great score in our dedicated sunlight legibility test. You will have very little issues with this one even in the sunniest of days.
Sunlight contrast ratio
Nokia 808 PureView
4.698
Apple iPhone 5
3.997
Samsung I9300 Galaxy S III
3.419
Nokia Lumia 925
3.402
Samsung I9505 Galaxy S4
3.352
Samsung Omnia W
3.301
Samsung Galaxy S
3.155
Samsung Galaxy S4 mini
3.127
Samsung Galaxy S4 zoom
3.118
Nokia N9
3.069
Samsung Galaxy Note
2.970
Sony Xperia Z1
2.950
HTC One S
2.901
Samsung Galaxy S II
2.832
Samsung Galaxy S II Plus
2.801
Huawei Ascend P1
2.655
Sony Xperia ZR
2.672
Nokia Lumia 900
2.562
Nokia Lumia 720
2.512
HTC One
2.504
Sony Xperia Z
2.462
Samsung Galaxy S III mini
2.422
Motorola RAZR i
2.366
Samsung Galaxy Note II
2.307
Apple iPhone 4S
2.269
HTC Desire 600 dual sim
2.262
HTC One X
2.158
Nokia N8
2.144
Oppo Find 5
2.088
BlackBerry Z10
2.051
Apple iPhone 4
2.016
HTC One mini
2.003
LG G2
1.976
Sony Ericsson Xperia ray
1.955
Samsung Galaxy Camera
1.938
HTC Butterfly
1.873
Huawei Ascend P6
1.865
Sony Xperia V
1.792
Sony Xperia U
1.758
LG Optimus 4X HD
1.691
HTC One V
1.685
BlackBerry Q5
1.682
LG Optimus Vu
1.680
LG Optimus GJ
1.666
HTC Desire V
1.646
Sony Xperia Z Ultra
1.578
Samsung Galaxy Core
1.563
LG Optimus G Pro
1.552
LG Optimus 3D
1.542
Nokia Asha 302
1.537
Sony Xperia M
1.473
Nokia Lumia 610
1.432
Gigabyte GSmart G1355
1.361
HTC Desire C
1.300
Nokia Asha 501
1.270
LG Optimus L7
1.269
LG Optimus L9
1.227
Meizu MX
1.221
Sony Xperia E dual
1.203
Samsung Galaxy Pocket
1.180
Sony Xperia tipo
1.166
Samsung Galaxy mini 2
1.114
All things considered, the Sony Xperia Z1's screen may not earn it too many bonus point in today's market saturated with mind-blowing displays, but it's no longer a liability as it was on the Xperia Z - in fact it even beats some of its rivals.
Battery life
The Sony Xperia Z1 packs a massive 3,000mAh battery despite its slender body and a Snapdragon 800 chipset, making it fairly similar to the Xperia Z Ultra - except for the screen, which is 5" for the Z1 and 6.4" for the Z Ultra.
We expected the smaller screen to lead to an improved battery life, but that wasn't the case. Talk time is spectacular - the best we've seen yet - but web browsing and video playback times are just average. They haven't really moved since the original Xperia Z. At least standby power usage is low, leading to a decent endurance rating.
For more information, check out our blogpost for more details.