The Sony Xperia Z1 went official yesterday at IFA in Berlin, and today we've got the camera samples taken directly from our visit to the Sony booth.
First up are several 16:9 camera samples in the maximum allowable resolution for that aspect ratio, 8MP. You'll see some accurate colors and good dynamic range considering the interior lighting, but the oversharpening filter is working overtime to restore the sharpness lost after the generous noise reduction. At 8MP these shots have been downsampled from what essentially is a 20MP sensor, so the photos noise levels have certainly benefited from that.
The same cannot be said about our full resolution 4:3 shot, measuring 5248 x 3936 pixels, which takes advantage of the entire 20.7MP sensor on the Z1. this one is noticeably more noisy, but remember, the light conditions at the Sony booth were pretty bad.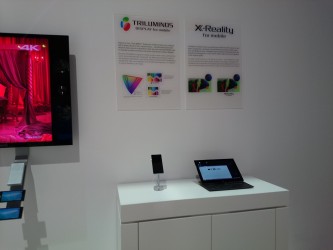 Sony Xperia Z1 20.7MP camera sample
Finally, here's a quick 1080p video we shot. The rather dim lighting conditions made for some repeated autofocusing attempts.
Given the interior lighting conditions and that the Xperia Z1 may not have finalized software, we won't be too quick in rendering a final judgment on Sony's new flagship.
For more on the Sony Xperia Z1 and its 20.7MP camera, check out our extensive hands-on.
We've taken some more samples with the Xperia Z1. This time around, the quality has definitely improved.













Sony Xperia Z1 updated samples
And here are a couple of new 1080p videos shot with the Xperia Z1 as well.
D
I've played that game in ipad4...... N I feel that it's the most boring and non sense game on the planet...
D
Don't buy the Z1 since it will have the same flaw as the Z. The screen will likely crack on its own like on my Z and Sony will ignore you. Google Xperia Z screen cracks and you will see how well thousands of our screwed Xperia Z feel about Sony. ...
D
http://blog.gsmarena.com/sony-xperia-z1s-20-7mp-­snapper-gets-compared-to-nokia-lumia-1020s-41mp-­pureview-monster/