Mini gone big
Sony Xperia Z1 Compact review: Mini gone big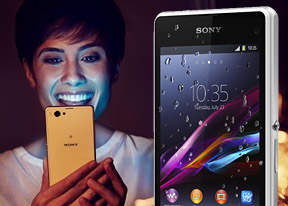 Great connectivity
The Sony Xperia Z1 Compact has quad-band 2G and penta-band 3G connectivity across all regional models, and support for more LTE bands than you can shake a stick at. The LTE is Cat. 4 meaning it can theoretically reach 150Mbps downlink and 50Mpbs uplink. Outside LTE coverage, the Z1 Compact is rated for mobile data speeds of up to 42 Mbps HSDPA and 5.76 Mbps HSUPA.
Local connectivity is covered by dual-band Wi-Fi a/b/g/n/ac with DLNA and Wi-Fi Direct, so you can easily share content from your phone on a DLNA TV or music player. If a media app supports the Throw function (like the video player), you can use it through the Smart Connect app for DLNA functions (sharing screen, etc.).
There's also Bluetooth 4.0 with A2DP, which can be used for low-power accessories (e.g. sports trackers). Sony still adds ANT+ to its phones too, which is another popular wireless standard for sports accessories.
The Xperia Z1 Compact features NFC too, but there's no app to handle the NFC functions out of the box. Luckily, there are plenty of capable NFC apps in the Play Store.
MicroUSB handles the charging and PC connectivity, and there's also USB On-the-go support, so you can attach external flash drives to the smartphone as well. The MHL-enabled microUSB port also supports HDMI connections to an external monitor.
A minor annoyance comes from the fact that the microUSB port and the docking pins are on the same side of the device, the same design flaw the big Z1 had. You can dock the phone to make sure it's being charged, while outputting videos over HDMI, but you'll struggle to find a comfortable position, as even an L-shaped micro-USB will cause the dock to wobble unless you place it on an elevated surface, like a book or something.
The Xperia Z1 Compact comes with Sony's Smart Connect app, replacing the former LiveWare manager. With Smart connect, you can set your device to do a variety of things, like launch an app or set an alarm, whenever you connect an accessory, e.g. a headset or a charger, or during a time interval (e.g. mute alarms at night). It doesn't work with NFC tags though, which is very disappointing.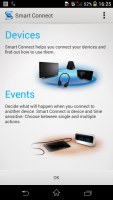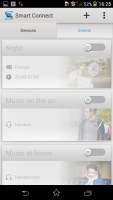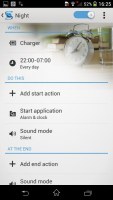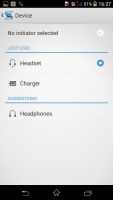 Smart Connect manager can, for example, launch the music player as soon as you connect a headset
Unmatched browsing with Google Chrome
The Sony Xperia Z1 Compact comes with Google Chrome as the default web browser out of box instead of the generic Android browser. While the minimalist interface hasn't changed since Chrome launched on Android, the browser is being constantly refined by Google, and this has resulted in one of the smoothest and most powerful browsing experiences we've encountered on a mobile.
Chrome now utilizes the Blink rendering engine (a fork of WebKit), so underneath the minimalist UI it's basically the same as the desktop Chrome.
One of Chrome's strengths is its ability to seamlessly sync with the desktop version, using nothing but your Google account. This allows you to open an article on your PC and finish reading it on your mobile phone. It also syncs your bookmarks and bookmarks.
At the top there's an URL bar with a refresh/stop button next to tabs and settings. You can switch between tabs with a wide horizontal swipe in either direction.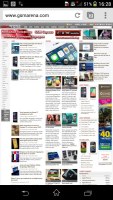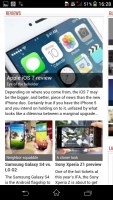 Browsing GSMArena.com with Chrome
Opening the tabs area reveals a list of tabs, which can be closed, again with a left or right swipe. The animation accompanying this action is neat, too.
Incognito tabs, which lets you browse without saving history or cookies, show up right next to regular tabs.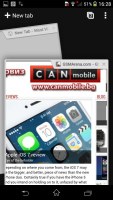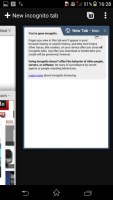 Switching between tabs • the incognito tab interface is right next door
Google Chrome is generous with settings as well. You can control almost every aspect of your web browsing from choosing what content you want to allow to load like JavaScript, images, cookies and pop-ups.
A relatively new setting is called Reduce data usage and does what it says - Google servers compress the webpage (using Google-developed tech like SPDY and WebP) and send them to the phone. You can check the graph to see how much data you've saved. Unlike Opera Mini, this mode keeps the full functionality of web pages. Also, secure connections bypass the Google servers for privacy reasons.
Also, keep in mind you can use the Small app browser, which lets you surf while doing other things. You can hit the Open in another app to view the page in Chrome, but there's no easy way to switch from Chrome to the floating browser. Also, there's a Chrome Bookmarks small app that just shows your bookmarks (i.e. it's not a small app version of Chrome).
Document viewer and Google Drive
The Sony Xperia Z1 Compact comes with the OfficeSuite 7 viewer. OfficeSuite 7 lets you view Word, Excel, PowerPoint, PDF along with plain text files. It only allows you to view them though, as you'll have to buy the Pro version if you want editing capabilities as well.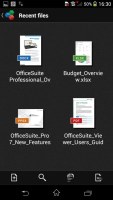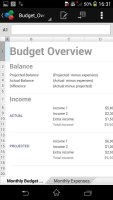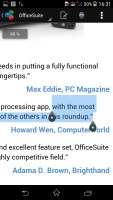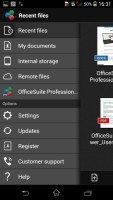 OfficeSuite 7 handles all your documents
Google Drive is on board and it can handle creating and editing documents and spreadsheets, though at the moment it requires an internet connection. The app does support offline viewing, but you'll need a data connection to editing, which may be a no-go for some.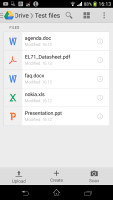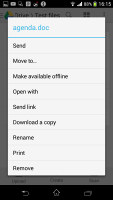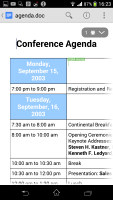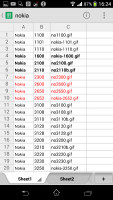 Google Drive handles document editing, but only online
Organizer and apps
The calendar has three different types of view - daily, weekly and monthly. In Week view, the lower section of the screen is reserved for a list of upcoming events. Alternatively, you can use the Agenda view for a list of all recent events.
Adding a new event is quick and easy, and you can also set an alarm to act as a reminder. The Calendar also pulls info on upcoming events from your Facebook account. Facebook events appear just like regular calendar entries, except that you can't edit them from the app.
The Notes app has made its way onto the Xperia Z1 Compact, except this time its drawing capabilities have been moved to a separate Sketch app. Notes have a title and you can choose a custom background and text color. Font size is customizable too. The app also lets you record voice notes and turn the note into a To-Do list.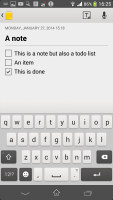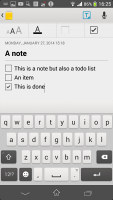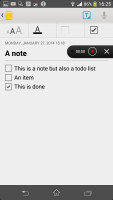 The Notes app is simple but with helpful features
Sketch is pretty simple to use - you can select the color of the note/sketch and just start typing or doodling. You can customize a wide variety of drawing modes, backgrounds, and stencils. You can use the app to draw a sketch to send with the Messaging app and there's even Evernote integration.
There is a nicely touch-optimized calculator aboard. The buttons are really big and easy to hit, and it also offers advanced functions (trigonometry, logarithms).
The Alarm & clock app supports multiple alarms, each with its own sound and repeat pattern. You can also set whether the side buttons would snooze the alarm, dismiss it or do nothing. There's also a desk clock option, although it doesn't have integrated weather or news information.
The stopwatch, world clock and timer are also available from within the clock app. The Timer function now has a history option, and the world clock features a cool slider which helps you quickly figure out the local time in another city.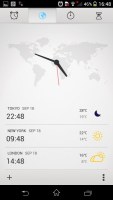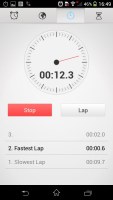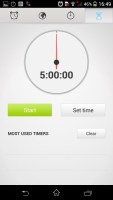 World Clock • Stopwatch • Timer
The Power Saver helps you extend your battery life by toggling things like Wi-Fi, GPS, Bluetooth screen brightness, auto sync and background data on and off automatically when the battery charge falls below a certain user-defined threshold. You can also turn off the Wi-Fi if there is no saved Wi-Fi network in range or turn off mobile data when the screen is off, and more.
Sony also provides a Backup & restore app, which can use the internal storage, a microSD card or even an attached USB mass storage device. You can backup the system and downloaded apps and their data along with any media files.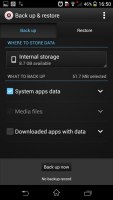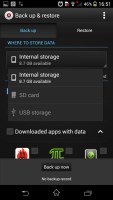 Backup & Restore app is a great tool to have out of the box
Another helpful tool is the Update center, which checks for updates for your phone and your apps. You can enable automatic download with the option to use Wi-Fi only.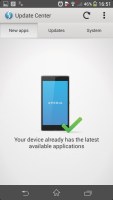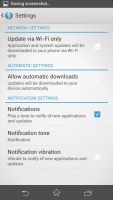 Update center keeps your phone's software up to date
The Sony Xperia Z1 Compact also comes with Google+ and Facebook apps out of the box. The Facebook app also has a nice widget that will show you updates on the homescreen.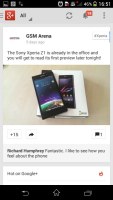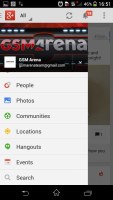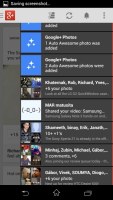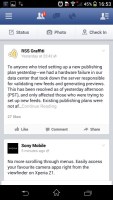 Google+ and Facebook are preinstalled
Sony's own Socialife News is on board too. It's a news reader that pulls headlines from web sites and RSS feeds. The app repackages the article in an easy to read format with selectable font sizes to make reading a breeze. If you sign into Facebook, Twitter and YouTube, the app will include updates from those services as well.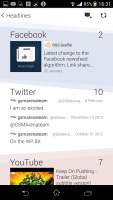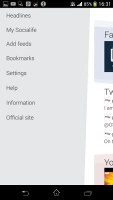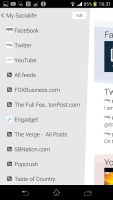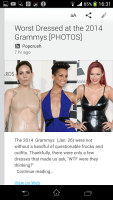 Socialife News combines a newsreader with a social networking app
Google Play is where the apps are
The Google Play Store features several scrollable tabs - categories, featured, top paid, top free, top grossing, top new paid, top new free and trending. You can also check out the Play Picks, Apps to Watch, Apps Highlights and Editor's Choice categories on the Home tab for more curated app lists. The Recommended for you list is based on what apps you've installed and what your Google+ friends have liked.
Apps usually have several screenshots (many even offer a demo video) so you can get an idea of what the app looks like before installing it.
You can also check out comments and ratings, as well as the number of downloads and so on, to help you decide if the app is worth it.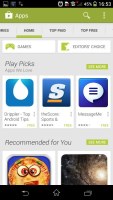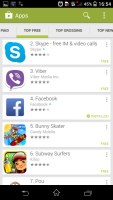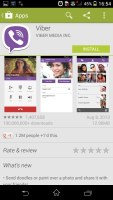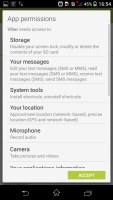 The Play Store will give you access to hundreds of thousands of apps
The Google Play Store is full of all sorts of apps, but in some countries it also offers music, movies and TV shows, books and magazines.
Google Maps finds your way
The Sony Xperia Z1 Compact has a built-in A-GPS receiver with GLONASS support, which managed to get a lock in about a minute. If all you need is a rough idea of where you are (within 150 meters) you can use the Cell-ID and Wi-Fi network estimation, which is very fast as well.
Maps offers voice-guided navigation in an ever-growing list of countries and falls back to a list of instructions elsewhere. You can also plan routes for bicycles and public transport (this one is more limited in availability). Maps shows you a couple of alternative routes like the desktop version of Google Maps.
For navigation, the map will cache the data it needs and will reroute you offline (so you don't need a data connection along the way). The Navigation app itself had its UI polished to match the rest of Maps.
You can also search for nearby POI and go into the always cool Street View.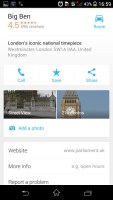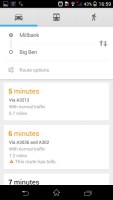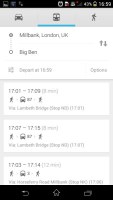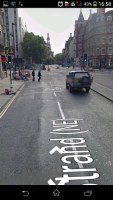 Plotting a course • Street view
Popular places around the world feature pictures and reviews by people. Street view isn't available everywhere, but it is growing in coverage and is the coolest thing we've seen on a Maps app to date (that includes Aerial view in iOS).
You can save maps for offline view, which caches them on your device's storage, but keep in mind that not all map info is saved (meaning you don't get all the information down to street level like businesses, POIs, etc.).