The Sony Xperia Z1S surely must be drawing closer to a release, right? It just showed up on Postel (the Indonesian equivalent of the FCC), which coincides with a brand new rumor of a Shanghai event.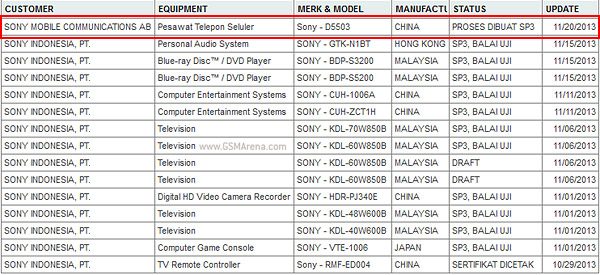 The Xperia Z1S has the model number D5503 and is sometimes called Z1 mini. A couple of spy shots next to its bigger sibling reveal the reason for the "mini" moniker – it has a 4.3" 720p screen instead of 5" 1080p, but keeps the Snapdragon 800 chipset and 20MP camera of the big Z1.
Anyway, the first time we heard of a launch at a Shanghai event, the planned date was November 12. The 12th came and went with no Xperia Z1S, but the phone did briefly show up on Sony China's web site.
The latest Shanghai event rumor is that the date is November 22, two days from now. Xperia Z1S cases on Amazon do lend some credence to that as they would ship by November 26.
The rumor also states that there will be a second device, the Xperia Tianchi (it was Taichi the first time around). The Tianchi will be a 6" phablet with a 720p screen and a MediaTek octa-core chipset, aimed at the likes of Galaxy Mega 6.3 and Lumia 1320.
Thanks to everyone who sent this in!
?
what an irony. Rockstar (a consortium consist of companies including Apple, Microsoft, BlackBerry, and Sony) sues Google for infringing patents. so, if you care about Android, you should support Google and stop buying the consortium's ...
D
I don't need to dodge anything I knew that Z ultra has a larger display but its like a tablet screen 6.3 inch !! R u kidding ?? U trying to compare 6.3 with 4.7 '-5.5' inch display ??? Suitable means which can be carried in pocket easily .if ...