A refreshed Album gallery
The Sony Xperia Z2 comes with the custom Sony gallery, called Album. Images are organized into groups of thumbnails and sorted by date. You can change the thumbnails size by pinching.
Unlike previous versions there isn't a homepage that hosts all of your albums, instead you get the same swipe-able menu the app drawer is offering. There you can find all of your online and offline albums.
The gallery can connect to online albums (PlayMemories, Facebook, Picasa, Flickr) and also to other devices on the local network. Maps and Globe albums are also available, which use the geotagging info to sort photos by the location at which they were taken, and faces, which groups photos by the faces of the people in them.
Images can be cropped or rotated directly in the gallery. Quick sharing via Picasa, Email apps, Facebook, Bluetooth or MMS is also enabled.
There's a slide show using the SensMe brand and much like the music player feature, this one scans files and groups similar photos together.
The video player could have been better
The video playing app is dubbed Movies and it too has a great custom UI. It's connected to Gracenote, which helps you find additional information about the movies and TVs you have on the phone. It will even download posters for them and for movies, it will download metadata like genre, synopsis, director and cast.
Unfortunately, this doesn't work very well for TV shows - it doesn't recognize the S01E02 format and won't pull info about individual episodes. It gets worse, Gracenote seems to be lacking info on TV shows in general, we couldn't find even popular shows like The Big Bang Theory.
Unfortunately there is more bad news - the video player does plays 1080p files hassle-free but the supported codecs are limited to Xvid, MP4 and MKV files. DTS, DD and AC3 audios are not supported, which makes the MKV compatibility pretty much obsolete. We know you can always get a proper app from the Play Store but it's a shame you can't just use the eye-candy default player for everything.
On the positive side the video player supports subtitles, and you can customize their looks. Unfortunately, you cannot manually pick the subtitle file, it has to reside in the video folder to load up.
The Walkman audio player gets a new menu
The Walkman music player is part of the equipment of all recent Xperia smartphones. It features Music Unlimited integration and is not above trying to sell you songs, but you can hide the Music Unlimited stuff.
The Walkman interface is based on a hidden swipe-able menu that sort your music collection by Artist, Albums, Playlists, all songs and even the songs your friends are listening to (but you need to connect the player with your Facebook account). You can pop up the menu the same way you'd do it in the app drawer or the gallery - just swipe from the left edge of the screen.
The Music Unlimited stuff includes ways to discover new music - Charts, New releases and Channels. Those can be hidden individually (same goes for the artist/album/playlist tiles) or you can disable the service altogether.
The Infinite button is available in the Now Playing screen (just tap the album art) - it will help you find the track's video on YouTube, look up info about the artist on Wikipedia and search for lyrics on Google. Gracenote is used here too and it can automatically download information about your tracks and album art.
The Walkman player offers a variety of audio settings - ClearAudio+ option is here, which determines the best audio quality settings depending on the song you're listening to. We liked how it changed the music and carefully accentuated various details. Dynamic normalizer evens out the differences in volume between tracks, which is great if you've mixed multiple albums from multiple sources.
The Sound enhancements contain yet more settings. There's an equalizer with presets and manual settings (including tweaking Clear Bass). Then there's Surround sound mode, which imitates the Studio, Club or Concert Hall experience. The Clear stereo mode enhances the perceivable stereo channel separation. Dynamic normalizer minimizes the difference in volume between songs (great if you're playing a shuffled mix).
Speaker settings include Clear Phase, which adjusts the quality, while xLOUD boosts up the internal speaker.
FM radio with RDS and TrackID
The Sony Xperia Z2 is one of the few Snapdragon 800/801 devices to feature an FM Radio. The app features multiple visualizations and integrates with TrackID to recognize the currently playing song. You can even directly send an "I'm listening to..." post to Facebook.
Audio output is flagship-clean, but pretty quiet
The Sony Xperia Z2 is a flagship smartphone from a company that achieved much of its fame thanks to its audio products and the Walkman lineup in particular, so understandably expectations were high here. The smartphone packs a bunch of interesting audio options, one of which relates directly to our test - the ClearStereo feature in the setting promises to deliver better stereo quality, so we decided to do the test twice and see what difference it makes.
When plugged into an active external amplifier, the Sony Xperia Z2 did very well as far as the quality of its output is concerned. All the scores it posted were excellent meaning all your tracks will sound exactly as they were meant to. The volume levels were somewhat disappointing though as the flagship was one of the quieter devices we have seen recently and certainly no match for its direct rivals.
Ironically, enabling ClearStereo here has a rather damaging effect on stereo crosstalk, so you would be better off staying away from it if you are going to use the Xperia Z2 with your car audio or home stereo.
Somewhat surprisingly, when you plug in a pair of headphones, there is quite a lot of distortion - both intermodulation and harmonic. The other readings remain rather good, but that's not quite enough to save the day for the Xperia Z2.
Turn on ClearStereo however and things look rather different - the distortion is brought back under control. And while the noise levels, dynamic range and, yes, stereo crosstalk worsen a tiny bit, they still remain very good and the new scores add up to a much better performance. So the ClearStereo mode can actually be recommended when you are using your headphones.
Sadly volume levels are below average either way, but that doesn't matter as much as the clarity of the sound.
Compared to the Sony Xperia Z1, we'd say the Xperia Z2 does a better job in terms of audio output, mostly due to the better quality of its stereo with headphones.
| | | | | | | |
| --- | --- | --- | --- | --- | --- | --- |
| Test | Frequency response | Noise level | Dynamic range | THD | IMD + Noise | Stereo crosstalk |
| Sony Xperia Z2 | +0.02, -0.08 | -88.2 | 90.1 | 0.0063 | 0.013 | -88.9 |
| Sony Xperia Z2 (ClearSound) | +0.02, -0.08 | -84.1 | 87.1 | 0.0077 | 0.055 | -46.2 |
| Sony Xperia Z2 (headphones) | +0.08, -0.05 | -89.8 | 91.4 | 0.307 | 0.320 | -64.1 |
| Sony Xperia Z2 (headphones - ClearSound) | +0.08, -0.04 | -84.7 | 87.6 | 0.120 | 0.066 | -60.2 |
| Sony Xperia Z1 | +0.09, -0.01 | -91.8 | 92.0 | 0.0063 | 0.012 | -89.9 |
| Sony Xperia Z1 (headphones) | +0.01, -0.15 | -91.7 | 91.7 | 0.098 | 0.049 | -45.6 |
| Samsung Galaxy S5 | +0.02, -0.08 | -96.3 | 93.3 | 0.0017 | 0.0089 | -95.2 |
| Samsung Galaxy S5 (headphones) | +0.01, -0.08 | -96.3 | 93.3 | 0.0095 | 0.018 | -61.9 |
| HTC One (M8) | +0.04, -0.10 | -95.4 | 93.4 | 0.0012 | 0.010 | -93.2 |
| HTC One (M8) (headphones) | +0.04, -0.08 | -94.9 | 93.9 | 0.0014 | 0.018 | -79.7 |
| LG G2 | +0.03, -0.28 | -91.9 | 91.9 | 0.0097 | 0.011 | -91.3 |
| LG G2 (headphones) | +0.07, -0.03 | -91.5 | 91.8 | 0.037 | 0.041 | -54.3 |
| Oppo Find 7a | +0.03, -0.16 | -92.7 | 92.6 | 0.0057 | 0.072 | -92.0 |
| Oppo Find 7a (headphones) | +0.05, -0.07 | -91.5 | 92.7 | 0.0042 | 0.054 | -15.7 |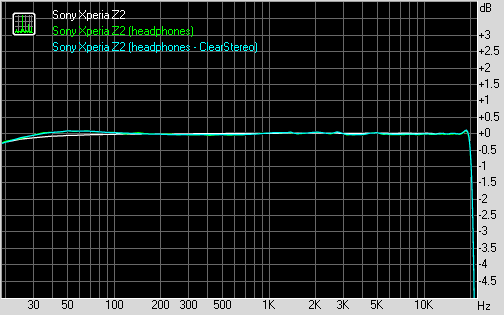 Sony Xperia Z2 frequency response
You can learn more about the tested parameters and the whole testing process here.