Same 20.7 MP shooter, smarter software
Sony's Xperia Z2 comes with legacy imaging hardware but adds some useful software advancements coupled with the superior chipset. The camera is the same 20.7 MP unit we've seen in the Xperia Z1 and Z1 Compact.
It sports an above average for mobile Exmor RS backside illuminated 1/2.3" sensor (70% bigger than the standard 1/3"), uses the same wide angle 27 mm Sony G Lens with f/2.0 aperture and BIONZ image processor. It delivers photos with a maximum resolution of 5248 х 3936 in 4:3 aspect ratio and gives you a wide selection of other resolutions to shoot it, the most common being 8 MP in 16:9 aspect.
Here are our findings about the Xperia Z2 camera in short.
What we like:
Excellent quality photos in Superior Auto mode
The convenience of the Clear Image Zoom
You can live-stream a video feed onto your Facebook page
HDR mode effect is not exaggerated and it's quite useful; it activates automatically in Superior Auto mode
Video quality is traditionally excellent and the 4K video mode builds on that
What we don't like:
Superior Auto delivers noticeably better image quality but it's only 8MP
The preset Scenes shooting modes (including the HDR mode) work only in 8MP Manual mode
You have to manually set the orientation of the phone when shooting a Panorama (and it's only 5MP in size)
The flash light output is underwhelming
Images have high noise levels, especially in 20MP mode and in low light
There is no change in the still camera, compared to the Xperia Z1
HDR videos are nothing to write home about
Sony has implemented features such as Background Defocus, which blurs the backgrounds leaving objects in the foreground nicely in focus. This functionality is available for download on other Xperia smartphones running Android Jelly Bean 4.3 and above.
Turning the camera on will immediately impress - Sony has utilized a very high framerate for the viewfinder and the on-screen image is extremely fluid.
There are other shooting modes as well, but we've already seen them on older Xperias.
The camera interface is a little old-fashioned and even confusing at times. It consists of two columns, the right one holds four virtual buttons - a shortcut to the gallery, shutter keys for the camcorder and the still camera, and a shooting mode button. Depending on the shooting mode you're in, the video shutter key may be replaced by a still/video mode toggle.
The column on the left hosts a flash mode toggle, front/back camera toggle and the settings button, which brings out a panel with some settings. These settings will change for the different shooting modes, allowing you to tune more or fewer stuff.
For starters the camera would encourage you to snap predominantly in Superior Auto mode. It automatically choses out of the many shooting modes to determine the best one for you. This includes color saturation, contrast, metering mode. The downside is it limits photos to 8MP resolution and 16:9 aspect ratio. We guess this is Sony's answer to Nokia's super sampling (a.k.a. PureView mode), but from a user's perspective it doesn't feel that good to give away the proudly inscribed on the back 20.7MP resolution. On the positive side, we've seen that in the previous 20MP Sony smartphones, the image quality in Superior Auto is substantially better so the trade-off might actually be worth it.
Then, there is the Manual mode, where you get to use the "Manual controls", though these sound more impressive than they really are. There's an exposure compensation slider, a white balance selector, and also ISO, metering and some focus modes appear buried in the settings menu. And that's all - with a name like that we were hoping for some manual focus, or at least a way to tune contrast, saturation, sharpness and so on. Those are, you know, the settings normal Android phones get even without buzz words like "manual mode."
The virtual shutter keys are nice, but the Xperia Z2 also has a hardware shutter key. When the phone is locked, pressing it can unlock the phone and start the camera in still or video mode. It can also snap a photo or start capturing video immediately. This might come in handy for those occasions when you just can't afford to miss a shot.
The available focus modes include Face detection, Smile shutter, Touch capture (with Burst option) and Tracking auto-focus. In Manual mode you can also choose from a selection of Scene modes, but keep in mind that those only work if you move down from 20.7 MP resolution - at maximum resolution the phone cannot use scenes.
There's Sweep panorama - it allows you to shoot panoramas by sweeping with the phone sideways in either portrait or landscape orientation. Sadly, the mode doesn't utilize the built-in accelerometer and you have to set your chosen orientation manually. Panorama mode doesn't work very good as it can't quite match what Apple has with their variable exposure panoramas where the phone would adjust excellently to high contrast scenes. Instead, here the phone locks the exposure in accordance to the first fame of the panorama and more often than not, you end up with a blown up sky like we did. Secondly, the stitching of individual images isn't very good. You can see stitching artefacts throughout the scene.


Sony Xperia Z2 panorama sample
Then there are the Augmented Reality effects, which stamp one of several virtual worlds over your scene and you can even move around in this world thanks to some intriguing motion tracking effect (note that it needs visual cues to track your motion).
Children will love this mode, but us bitter adults are unimpressed - the resolution drops to 1080p and the graphics are unbecoming of the potent Snapdragon chipset inside the Xperia Z2. Especially since it doesn't have to render them at 60fps in real time, for the final image it just needs one static frame.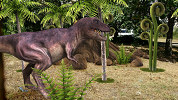 The AR effect shooting mode in action
The Info-eye feature is similar to Goggle's Goggles app. It can recognize text, business cards, QR and barcodes, landmarks, bottles of wine and even book covers, too. Sony has partnered with leading companies in their respective fields to provide the necessary product info (e.g. Amazon for books, Vino for wines, etc.).
It works quite well and provides nice at-a-glance info. Even more information is available if you scroll down. Sony has utilized the Google Now card design, which helps organize the information in an easy to digest manner.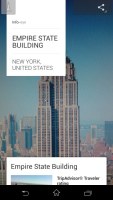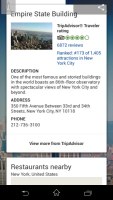 Info-Eye shooting mode works like a charm
Other available camera modes include the regular Picture effect mode, which creates a 3 x 3 grid that shows all the available effects in real time.
Sony has also included a mode called Social streaming, which can live-stream the video feed from your camera directly on your Facebook profile. That's certainly not something you see every day.
Timeshift replaces the regular burst mode, it captures 61 shots in just 2 seconds. The intriguing thing is it starts shooting even before you've pressed the shutter button.
Image quality
The photos taken with the Sony Xperia Z2 look really good - especially under good light. Superior Auto mode posts a great amount of detail in each scene we shot. Noise was kept under control and fine textures and objects came out very good. Colors look pleasing but not exaggerated and dynamic range looks defined.
Superior Auto mode looks to add quite a bit of sharpening to images, which may not be everyone's cup of tea. There also appears to be some work done on noise reduction, but it's more than welcome when we look at the results.






Sony Xperia Z2 Superior Auto 8 MP samples
If you want less processed images you'd best go for manual shooting at the full 20.7 MP. These images come out in 4:3 so they are taller and they actually include more information top and bottom. Detail remains very good but there's quite a bit of noise compared to the oversampled 8 MP Superior Auto images. At times noise will be exhibited in well-lit areas even below ISO 200 and we noticed that the corners of the 20.7 MP images tend to be softer compared to the center.
Similarly to the 20MP images from the Xperia Z1 and Z1 Compact, the Xperia Z2 images exhibit out of focus areas randomly splattered here and there across the image. We can't really say why they appear but they look as if the camera has a lens issue. Upon some testing we found out they are not - we shot a Superior Auto 8 MP shot and a manual 8 MP shot - the latter had the smudging while the SA one didn't. We hoped Sony would have resolved the issue by now - it's their third consecutive model to have it.







Sony Xperia Z2 20.7 MP samples
The macro shots with the Xperia Z2 come out very good, just as with the Z1. We took this close up in both SA mode and in manual. As you can see the level of detail is very nice even at this close distance (slightly under 10 cm) and there's nice separation between the object and the background.



Macro sample - 8 MP and 20.7 MP
HDR mode captures a couple images in different exposures and combines them for a better exposure throughout the scene. Sony's HDR mode is very moderate, compared to some rivals like HTC and Samsung and resembles that of the LG flagships. It enhances the detail in the sky and in the shadows but leaves the highlights and well exposed bits of the scene intact.
You can see the difference in the images below.
Moving on to low light where the camera gets really noisy. Images come out very bright with a good level of detail, but also exhibit a lot of grainy noise. Perhaps they would have been better with a little more aggressive noise reduction. The sample on the right comes with flash on auto. The flash isn't the best we've seen on a smartphone - we had a tough time seeing the advantages of it. In this low-light setting the ISO was kept below 400 but the noise levels were still quite high.



Superior Auto low light - normal and flash
Manual mode at 20.7 MP tells the same story but at a bigger resolution. ISO is again pretty low for the amount of light in the room and noise is very noticeable, especially towards the darker edges of the scene. There's still enough detail, though. The flash seems to help get some detail back compared to the non-flash image.



20.7 MP low light - normal and flash
Background Defocus shoots an image and then blurs out the parts of the image it considers background. The effect tries to emulate the much sought-after bokeh effect of using a higher-end camera with a wide-aperture lens and lets you adjust where you want the focus to be after taking the shot. However the blur outline isn't perfect as you can see in the image below.
Finally, there is the Clear Image Zoom, which Sony claims will let you zoom in on the scene and still get a 20MP image. We tested this claim by shooting one 20.7 MP image zoomed in and another zoomed out and later cropped the second image to match the zoom level of the former.
To reach the same level of magnification as the maximum zoom, we had to interpolate the normal image up to 80MP and then crop the central area with a coverage of 20MP. We did this using Photoshop, but it's still nice to have it done in camera in an instant.
Check out the 100% crop below.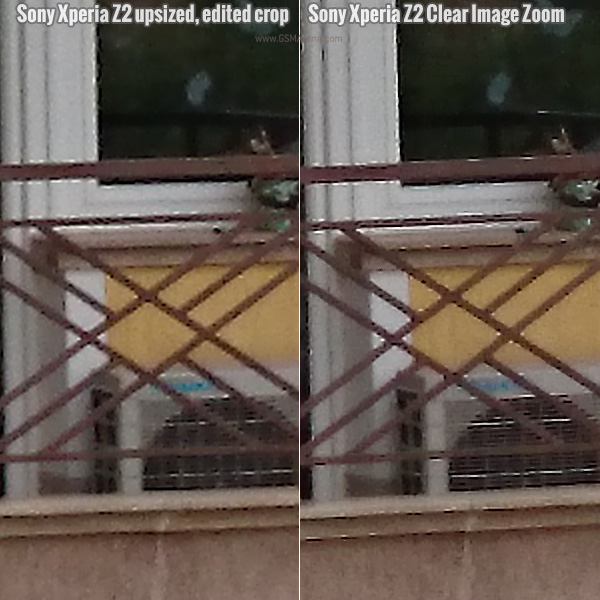 Photo quality comparison
Here goes our in-depth image comparison tool where you can compare the Xperia Z2 to the huge list of other smartphones in our database at 100% zoom level. The first tool shows the 20.7 MP performance.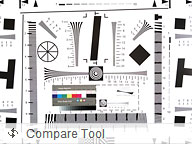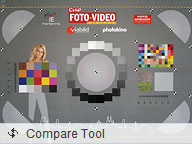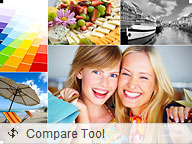 Sony Xperia Z2 in our photo quality comparison tool
And this second one goes to examine the 8 MP performance from the Superior Auto mode.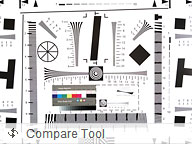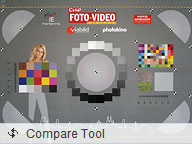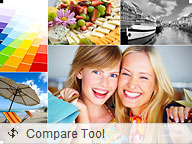 Sony Xperia Z2 with Superior Auto mode
Still camera conclusion
The Sony Xperia Z2 is a very capable shooter, especially in good light. Sony still hasn't found the post-processing formula and it still exhibits high noise levels in low light. Unfortunately, there don't seem to be any changes in the still camera department, compared to the Xperia Z1 as our test on the next page shows.