Sony is experiencing a great deal of trouble getting its latest flagship the Xperia Z2 out of the factories and onto the store shelves. The company has re-launched the pre-orders for the phone on its UK website and has listed the shipping time window for the month of May.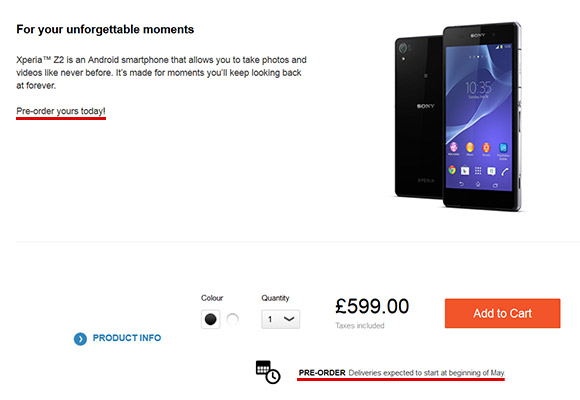 The Sony Xperia Z2 was supposed to launch in early April, but due to stock shortage and delays, the phone only made it in very limited quantities. Despite Sony stating those problems won't push the phone's availability to a later date, it seems that's exactly what's happening now.
Sony's France, Spain and Poland stores are also listing the device as being on pre-order. In the UK, the phone retails for £599.99 and Sony is including an SRS-BTX300 NFC speaker for free.
Unfortunately for the company, the delay might result in quite a few lost sales. The HTC One (M8) and the Samsung Galaxy S5 are already on sale and it's very likely for customers who are on the lookout for a new smartphone to turn their eyes on to what's currently available rather than wait. Here's hoping that the delay won't last beyond the beginning of next month.
a
The Sony Z2 was launched in Canada May 8, 2014. I can tell you first hand that after adding a 128GB SD Card and starting to shoot 4K video the phone became so hot it was impossible to hold. Then the phone shutdown causing a total loss of video. When ...
?
Sonu, sony comes with spell-check app?
s
Sony is my fev phone in the world,i waiting by Sony xperia z2.Sony xperia z2 better then for samsuna galaxy s5.plz z2 lunce for India.i love you Sony.