Elemental
Sony Xperia Z2 Tablet review: Elemental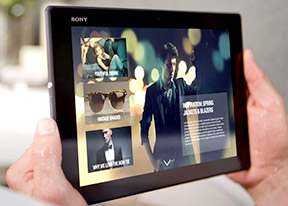 Camera with many features, poor image quality
The Sony Xperia Z2 Tablet uses an 8MP Exmor RS backside illuminated sensor. The 2MP front-facing camera has an Exmor RS sensor too.
The camera interface is identical to that of Xperia phones and the feature set is almost the same too. The UI is essentially arranged in two viewfinder columns. The right one holds four virtual buttons: a shortcut to the gallery, a shutter key and camcorder button, and a shooting mode switch. Depending on the shooting mode you're in, the video shutter key may be replaced by a still/video mode toggle.
The column on the left changes more substantially. In Manual mode you also get a "manual controls" shortcut here, which only offers an exposure compensation slider and a white balance selector. ISO and metering can be adjusted from the settings menu.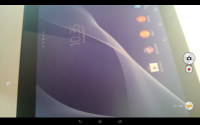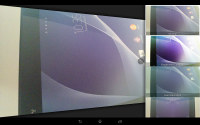 The camera app* image effects with live preview
There's a scene mode shortcut or you can let Superior Auto guess the scene automatically (it's really good at it). Proper color saturation, contrast, metering mode along with other settings are selected for you.
The Sony Xperia Z2 Tablet camera offers a plethora of built-in features starting from the basics - geotagging, touch capture, face detection, smile shutter, burst shot mode and sweep panorama.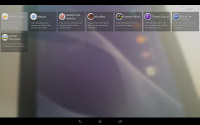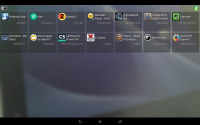 List of available shooting modes • downloading even more modes
A new feature straight from the Xperia Z2 smartphone is background defocus. You tap an area of the screen to set the focus, then the tablet snaps two shots and with calculations simulates a DSLR-like shallow depth of field. This mode failed to work so many times we almost gave up. It's not very precise but it can simulate motion blur and let you adjust the intensity.



Background defocus is not very accurate
Then, there are the Augmented Reality effects, which stamp one of several virtual worlds over your scene and you can even move around in this world thanks to some intriguing motion tracking effect. Children will love this mode, but left us, bitter adults, unimpressed - the resolution drops to 1080p and the graphics are unbecoming of a Snapdragon 801 chipset.
Sony has also included a mode called Social streaming, which can live-stream the video feed from your camera directly to your Facebook profile. That's certainly not something you see every day.
Timeshift replaces the regular burst mode, it captures 61 shots in just 2 seconds. The intriguing thing is it starts shooting even before you've pressed the shutter button.
The cool thing about the new camera is that it features Lens-like functionality - you can tap the + Apps button and download additional modes for the camera. This includes plugins for Vine, Evernote, a PDF scanner, an alternative panorama mode, additional image effects and more.
The Sony Xperia Z2 Tablet packs an 8MP camera but the results are of a lower grade than the pixel count would suggest. First we tried Superior Auto, which was the best mode on the recent Xperia Z phones. The images have a highly over-processed look - their contrast is boosted too high, the sharpening is much too strong, noise reduction smears actual detail and yet there's still visible noise (the strong sharpening brings it back out).





Sony Xperia Z2 Tablet camera samples: Superior Auto
Normal mode shots come out better, mainly because the contrast curve isn't as extreme and the sharpening is notably toned down. Images are still noisy and low on detail, but still better than Superior Auto. Unfortunately, even in manual mode there are no settings to change the contrast and sharpening, so you're still mostly relying on automatic adjustments.




Sony Xperia Z2 Tablet camera samples: Normal mode
On Xperia Z phones, Superior Auto usually does well in backlit scenes, but not on the Xperia Z2 Tablet. The dedicated HDR mode doesn't seem to add much to either highlights or shadows, but it drops the contrast noticeably.




Normal Mode • Superior Auto • HDR on
We also snapped a couple of macro shots with the tablet.
Still camera comparison
We shot the charts with Normal mode after we determined it affects image quality less than Superior auto. The results are not great, but then the Samsung Galaxy Tab Pro 10.1 is noticeably worse. The Apple iPad Air has a 5MP shooter, but it offers very good image quality (for a tablet).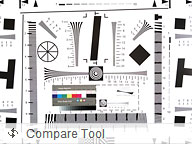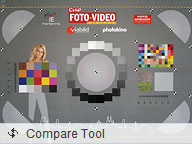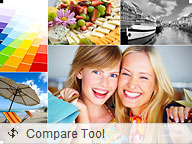 Sony Xperia Z2 Tablet in our photo quality comparison tool
Video recording done in 1080p
The Sony Xperia Z2 Tablet is capable of capturing 1080p video at 30fps and that's about it. The camcorder app UI is practically the same as the still camera's. You can set a timer and fiddle with settings like exposure, metering, focus mode, etc.
For videos the Z2 Tablet features a proprietary SteadyShot digital image stabilization, but there's a price to pay - the field of view (FoV) is reduced (it's how digital stabilization works). The phone is smart enough to detect whether you are shooting hand-held or you have rested it on something stable but you get the reduced FoV either way.
If you go into video mode from the Manual shooting mode, you get an actual HDR setting and scenes.
You can also snap stills during video recording but that's not of much use as you only get 1080p images, you might as well grab a frame from the video. Also note that the image processing is different than still shots.
The Sony Xperia Z2 Tablet is a reasonably powerful camcorder. It captures 1080p videos at just under 30 frames per second with a good bitrate of 17-18Mbps and stereo sound recording at a bitrate of 128Kbps and 48kHz audio sampling rate.
The end results are pretty good, surprisingly. The image is not the sharpest, but there's good detail, the color rendering looks okay, there's no excessive noise and the videos are smooth.
The continuous autofocus is much too eager and triggers all the time (it does on Xperia phones too), even when there's barely anything in front of the camera.
HDR video mode is available but that forces the resolution to 720p and this mode doesn't do much in terms of expanding the dynamic range.
Video camera comparison
The Sony Xperia Z2 Tablet maxes out at 1080p video resolution. Here the differences between the top 10" tablets from Sony, Samsung and Apple even out with the Galaxy Tab Pro doing better than it did in still photography.