As we get closer to Sony's IFA 2014 press conference, more and more clues regarding the Xperia Z3 and Xperia Z3 Compact start piling up. The latest one concern alleged AutoCAD drawing of the upcoming phones specifying their dimensions.
Starting up with the larger, Sony Xperia Z3. It's shown to measure 146.46 x 72.09 x 7.3 mm, which is a tad shorter, narrower and considerably thinner than its predecessor, the Xperia Z2 (146.8 x 73.3 x 8.2 mm).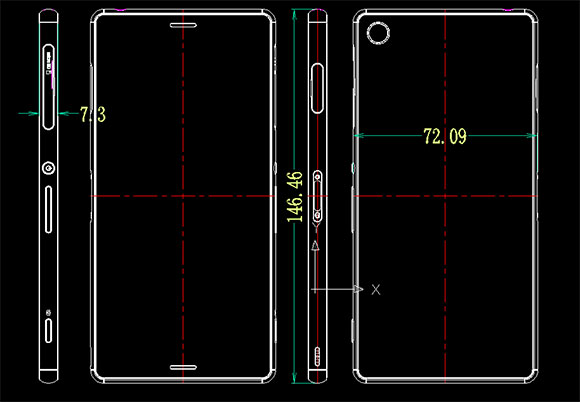 The phone is rumored to sport a 5.15" display with full HD resolution and have a Snapdragon 801 chipset with a 2.4GHz quad-core Krait CPU inside it, coupled with Adreno 330 GPU, 16GB of internal storage and a 20.7MP camera.
As for the Sony Xperia Z3 Compact, there's no measurement of its thickness, but its height is said to be 127mm and breath is 64.9mm. That's exactly the same as its predecessor.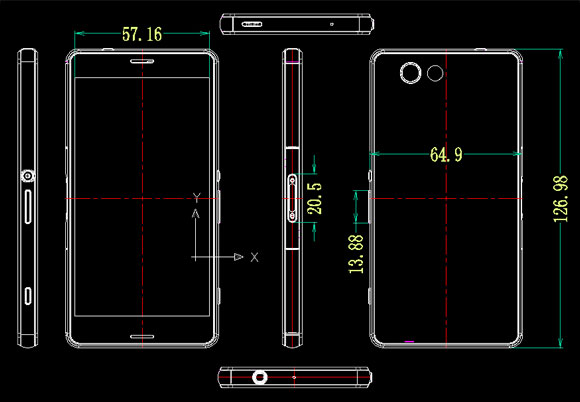 In terms of specifications, the Xperia Z3 Compact is anticipated to sport a 4.6" display of 1080p resolution (pixel density of 478ppi) and the same internals as its bigger brother.
E
Comparing the dimensions in the picture, it is somewhere between 8.8mm and 9,2mm so think 9mm
A
The Compact Xperia Z3 has no info on thickness. So is it the same as the big brother - 7.3mm?
D
I believe Z3 will be QHD, and maybe have S805 as well since Adreno 420 becomes pretty much a must-have for pushing QHD resolution. The leaked specs are just engineering samples and is hopefully not representative, we will have to wait and see.
ADVERTISEMENTS