Sony likes to refresh its flagship Android smartphones twice per year, unlike most of its competitors. The practice has proven somewhat controversial (especially among owners of the previous top of the line device when the new one comes out), but it looks like it's here to stay.
So you should expect the Japanese company to unveil the successor to the Xperia Z2 sometime in the fall - probably at or around IFA at the beginning of September.
The next high-end Sony smartphone may be called Xperia Z3, and it could also be joined in the company's portfolio by a smaller version called Z3 Compact.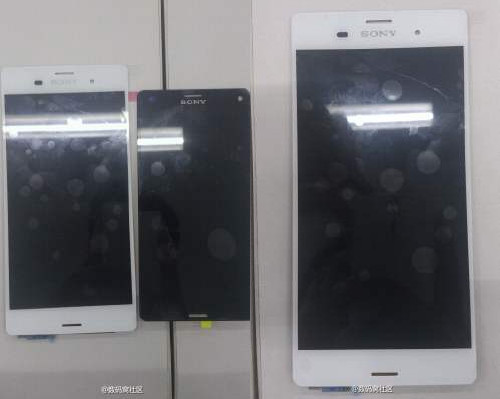 What you see in the images above are allegedly exactly these two phones. On the left we have a side-by-side shot of a white Z3 and a black Z3 Compact, and on the right is just the Xperia Z3 itself, showing its entire front fascia.
Both devices seem to feature significantly smaller lateral bezels compared to their respective predecessors, which is definitely a great thing in this day and age (when certain Sony handsets look painfully out of date in this regard compared to some of LG's offerings, for example).
Otherwise, though, nothing is known about the Xperia Z3 and the Z3 Compact yet. The latter will come to succeed the Z1 Compact, and it's interesting to note that there was no Xperia Z2 Compact. That makes sense, however, when you consider that the Z1 Compact was outed just one month prior to the full size Z2 - and this fall Sony may understandably want both of its new wares to sport the same name, for consistency's sake.
Before you jump to any conclusions, though, do keep in mind that there's obviously a chance for these leaked pictures to be faked.
A
True. Fortunately though they are trying to make the bezels thin. Plus the front speakers! Oh yeah!
?
Sony phones are usually the fattest phones compared to everyone
J
Why on earth do you want full HD on a 4.5" screen, and 2k on a 5.5" screen? That is one of the most stupidest thing i've ever heard. Your eyes won't be able to spot the difference, and it will only slow down the phone with more pixels t...
ADVERTISEMENT