We've seen a batch of Sony Xperia Z3 photos, which featured a transparent case protecting the sides and back of the upcoming flagship. Now we have images of the case itself, which is made by Baseus.
Baseus has been making cases for Sony, Samsung, HTC, Apple and other brands of smartphones for a while now so it comes as no surprise they're working on an Xperia Z3 case as well.
It's already available on eBay though unfortunately there are no images of the case on the smartphone itself. The first image below shows the Xperia Z1 Compact instead – note that the LED flash is on the side of the camera, not below it as seen in Z3 leaks (and makes more sense given the design of the case).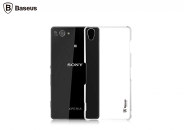 Xperia Z1 Compact using Z3's case • Baseus case for the Xperia Z3
Leaked specs for the Sony Xperia Z3 flagship seem surprisingly close to those of the Xperia Z2 – GFX Benchmark failed to find any differences either. We'll find out what's new at this year's IFA on September 3.
Thanks to Tizzo for sending this in!
R
This phone is god of mobile phone sony xperia Z3 kill the Samsung and apple market
s
well!! the LED flash is on the side of the camera ( towards the center ) then why the case is pointing downwards ??????????
?
I doubt, it is the case for the z3 in the first picture. It's most probably for the z3 compact. The z3 and z1 compact wouldn't have the same size.