Rain or shine
Sony Xperia Z3 Tablet Compact review: Rain or shine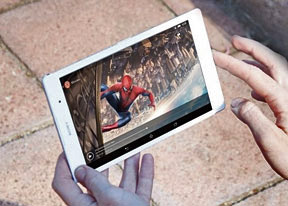 Display
The Sony Xperia Z3 Tablet Compact features an 8" Triluminos display with 1,920 x 1,200px resolution (aka WUXGA). The Triluminos tech promises a wider color gamut than conventional LCD screens, especially better reds and aqua green/emerald colors.



The Triluminos display offers stunning colors but is a bit low on pixels
The colors are indeed impressive - the default live wallpaper cycles between different colors to show off the screen and it works, the impressive reds in particular are something to see. A white balance setting lets you tweak the screen though we would have liked a saturation slider here as well.
Viewing angles are as wide as is practically necessary, though contrast varies noticeably depending on the angle of view so shaking the plane of the screen a bit has the potential of getting you dizzy. The screen does not use an IPS panel, but when you view it head on it looks really good.
Putting the brightness slider at its top position confirms Sony's claims that this is its brightest LCD yet. For inside use we kept the slider at 80% or less as there was no need for the extra brightness. While not the brightest LCD in general, it's one of the brightest tablet screens around.
Display test
50% brightness
100% brightness
Black, cd/m2
White, cd/m2
Contrast ratio
Black, cd/m2
White, cd/m2
Contrast ratio
Sony Xperia Z3 Tablet Compact
-
-
-
0.45
631
1416
Sony Xperia Z2 Tablet
-
-
-
0.45
484
1076
Samsung Galaxy Tab S 8.4
0
221
∞
0
398
∞
Xiaomi Mi Pad 7.9
0.13
126
974
0.53
502
955
Apple iPad mini 2
0.2
167
835
0.56
450
804
Outside with the sun reflecting off the screen there's definitely more use for the highest settings of the brightness slider. The glass is on the reflective side though, which hurts sunlight legibility.
Sunlight contrast ratio
Nokia 808 PureView
4.698
Samsung Galaxy Note 4
4.033
Samsung Galaxy Note 3
3.997
Apple iPhone 5
3.997
Apple iPhone 6
3.838
Samsung Galaxy K zoom
3.675
Nokia Lumia 930
3.567
Apple iPhone 5s
3.565
Samsung Galaxy S5
3.549
Alcatel Idol X+
3.527
Apple iPhone 5c
3.512
Samsung Galaxy Alpha
3.509
Samsung Galaxy Note 3 Neo
3.487
Motorola RAZR MAXX
3.42
Samsung I9300 Galaxy S III
3.419
Nokia Lumia 925
3.402
Gionee Elife S5.5
3.386
Samsung I9505 Galaxy S4
3.352
Samsung Omnia W
3.301
Samsung Galaxy S5 mini
3.174
Samsung I9000 Galaxy S
3.155
Samsung Ativ S
3.129
Samsung I9190 Galaxy S4 mini
3.127
Samsung Galaxy S4 zoom
3.118
Nokia N9
3.069
Apple iPhone 6 Plus
3.023
Samsung Galaxy Note
2.97
Samsung Galaxy Premier
2.958
Sony Xperia Z1
2.95
HTC One S
2.901
Samsung I8730 Galaxy Express
2.861
BlackBerry Q10
2.856
Samsung I9100 Galaxy S II
2.832
Samsung Galaxy S II Plus
2.801
BlackBerry Z30
2.79
Sony Xperia ZR
2.672
Huawei Ascend P1
2.655
Sony Xperia Z3
2.618
Sony Xperia Z3 Compact
2.616
Sony Xperia T3
2.609
BlackBerry Passport
2.595
Nokia Lumia 900
2.562
Motorola Moto G 4G
2.546
HTC One Max
2.537
Nokia Lumia 720
2.512
HTC One
2.504
Motorola Moto G
2.477
Sony Xperia Z
2.462
Xiaomi Mi 4
2.424
Samsung Galaxy S III mini
2.422
LG G Flex
2.407
HTC One (M8)
2.371
Motorola RAZR i
2.366
Sony Xperia ZL
2.352
Samsung Galaxy Note II
2.307
HTC One (M8) for Windows
2.291
Oppo Find 7a
2.279
Alcatel One Touch Hero
2.272
Apple iPhone 4S
2.269
HTC Desire 600 dual sim
2.262
Nokia Asha 311
2.25
LG Nexus 5
2.228
Nokia Lumia 820
2.193
HTC One (E8)
2.185
Nokia Lumia 920
2.17
HTC One X
2.158
Nokia N8
2.144
Nokia Lumia 620
2.142
Nokia 515
2.134
HTC Desire 500
2.129
Xiaomi Redmi Note
2.119
Sony Xperia acro S
2.119
Nokia Lumia 1020
2.103
Oppo Find 5
2.088
Sony Xperia SL
2.078
Nokia Lumia 630
2.056
BlackBerry Z10
2.051
Huawei Ascend Mate7
2.024
Samsung I9295 Galaxy S4 Active
2.022
Apple iPhone 4
2.016
HTC One mini
2.003
Xiaomi Mi 3
2.001
Huawei Ascend P7
1.992
LG G2
1.976
OnePlus One
1.961
Oppo R819
1.957
Sony Ericsson Xperia ray
1.955
Sony Xperia Z2
1.944
Nokia Lumia 1320
1.941
HTC One mini 2
1.94
Samsung Galaxy Camera
1.938
Sony Xperia J
1.932
Acer CloudMobile S500
1.931
LG Nexus 4
1.926
LG G Pro 2
1.922
Samsung Galaxy Mega 6.3
1.913
Nokia Asha 308
1.911
HTC Butterfly 2
1.905
Sony Xperia T
1.894
HTC Desire X
1.878
HTC Butterfly
1.873
HTC Windows Phone 8X
1.873
HTC Butterfly S
1.867
Huawei Ascend P6
1.865
Huawei Ascend Mate
1.845
LG G2 mini
1.838
LG G3
1.82
Nokia Lumia 1520
1.813
HTC Desire 616 dual sim
1.797
Sony Xperia V
1.792
HTC Desire 816
1.783
Sony Xperia Z1 Compact
1.772
HTC Desire 700 dual sim
1.769
Sony Xperia U
1.758
Meizu MX3
1.754
LG Optimus G
1.753
Sony Xperia T2 Ultra
1.74
Sony Xperia Z3 Tablet Compact
1.735
Sony Xperia SP
1.733
Oppo Find 7
1.691
LG Optimus 4X HD
1.691
HTC One V
1.685
BlackBerry Q5
1.682
LG Optimus Vu
1.68
Xiaomi Mi Pad 7.9
1.672
LG Optimus GJ
1.666
LG Optimus 3D Max
1.658
HTC Desire V
1.646
Samsung Galaxy Xcover 2
1.632
Samsung Galaxy Ace 3
1.622
Jolla Jolla
1.605
Sony Xperia Z Ultra
1.578
Sony Xperia go
1.577
Samsung Galaxy Ace 2 I8160
1.566
Samsung Galaxy Core
1.563
LG Optimus G Pro
1.552
Motorola Moto E
1.545
LG Optimus 3D
1.542
Nokia Asha 302
1.537
BlackBerry Curve 9320
1.488
Sony Xperia M
1.473
Oppo N1
1.47
Meizu MX 4-core
1.462
Nokia Lumia 610
1.432
Samsung Galaxy S Duos
1.4
Samsung Galaxy Grand Neo
1.393
Sony Xperia M2
1.393
Samsung Galaxy Grand 2
1.38
Sony Xperia E1
1.372
Nokia Lumia 625
1.371
Gigabyte GSmart G1355
1.361
Sony Xperia L
1.351
Samsung Galaxy Mega 5.8
1.35
Xiaomi Redmi 1S
1.35
Sony Xperia M2 Aqua
1.331
Sony Xperia miro
1.324
Samsung I9082 Galaxy Grand
1.321
Samsung I8530 Galaxy Beam
1.315
HTC Desire C
1.3
Nokia X
1.291
Sony Xperia C
1.283
Nokia Asha 503
1.281
Nokia Asha 501
1.27
LG Optimus L7
1.269
Nokia Lumia 510
1.268
Samsung Galaxy Fame
1.245
LG Optimus L9
1.227
Meizu MX
1.221
Samsung Galaxy Young
1.22
Sony Xperia E
1.215
Nokia XL
1.204
Sony Xperia E dual
1.203
Asus Memo Pad 7 ME176C
1.198
Samsung Galaxy Pocket
1.18
Nokia Asha 305
1.178
Nokia Asha 306
1.175
Sony Xperia neo L
1.169
Sony Xperia tipo
1.166
Nokia Lumia 520
1.161
Samsung S6802 Galaxy Ace Duos
1.148
Samsung Galaxy mini 2
1.114
Note that there's an ambient light sensor so the Xperia Z3 Tablet Compact can change the brightness automatically. Also, Smart backlight control will prevent the screen from sleeping while you are looking at it.
We mentioned colors, but the other half of the image quality equation is sharpness. The 8" display has 283 pixels per inch, compared to 324ppi for a Retina-packing iPad mini and 359ppi for the Galaxy Tab S 8.4. Close to 300ppi is generally quite enough for tablet use (you hold the bigger screen further away) though it's possible to notice some imperfection in sloping curves of on-screen icons.
If your eyesight has gone the other way and it's no longer good enough to spot such tiny pixels, you can use the Font size setting to make text bigger.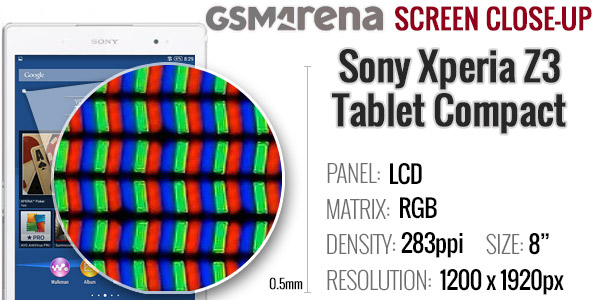 Two other helpful options in the Screen settings are Glove mode (which boosts sensitivity) and the double tap to wake option (so you don't have to reach for the Power key).
Connectivity
The Sony Xperia Z3 Tablet Compact has a rich set of connectivity features. There's a Wi-Fi only version but if you need Internet access on the go you can grab the LTE-enabled variant.
It starts off with 2G GSM connectivity goes through 42Mbps HSPA and offers Cat. 4 LTE for up to 150Mbps of download speed and up to 50Mbps for uploads. There's a variant with TD-LTE for the Chinese market. There's voice call support on the LTE version, while on the Wi-Fi only tablet you'll have to rely on VoIP solutions (Skype, Viber, you name it).
If you don't buy an LTE-enabled tablet, you can use Xperia Link to share your Xperia phone's Internet connection with the tablet via Bluetooth (instead of the more power-hungry Wi-Fi hotspot).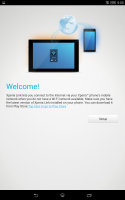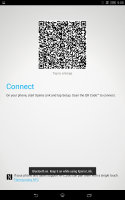 Xperia Link for Internet sharing over Bluetooth
In terms of local connectivity, the Z3 Tablet Compact has dual-band Wi-Fi a/b/g/n/ac to lean on with DLNA and Miracast functionality. There's also Bluetooth 4.0 LE complete with the aptX audio codec. ANT+ is also available though the chances of using sports accessories with a tablet are pretty slim.
For easy pairing (part of Sony's One-touch connectivity) there is NFC - you can pair with Sony devices like smartwatches, headphones and even TV remotes.
Besides Miracast, there's MHL 3 available on the microUSB port. It can stream 2160p video at 30fps with 7.1 surround sound so if you pair the Xperia Z3 Tablet Compact with a high-end TV you can have quite the viewing experience.
Sony's Smart Connect app comes pre-installed. It allows you to set your device to do a variety of things - like launch an app or set an alarm - whenever you connect an accessory like a headset or a charger. You can also set events to occur during a time interval (e.g. mute alarms at night).
As for NFC compatibility, the Smart Connect app doesn't work with ordinary NFC tags, but only Sony's Smart tags, which is kinda disappointing. However, one of our readers duly pointed out, you can purchase cheap generic NFC tags, which are programmed as SmartTags so the app can recognize them just fine.
If you're experiencing connectivity issues over Wi-Fi you can use the Wi-Fi checker tool, which is similar to the tool on Windows (and like it, it probably can only confirm there's an error, the rest you have to take up with your router and Internet provider).
Battery life
The Sony Xperia Z3 Tablet Compact has a 4,500mAh battery - not bad considering how thin it is, but the 6.6mm thick Galaxy Tab S 8.4 has a 4,900mAh battery and there have been 6" phablets with 4,000mAh batteries. Still, Sony has demonstrated great battery life from the other two Xperia Z3 devices.
The web browsing score is particularly impressive, lasting over 18 hours. The video playback time is less - about 13 and a half hours, somewhat below the official 15 hours Sony gives it. Keep in mind we test the video players until the battery hits 10% as we've had issues with players automatically quitting when the battery gets this low and we need to keep things level.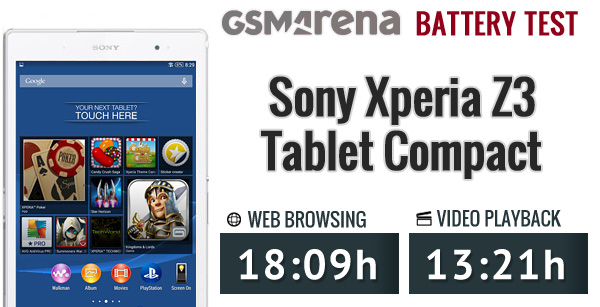 You can read about how we perform the battery test if you want to learn more.