Rain or shine
Sony Xperia Z3 Tablet Compact review: Rain or shine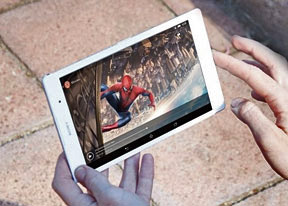 Phonebook
The LTE-enabled version of the Sony Xperia Z3 Tablet Compact has voice-call functionality. You can use a loudspeaker or a hands-free - wired or wireless.
The Contacts app shares a tabbed interface with the favorite contacts and groups. You can side-swipe between the three tabs. The contact list has a dedicated search field plus it offers and a cool alphabetical scroll bar.
You can sync with multiple accounts, including Exchange and Facebook, and you can selectively show or hide contacts from some accounts (as well as filter specific groups in an account), or set the phonebook to display only contacts with phone numbers or only contacts that are online.
Linking contacts is available, and the quick contact feature is here too.
Loudspeaker
The Sony Xperia Z3 Tablet Compact features front-facing stereo speakers but that doesn't make it very loud. Sony has improved things since the Xperia Z2 Tablet but the new model still gets a Below Average mark. The iPad mini 2 (also with stereo speakers) gets the same scores, but the other tablets - all of them with stereo speakers though not frontally positioned get Good or Very Good.
None of them have waterproofing though, which undoubtedly mutes some of the sound.
| | | | | |
| --- | --- | --- | --- | --- |
| Speakerphone test | Voice, dB | Pink noise/ Music, dB | Ringing phone, dB | Overall score |
| Sony Xperia Z2 Tablet | 62.5 | 62.1 | 60.7 | Below Average |
| Sony Xperia Z3 Tablet Compact | 66.2 | 66.3 | 65.3 | Below Average |
| Apple iPad mini 2 | 65.7 | 62.1 | 72.3 | Below Average |
| LG G Pad 8.3 | 66.9 | 75.7 | 66.6 | Good |
| Samsung Galaxy Tab S 8.4 | 68.7 | 66.5 | 75.8 | Good |
| Xiaomi Mi Pad 7.9 | 75.7 | 69.6 | 82.7 | Very Good |
Messaging and text input
The Gmail client and the default Email apps are onboard. Gmail can sync only with (multiple) Google accounts. while the generic Email app can handle POP and IMAP and offers a Combined inbox. In landscape orientation it splits the screen between the message list and displaying the selected message. This can be enabled in portrait orientation too or disabled all together.
As for text input, the Xperia Z3 Tablet Compact offers a customizable on-screen full QWERTY keyboard. An easy to use wizard will help you choose the auto-correct setting, learn your writing style from your Facebook, Twitter or Gmail accounts, add or remove buttons (e.g. language change or voice typing), whether long presses show alternative symbols, there are even three keyboard skins preinstalled.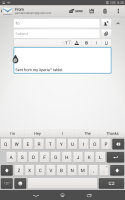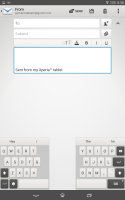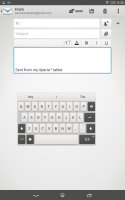 Full-size keyboard • thumb keyboard • small keyboard
You can also try the so-called Gesture input if hitting those keys individually doesn't give you the desired typing speed.
Other typing options include a small floating keyboard (which takes only a small portion of the screen and is easily repositioned) and a Thumb keyboard, which splits into two halves. This is great for thumb typing in landscape mode as you don't have to reach for the keys in the middle of the screen.