It looks like users in the United States will soon have the opportunity to get their hands on the Sony Xperia Z3 and the Xperia Z3 Compact. The freshly announced handsets are listed as "coming soon" on Sony's official website.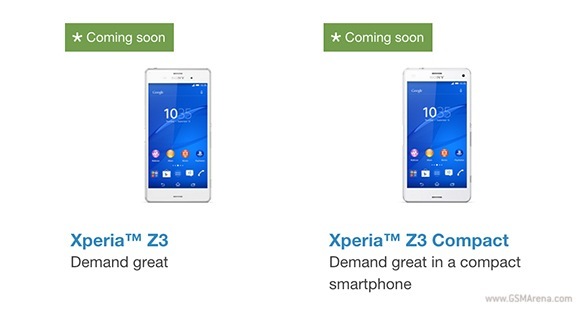 Sony Xperia Z3 Tablet Compact shares the same status as its smartphone relatives. There is no exact timeline on the launch of the trio of high-end devices – we reckon that they will be available in time for the holiday shopping season.
T-Mobile already confirmed that it would offer Sony Xperia Z3 in the US. The device is also rumored to hit Verizon as Xperia Z3v. Sony Xperia Z3 Compact on the other hand, will likely be available factory unlocked.
Announced during IFA earlier this month, Sony Xperia Z3 and Xperia Z3 Compact offer top shelf specs, tucked into sleek, waterproof bodies. You can check out our detailed review of the Sony Xperia Z3 Compact over here.
D
motherboard by samsung cameras by sony (both front and rear) display by JDI
F
I have been sony user since '12, i like their phone because of uniqueness and the camera which is no contest compare to other brand. Time to replace my Xperia TL.
D
On the other hand, you will need to get the T-Mobile version if you want to use their new WiFi calling feature; stock Android doesn't have the hooks to do that.