Familiar 20.7MP camera
Update July 1: After receiving a finalized Sony Xperia Z3+ unit we re-shot our camera samples and added image quality comments.
The Sony Xperia Z3+ comes with the same 20.7MP camera, that's become synonymous with the Z-series flagship. The lens has an f2.0 aperture and ISO can be pumped all the way up to 12800. It shoots at a maximum resolution of 5248 x 3936 pixels (20.7MP, 4:3 aspect ratio) in manual mode, or 3264 x 2448px (8MP, 4:3 aspect ratio, defaults to 3264 x 2160px 16:9 aspect by default) in Superior Auto. An LED flash is present to help you with some low-light photos.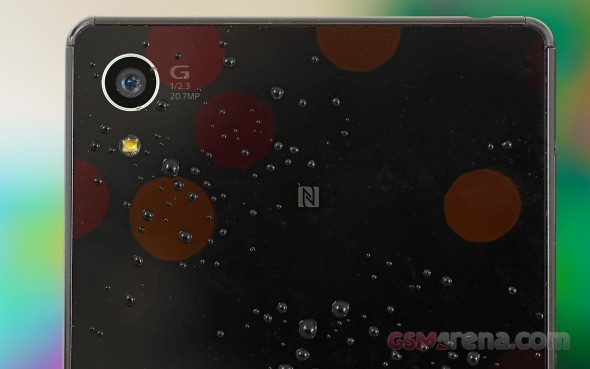 The Xperia Z3+ also has a two stage hardware shutter key that you can set up to unlock the phone and start the camera. It can also snap a photo or start capturing video immediately. The hardware shutter key is an absolute necesity for underwater shooting.
The camera interface is laid across two panes and is shared with the camcorder - you can snap a photo or shoot a video without changing modes most of the time. Depending on the shooting mode selected, the video shutter key may be replaced by a still/video mode toggle.
There's a multitude of modes already bundled with the app, some of them useful like Sweep panorama and Timeshift video. Others are mostly one-time fun affair like the three augmented reality modes which superimpose images on top of the actual scene for an amusing, if not really useful way. You're not limited to the preinstalled modes, and there's a whole bunch of others to download.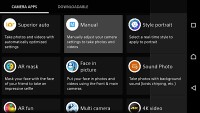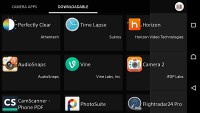 Preinstalled modes • downloadable modes
As is typical for Sony smartphone cameras, the Xperia Z3+ shoots in Superior auto mode by default, which limits resolution to a maximum of 3,264 x 2,448 pixels in 4:3 aspect ratio but defaults to 3,264 x 2,160px in 16:9 aspect. Theoretically, the Z3+ should recognize among 52 different scene types and adjust settings accordingly - including enabling HDR mode if needed. You're left with little control over the process other than a flash mode selector and a choice of the aforementioned aspect ratio.
In Superior Auto mode the you get sharper images because they're resized down from a much bigger resolution. The result is 8MP stills with lower noise and great overall sharpness. The latter can even be described as overdone on some cases - looking at textures and obect lines we see a very overbearing processing that leaves images looking unnaturally sharp.
But some people prefer this look and some also like their pictures vivid with saturated colors. For those users the Superior Auto images will be just great in good light - sharp, vivid with very high contrast and good dynamic range.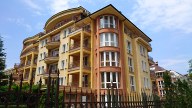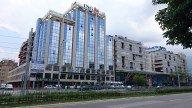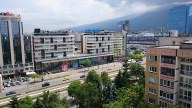 Sony Xperia Z3+ sample images shot in Superior auto mode at 8MP
The more powerful Manual mode is where you get more options though not as many as on competing smartphones. For example you can select different resolutions and fiddle with exposure settings and white balance.
At its full resolution of 20.7MP the Sony Xperia Z3+ camera captures huge images that can run up to 10MB depending on the detail you've captured. These photos are also a bit oversharpened and the sharpening artefacts are more visible compared to the lower 8MP stills. Noise is also evident even in good light - normal for higher megapixel sensors. But the spot-on white balance and great colors apply to Manual mode shots as well and we'd say that if you resize the images to a slightly lower resolution you'd get very usable results from this camera.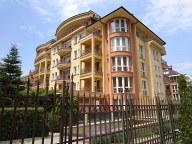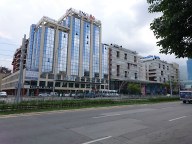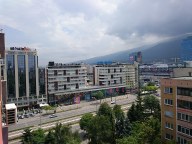 Sony Xperia Z3+ sample images shot in Manual mode at 20.7MP
We shot a few images with the Xperia Z3 alongside the Z3+ for comparison, both in Manual mode, and you can view them below.
The images clearly carry a similar processing as well as sharpness and detail levels. What differs is the color reproduction which could simply be based on different white balance choices. The newer Sony Xperia Z3+ has gone with a slightly warmer tone. It also appears to have better exposed for the shadows for the sake of slightly brighter highlights.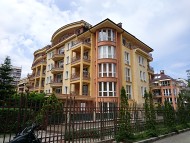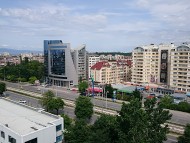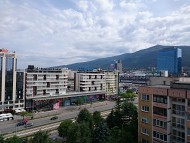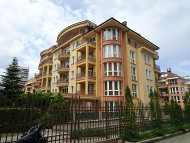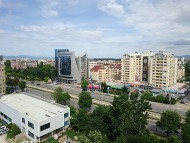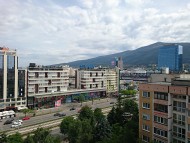 Sony Xperia Z3 (top row) vs. Xperia Z3+ (bottom row)
While Superior Auto would occasionally activate the HDR mode, if you really want to force it, you'd have to go to Manual mode. Even then though, it would be limited to 8MP resolution.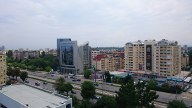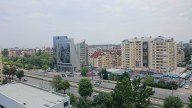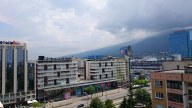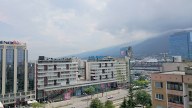 8MP stills with HDR mode: off • on • off • on
Sony's Sweep panorama remains unchanged generations on end and it is among the worst implementations on the market. It might have been easier to live with on a lesser model in the lineup, but not the flagship. And it's not like it's the first time it has been said, by us or other reviewers.


Panorama shot in portrait and landscape
The 5MP front camera produces 2,592 x 1,944 pixel images. It has a Soft skin effect toggle for covering blemishes, but no slider to control its strength. An annoying aspect of the interface is that if you switch for example from Manual to Superior auto, the app switches to the primary camera and you have to tap again to go back to the selfie shooter.
Sony's Steady Shot software stabilization applies to the front-facing camera too but keep in mind that it will crop a small portion of the field of view if you resort to it.
You can go over to our Photo compare tool to see how the Xperia Z3+ stacks up to major rivals. Again, don't forget that the test shots come from a pre-production unit.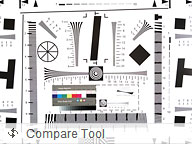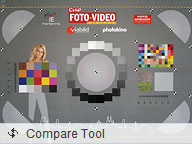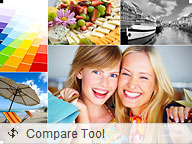 Sony Xperia Z3+ in our photo compare tool
Video recorder
The Sony Xperia Z+ is capable of 2160p@30fps video recording, though as before, that option is buried in the shooting modes, instead of being available in the regular video settings. Other than that, the Z3+ can record in the standard 1080p@30fps, but also a smoother 1080p@60fps.
The Sony Xperia Z3+ has a neat trick for low-light video - it can capture at up to ISO 4,000 which should greatly improve footage in less-than-ideal light. However there's no manual way of setting the ISO for video and we couldn't test the feature properly.
It goes without saying that the 2160p videos are far superior to the 1080p ones, especially the 1080p@60fps sample. 4K videos that come out of the Sony Xperia Z3+ are far from the best on the market but are not the worst either - they offer great detail levels and carry over the good colors of their stills counterparts. Sharpness looks a bit turned down for 2160p videos compared to still images which makes them more natural in our mind.
FullHD videos are a big step down, though. The regular 1080p footage at 30fps looks okay but at 60fps the quality is much lacking.
You can also download unedited videos straight from the smartphone's camera. We've uploaded on our server a 2160p sample (00:14s, 92.8MB), as well as one shot at 1080p@30fps (00:14s, 30.9MB).
Keep in mind that shooting UHD video on the Sony Xperia Z3+ will get it quite hot and it may even stop the camera in order to cool down a bit.
Feel free to check our video compare tool for the studio test results.