Sony at IFA 2015
Sony Xperia Z5, Z5 Compact and Z5 Premium hands-on: Sony at IFA 2015
Side-mounted fingerprint sensor
Sony has adopted a novel fingerprint sensor on the side of all three phones. It works with partial prints, obviously, but you also don't need to cover the entire pad - about 2/3 will suffice. It performed flawlessly in terms of recognition and unlocked on the first try throughout the time we spent with the devices. That's only a few hours though, and it's unclear how it will react in tricky conditions - sweaty/dirty fingers or under water.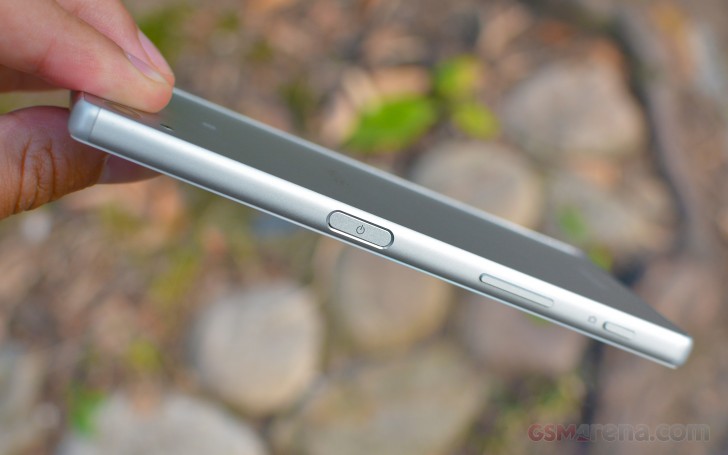 What we're not fans of, is the fact that you need to wake the smartphone up, before it can take a reading. You can't just place your finger on the button and have it unlock the phone directly like you can on the OnePlus 2. It could be a battery endurance consideration, perhaps an always-on sensor would take too big of a toll. In all fairness, both Apple and Samsung's implementations follows the same press-then-scan logic.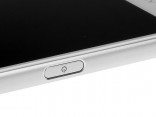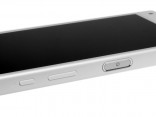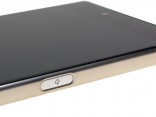 Fingerprint sensors on the Z5, Z5 Compact, and Z5 Premium
Another niggle is that with the power button/fingerprint sensor recessed into the frame, it's quite difficult to press. We'd reckon that it's an issue related to our pre-production hardware as both our Z5 Premium and Z5 Compact fare better that the plain Z5 in this respect with a more solid clicking action.
Synthetic benchmarks
All three smartphones are powered by the same Snapdragon 810 chipset. We can already hear the comments section complain why it's not the new 820 or the 808. One possible explanation is that the 808 comes with an inferior GPU that would have choked on the 4K resolution of the Premium, while the 820 is, for all we know, simply not ready for mass release.
It is what it is, and the S810 is Qualcomm's reigning high-end solution and the obvious choice for a flagship (or an entire family of three).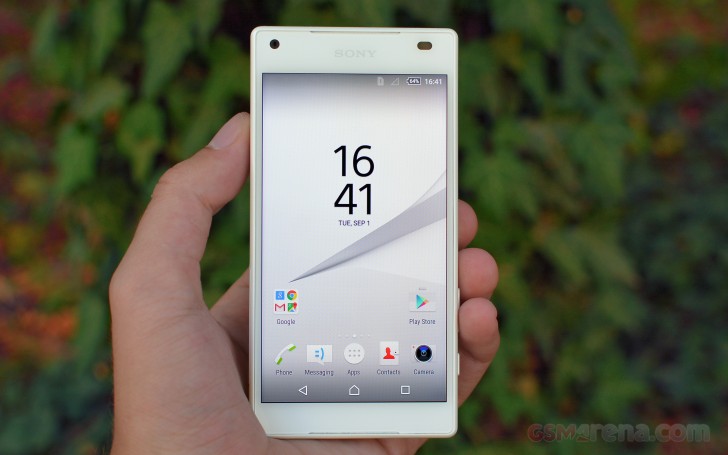 While we did have all three with us, the state of the Premium's software was such that it didn't allows to run any benchmarks. As for the other two, just keep in mind we're tested pre-production units running non-final software. The performance may (or, likely, will) change by the time the devices are ready to hit the shelves. Also, the phones rejected to install some of the usual benchmarks, so here's what we managed to run.
Basemark OS II
Higher is better
OnePlus 2
1942
Xperia Z5 Compact (pre-production)
1904
Xperia Z5 (pre-production)
1851
Samsung Galaxy S6
1769
ZTE Axon Pro
1565
HTC One M9
1526
Sony Xperia Z3+ final
1410
Sony Xperia Z3 Compact
1167
Meizu MX5
1163
Sony Xperia Z3
1109
Basemark X
Higher is better
Samsung Galaxy S6
27169
Xperia Z5 (pre-production)
24886
Xperia Z5 Compact (pre-production)
23458
ZTE Axon Pro
22928
OnePlus 2
21937
Sony Xperia Z3+ final
20767
HTC One M9
19848
Sony Xperia Z3
12637
Sony Xperia Z3 Compact
12080
Meizu MX5
10403
GFX 3.0 Manhattan (1080p offscreen)
Higher is better
Xperia Z5 Compact (pre-production)
25
ZTE Axon Pro
25
Samsung Galaxy S6
24
Xperia Z5 (pre-production)
24
HTC One M9
23
OnePlus 2
22
Sony Xperia Z3+ final
21
LG G4 (final)
15
Sony Xperia Z3
12
Sony Xperia Z3 Compact
11.8
Meizu MX5
10
GFX 3.0 Manhattan (onscreen)
Higher is better
Xperia Z5 Compact (pre-production)
35
Sony Xperia Z3 Compact
25.4
Xperia Z5 (pre-production)
25
HTC One M9
24
OnePlus 2
22
Sony Xperia Z3+ final
21
ZTE Axon Pro
15
Samsung Galaxy S6
14
Sony Xperia Z3
12.7
Meizu MX5
9.5
LG G4 (final)
9.4
Both smartphones exhibit great overall performance, as indicated by the all-round Basemark OS II benchmark. The graphics department posts great numbers too, nearly up there with the Samsung Galaxy S6 in Basemark X.
GFXBench also places the Z5s towards the top of the crop. The Z5 Compact breezes through the onscreen Manhattan test with a 35fps score, favored by its 720p resolution - after all it's the only device with an HD screen, powered by the S810 and Adreno 430. Yes, we know that subjecting the Premium to this, would have a lot more fun, but tough luck this time.